September 9, 2013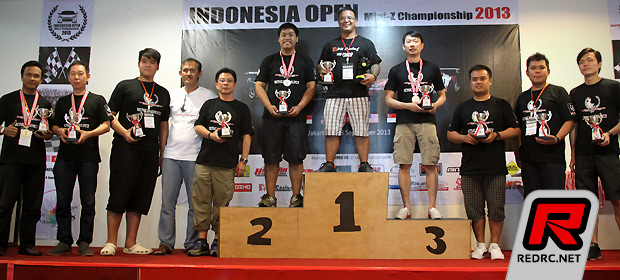 The Mini-Z Indonesia Open 2013 was held in Mangga Dua Square, Jakarta in last weekend. With a competitive 70 entry from Indonesia, Malaysia, Singapore and the U.S. the meeting was run in a Stock 50T and a Modified class. Saturday saw two qualifying rounds with a single controlled practice before qualifying. The Stock class was TQ'ed by American Mini-Z Legend, Grant Matsushima who recorded 22 laps in 5:01. Local ace, Bowie Ginting was the closest to Matsushima and only 4 seconds behind. Malaysian Jason Wong secured the 3rd spot, 5 seconds behind Bowie. Alvin Lim (Singapore) and Jeff Cheong (Malaysia) followed closely to complete the top 5. The Modified class TQ went to Dave Tang from Singapore who outperformed Grant Matsushima with Bowie, Tri Hariyanto (Indonesia) and Philip Ng completing the top 5.

The first leg of the Stock finals was in Matsushima's hands. He built a gap on the pack right from the beginning and around the 3 minute mark Dave Tang succesfully passed Bowie At the end Matsushima won the first leg with a one lap victory from Dave Tang and Bowie Ginting. The second leg was a similar story for Grant as he could run away from the group, building a 5 second lead over Bowie and Alvin Lim and held it until the finish line to secured the Stock class championship title. With Matsushima being absent in leg three, Bowie now enjoyed clean air and he was able to score the final leg win 5 seconds ahead of Alvin Lim and Dave Tang. This meant Grant Matsushima would be sidelined by Bowie Ginting and Alvin Lim on the Stock podium.
Stock Class Top 10 result :
1. Grant Matsushima
2. Bowie Ginting
3. Alvin Lim
4. Dave Tang
5. Jeff Cheong
6. John Robby
7. Henry Ng
8. Jason Wong
9. Akai Lim
10.Tri Hariyanto
The first leg of the Modified class saw a very close battle with Matsushima taking the lead from Dave Tang as Philip Ng made a superb start to pass Bowie. Several errors from Matsushima let Tang pass on and also Philip was able to overtake Matsushima. Tang did everything he can to hold the lead from a very strong Ng and he ultimately secured the leg 1 win. The second leg was opened by a bad start from Tang, letting Matsushima and Bowie by. Matsushima could extend the lead until he got into issues with a backmarker which cost him a broken wheel and a DNF in leg 2. Philip was able to pass Bowie who ran slower minute by minute due to a diff issue and finally he also passed Tang at the end. Leg 3 would now be the decisive run. Bowie made a wonderful start to pass Tang and Matsushima in the second corner. Matsushima pushed very hard but made some mistakes letting Philip taking the 2nd place as he started to haunt Bowie. Philip successfully passed Bowie who made a mistake but an error by Philip let Bowie taking the lead again. Meanwhile Matsushima scored a blistering track record, 12.746 seconds and he soon after joined the lead battle. With two minutes to go, Matsushima hit Ng who was in second and this let Bowie spread the gap even more ultimately taking the leg 3 win. So the result handed Philip Ng the Modified class title followed by Dave Tang and Bowie Ginting.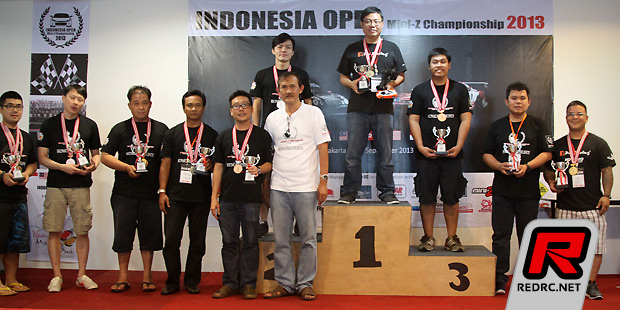 Modified Class Top 10 result :
1. Philip Ng
2. Dave Tang
3. Bowie Ginting
4. Grant Matsushima
5. Jeff Cheong
6. Frederick Chia
7. Tri Hariyanto
8. Alvin Lim
9. Henry Budiman
10.Keith Lin
Thanks to Bowie Ginting for sending the report.
---