September 9, 2013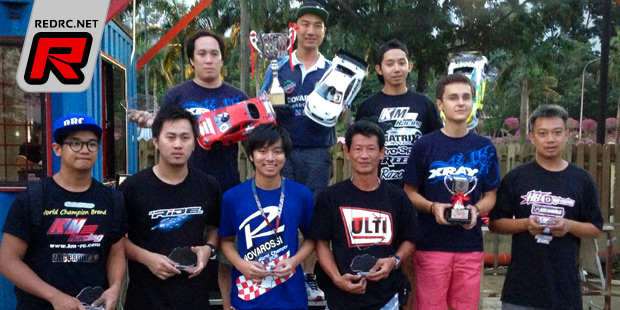 This year's Singapore Open for 1/8th and 1/10th on-road cars Singapore Open was more adrenaline and anxiety filled than usual due to frequent rain that made practice virtually non-existent and qualifying, sub-final and final duration uncertain. In the three days prior to the race, only on Friday afternoon was the track dry enough for a three hour practice. With 64 drivers signed up for the 1/8 class and 34 drivers signed up for the 1/10 class this led to a kamikaze practice session and many cars and engines were simply not ready for the racing that was to begin on Saturday morning.
After another overnight rain, Saturday morning was spent drying the track but thanks to the effort of the many club members the track was ready to race in now time both on Saturday and Sunday.

Alexander Hagberg TQ'd the 1/10th scale and almost took the TQ in the 1/8th  class as well. If Alex had had more time to get his prototype Orcan 9-port .21 engine ready for the 25% fuel and hot weather, he very well could have TQ'd 1/8th. Instead, and not surprisingly, the 1/8th TQ honours went to a much deserving Khamil Hyder. Khamil was racing Lamberto Collari prepped car and in the hands of Khamil, the car performed very well. The semifinals were rain affected and shortened to 20 minutes with the A mains being shortened to 35 minutes. This made tyre strategy important. Thailand's Team PRC seemed fatigued after their busy racing schedule over the past two months. The top Thai drivers including World Champion 2013 driver Meen V. had lots of fun and put in very strong performances in various categories. Meen V. is reported to be so happy with his 1/8 KM car that he did not even use it for this race, to keep it ready for the WC, and instead was playing around with an older 1/8 Mugen just for the fun of it.
In the 1/10th class Alexander Hagberg had mechanical issues on the starting lap of his 1/10th semi-final and went no further in the class. Fortunately, the 1/8th class went better for Alex. In the 1/8th A main he had a two lap lead over second place with 4 minutes remaining in the 35 minute A main when a shaft bearing on his car failed. Khamil also had several problems due to his insanely fast driving.  In the end, in 1/10th class the top spots went to Singapore's home grown star drivers – Nelson Lee (KM), Nicholas Lee (KM) and Barry BD Ng (Xray) took the top 3 spots and in 4th place Singapore's new wonder kid Daryl Thong who placed 4th on the first time racing 1/10 nitro after swinging over from electric racing. World Champion Meen V. led the A main for most of the 35 minutes only to suffer issues in the last five minute.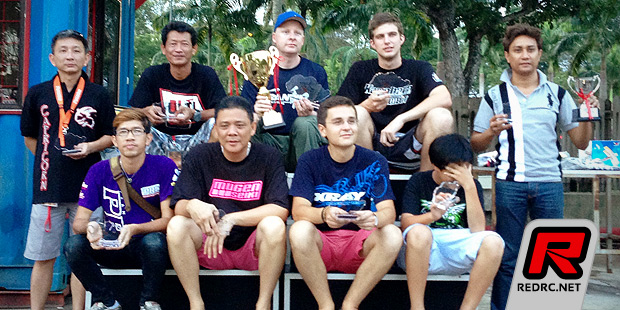 Every year Leigh Dytor and Blake Young religiously make the trip to the Singapore Open from Australia to race in the 1/8th class. In spite of a few problems in qualifying and in the semi's, these two guys, through superior racecraft and good pit work claimed the top two spots on the podium driving Mugen cars. The third place went to Singapore's Don Chng driving a Serpent. Don was followed by fellow countryman Nick Kuan who is having his best year in a long time and Erwin Luhur who has been having his toughest year in a long time. Next year's Singapore Open will be run on a revised track that will see a new surface and some other refinements.
Thanks to Sam Craig for sending the report.
---