September 13, 2013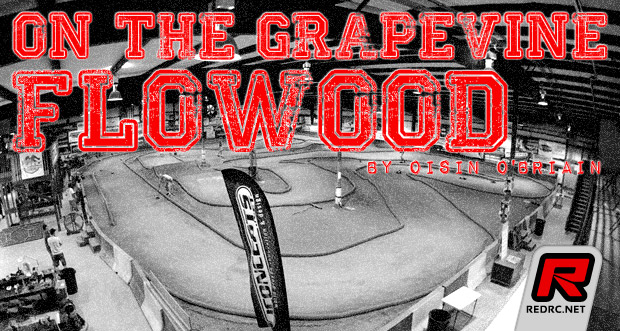 Last weekend I was back on board a Delta Airlines flight bound for the US, while it felt like only a few weeks since I last crossed the Atlantic Ocean I was little shocked when I discovered its actually been 5-months since we covered our last American event. On that occasion my trip was to Dallas, Texas, for the JConcepts Indoor Spring Nationals at Mike's Hobby Shop when thanks to track owner Mick Darnell I also got the chance to visit Gas Monkey Garage from the Discovery Channel hit show Fast & Loud.   Luckily when traveling to the US from Ireland Dublin Airport has one of only a few purpose built facilities outside of the North America that allows US bound passengers to undertake all immigration and customs inspections prior to departure meaning no queuing on my arrival at the other side.  As part of the process one must fill out the details of your trip including its purpose and the address at which you will be staying and this lead to a funny reaction from the US immigration officer.  While he found the purpose of my trip, reporting on a model racing car event, unusual enough when he saw the hotel address he responded in an slightly amused tone 'Your staying in Flowood!!!'.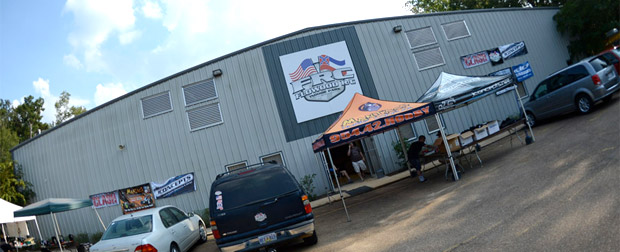 The reason for going to Flowood, Mississippi, was for the 7th running of the JConcepts Clash which was probably one of the most enjoyable events we attended in 2012.  Sure enough Flowood is not exactly the most happening of places and it wouldn't be a location that comes to mind for hosting a major event but it does have a very large & impressive indoor track thanks to the determination of one man – Nathan Barham or as he is better know 'Bubba'.   Unlike Europe where the norm is racing on tracks run by voluntary clubs, in the US the majority of tracks are commercially operated by the adjoining Hobby Store.  Flowood RC Indoor Park though is different and a rather interesting set-up.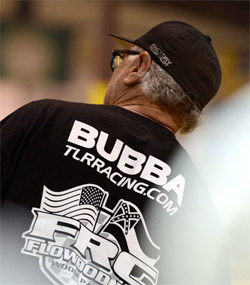 Housed in what was once a Gymnastics Centre, the track has been in existence since December 2010 but its not a shop but as such a joint venture with the city of Flowood thanks to the determined efforts of 'Bubba'.  One of those rare good guys you come across in the sport every so often, Bubba, who is set to turn 68 later this month, only discovered r/c racing 10 years ago and with a lack of tracks in the area he soon ended up building a track on his own land.  Unfortunately his land was not zoned for the purpose of an r/c track which eventually led to a court order to shut down the track but Bubba wasn't letting go so easily and approached the Mayor of Flowood about the city providing racers with a new home.  The city liked the idea in terms of it being an attraction to bring people into the area but an initial plan to build a covered track, a lot of races that year had been rained off, failed on the grounds of the costs. Still the Mayor said he was keen to help Bubba and would eventually come up trumps.  Invited to visit a building, that due to a planned road improvement in the area had been acquired by the city and was lying unused, upon entering the empty building with the Mayor, Bubba immediately said it would work and put together a proposal to the city which they duly accepted.
Setting up a 'Not for profit' company, 'Bubba' who has since retired from the non rc business he ran is now the Manager of Flowood RC Indoor Park which has a membership of almost 300 racers.  One interesting use he has come up with is the hosting of kids birthday parties.  Together with a number of local volunteer racers kids are given the chance to race the track's fleet of Short Course trucks and this has proven very popular with most Sundays booked up. As well as being a great way to introduce youngsters to the sport it also helps highlight the facility that is available to them bringing all important income to help maintain the track.  While the plans still exist to build the road way through the building, when the budget can be found, 'Bubba' said the relationship with the city has worked out really well and being the helpful guy he is he says he would be more than happy to assist or guide anyone interested in making such a proposal to their own local authorities to put unused buildings to a use that benefits the local community.  Having hosted its first Clash last year after JConcepts got frustrated with rain effecting four of the five previous years of their flagship event when held in their home state of Florida,  the event has been a huge boost to Flowood RC Indoor Park and I understand has led Bubba to consider applying to ROAR to host the US National Championships in the future.
******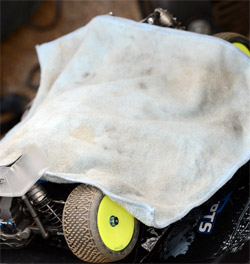 With this year's Clash running just two weeks prior to the World Championships, on the flight over I thought the I would be flooded with content for my column but it didn't transpire that way.  With Team Losi Racing team manager Kevin Gahan making his 'Clash' debut my plan was to try and find out as much as possible about their long awaited new 4WD Buggy release which our colleges at LiveRC managed to photograph when they made an unplanned return to the Worlds hosting Silver Dollar track the day after the ROAR Nationals had taken place there.  I got to hand it to Kevin for his brilliance in totally denying that they have a new buggy.  Even talking to him about the planning that goes into getting the TLR team to the the Worlds he never let anything slip about the 4WD instead highlighting how confident the team was with the new US Nationals winning TLR22 2.0 and how Dakotah Phend and Dustin Evans had after much testing got very comfortable with driving the buggy in mid motor configuration. While Kevin knew 'nothing' about a new 4WD from TLR, one of my favourite personalities in the world of offroad racing Ryan Maifield seemed to be pretty up to speed on developments with it being one of the main topic of conversation when he joined us for dinner after his late arrival into Jackson Airport for the Clash.  Apparently TLR have built two prototype chassis which they have used as test mules and for the World Championships, when they are supposedly going to officially announce the replacement for the aging XXX-4, they will have a limited number of pre-production/prototype chassis, updated based on the testing with the first 2 cars, for their core team drivers.  With the topic of how unfortunately interest in 1:8 Nitro is noticeably falling in the US, TLR's timing for the release of a new 4WD should further boost the new found interest that 1:10 Offroad is starting to enjoy.
******
One interesting conversation I had over the weekend in Flowood was with JConcepts founder Jason Ruona.  It came about following an e-mail we both received during the event from Jussi Luopajärvi, organiser of the excellent and benchmark setting 2011 1:10 Offroad World Championship in Finland.  With last December's 1:8 Offroad World Championships in Argentina turning out to be 'the straw that broke the camels back' for the manufacturers who attended finally getting them to talk about coming together and taking greater interest in how the most important event in our sport is organised/presented.  Over the Summer, the height of the racing season for everyone, the group was muted until Jussi's e-mail to everyone to organise a meeting for during the upcoming Worlds in California.  As Jussi highlighted with a company like A-Main Hobbies hosting this year's Worlds it would be easy to forget the underlying problems that still exist with putting on a World Championships.  Having bored many manufacturer representatives, I think Team Associated's (jetlagged) Brent Thielke endured my greatest rant when he attended his first ever Euro Offroad Series race in Germany two years ago, with my ideas over the years as to how the sport needs to change I was pleasantly surprised by Jason's thoughts on things.  One of the quieter personalities in the r/c industry, I have really only got to know him well over the passed 12-months and he has in my opinion got a very a good handle on where we should be looking to take things.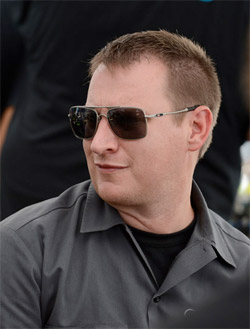 As I found out when I visited the home of world famous monster truck Big Foot after a JConcepts race in St.Louis earlier this year, Jason has a great knowledge of monster trucks but what I found more interesting was his understanding of the business end of 'Monster Jam'.  As we talked at the weekend while he prepared his buggies for racing, one of which, the B44 led to the creation of JConcepts which I discovered before that was originally the name of his computer aided drafting company which did work for the construction industry, it was refreshing to hear some of his ideas.  While every business wants to protect itself from its competitors, unfortunately something that many see as being the biggest hurdle to establishing of a meaningful association for racing manufacturers, Jason says if the goal of such an association was to grow the hobby thereby creating more customers his company would  have no hesitations in coming onboard.  A driver who has competed at the highest level, he said while there is no doubt the organisation of World Championship needs improvement he feels the sport needs to take things to a level even further than that and reach out to new audiences all of whom are potential new racers/customers.  While this would be a mammoth task for most r/c manufacturers to try on an individual basis, by joining forces and collectively investing in professional (accountable) people the growth of the sport/hobby might have a real chance of success.  While my enthusiasm and energy for such a big project has faded a little in recent times after years of what feels like have been banging my head against a brick wall, I hope more manufacturers share similar views to Jason and that they can pull together and get the show on the road.  Hopefully then in a few years time when the passenger next to me on a  flight to an event asks what I do for a living, instead of the current reply of 'really, people actual race toy cars!' to my answer the response will be more a positive, 'that's cool, I knew a few people who race r/c cars and they love it'.
Have an opinion on the topics discussed? Leave them in the comments below.
Oisin O'Briain is Red RC's Event Editor. Traveling the world reporting on some of the biggest races in the sport he regularly chats with top drivers and key industry figures and in his new column 'On the Grapevine' he will try to bring readers an insight into the latest talk that is doing the rounds in the paddock along with the odd bit of trivia information that comes to light.
The views and opinions expressed in this column are those of the author.
---