September 20, 2013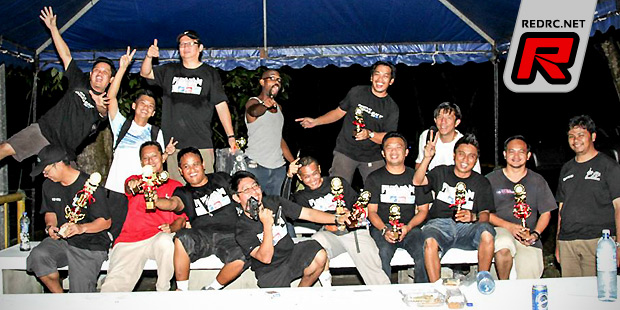 Sandakan Speedway played host for the 2013 Sabah Reunion Race. Racers from all over Borneo competed on the demanding track with a 50 metres straight and a very technical infield section. The race was held in a 13.5T touring, Formula 1 and nitro touring car class with the qualifying being held over two days. After five rounds of very tight qualifying, over a half of the 13.5T field had the 13 laps needed to be in the A-main. KS Chu held the top spot with the entire rest of the field being in a 16 seconds window. James Chong set the fastest lap to claim the pole in F1 and Hon Nyen Ho TQ'd the field of the nitro class. The Formula 1 drivers ran their 20 minute A-main first. They were the first cars on the track after rain disrupted the F1 and nitro qualifying and the rear wheel driven cars obviously had their problems. There was no clear favourite until the dry line started to form with Raphael using the opportunity to take the win. The nitro touring class could not run their full 20 minutes with darkness rapidly approaching. In a final shortened to 10 minutes Hon was able to convert his pole into a victory. In the electric touring car class the close qualifying meant close racing in the final. The still damp track was only a problem for the first round. When the dust settled the three final legs had three different winners winners and after the tie-break that had the fastest lap taken into consideration KS Chu claimed the overall by 9/1000 of a second.
13.5T touring car result
1. KS Chu
2. Rudy
3. Azlan
4. Rayner
5. Raphael
6. Mark
7. Mazai
8. Hasrul
9. Salan
10.Jali
1/10 nitro result
1. Hon
2. Andrew
3. Wong
4. Mansor
5. Helmi
6. Leong
7. Tan
8. Kak Vui
Formula 1 result
TQ James
1. Raphael
2. KS Chu
3. James
4. Jali
5. Julian
6. Desmond
7. VIncent
8. Ah Ding
Thanks to KS Chu for sending the report.
---