September 17, 2013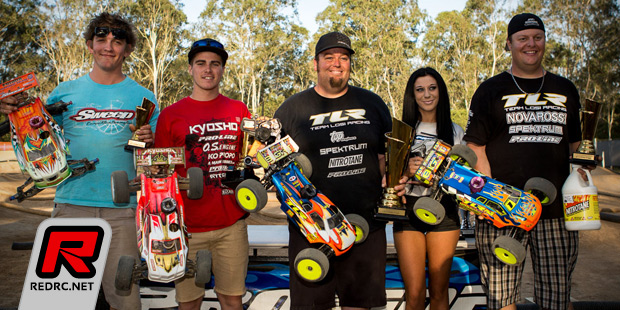 The Pro-Line Thunder Down Under race was held at the Meakin Park Raceway last weekend. Organised by the father of Kyosho's Kyle McBride plus some other locals the event was created to bring more international drivers to Australia to come and race and start getting RC more widely known in the region. This year the race attracted TLR/Pro-Line drivers Adam Drake and Mike Truhe who traveled from the US race with the locals. Friday started off with three rounds of qualifying and it was Kyle McBride who TQ'd the first two rounds in the nitro buggy and truggy classes. In the third round Kyle came 2nd to Adam Drake who like always was able to make 10 minutes on fuel. In the fourth round of qualifying Kyle was on top of the field in both classes again, handing him the overall TQ in buggy and truggy for this event.

Kyle started off the truck main on pole position and opened up a good lead and began to gap the field within the first 10 minutes. Knowing Adam was doing longer pitstops Kyle knew he had to make a gap between him and Mike in order to win the race. The Kyosho driver had a very comfortable gap which was almost at half a lap when one of his tyres started to come off. After swapping tyres Kyle was 17 seconds back from Adam and Mike by then and he eventually made the time up and passed Adam Drake and was chasing Mike Truhe but at the end Mike was able to take the win some 9 seconds ahead of Kyle with Adam completing the podium in third.
The first lap of the buggy main had some drama for Kyle who got tucked under a track marker pipe on the very first lap. Sitting in fourth position he started to chase the top three taking over the lead later on with an error free run. At the end Kyle was able to build a 1 lap gap over second placed Adam Drake to take the nitro buggy class win.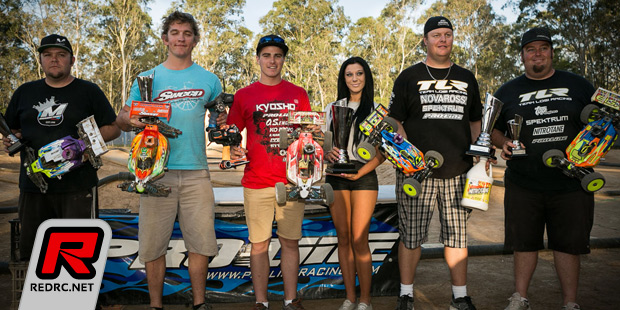 Source: Pro-Line [prolineracing.com]
---