September 6, 2013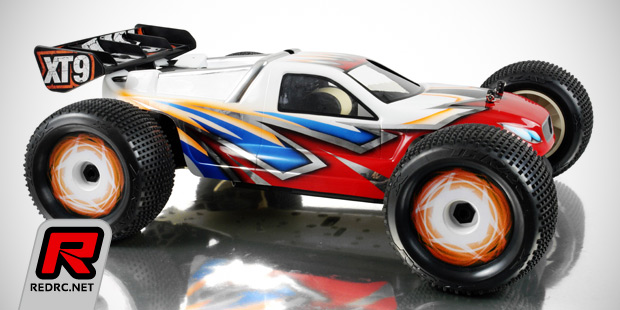 Xray introduce their all-new XT9 nitro competition truggy kit. Making use of the winning pedigree of the long-running XT8 platform the new truck features many design elements known from the XB9 buggy combining them to the soon-to-be-released XT9. The truck is based on a newly designed 3mm 7075-T6 aluminium chassis that features a new weight distribution and accommodates a repositioned centre differential. Machined pockets underneath the fuel tank, engine and diffs reduce the weight to a minimum without sacrificing overall rigidity. A redesigned radio compartment sees the receiver battery box for straight-pack LiXX and NiXX batteries in a forward position beside the steering servo while the receiver box is located opposite of the engine.

The drivetrain also saw some refinements and features 43T crown and 10T pinion gears along an 48T main gear and 13T clutchbell. All driveshafts are machined from Hudy spring steel, they feature 3mm drive-ins and locking rings for the cross pins. Rubber boots keep the dirt out of the joint sections. The spring steel differential outdrives received a hardening process to maximise durability even with powerful truggy big block engines. Included with the kit comes a 3-shoe clutch with 1.7g lightweight clutch shoes, 1.0mm springs and aluminium flywheel.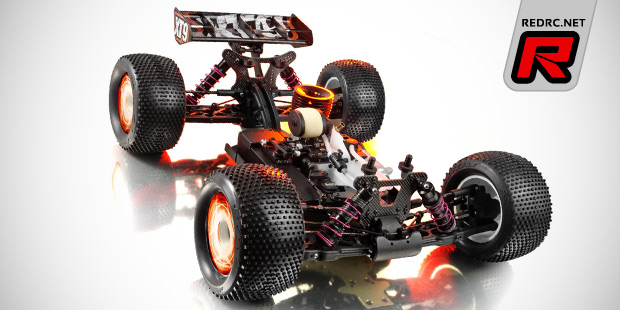 The redesigned suspension parts make use of Xray's Integrated Suspension Settings design that sees 7075-T6 aluminium suspension mounts with plastic inserts to fine-tune caster, camber, toe, roll centre, kick-up, anti-squat and track width settings in a wide range. Part of the suspension package are also new big bore shock absorbers with 18.5mm outer diameter, an all-aluminium construction and protective shock boots. Included with the shocks come 6-, 8- and 10-hole pistons and 3.5mm pistons rods. The XT9 package is rounded out by a new design rear wing, a Lexan truggy body shell and a set of lightweight dish wheels with Xray Thrax low-profile truggy tyres.
All-new XT9 features:
–  New chassis
– New side guards
– New 1-piece radio plate
– New system of rear chassis braces mounting
– New rear chassis brace
– New rear wing
– New centre drive shafts mounting system
– New centre drive shafts
– New central CVD shaft universal joints
– New centre drive shafts locking rings
– New centre drive shafts rubber boots
– New I.S.S. aluminium suspension holders
– New composite suspension eccentric bushings
– New lower inner pivot pins
– New aluminium wheel axles
– New graphite upper plate
– New low profile air filter
– New rear body post
– New double rear braces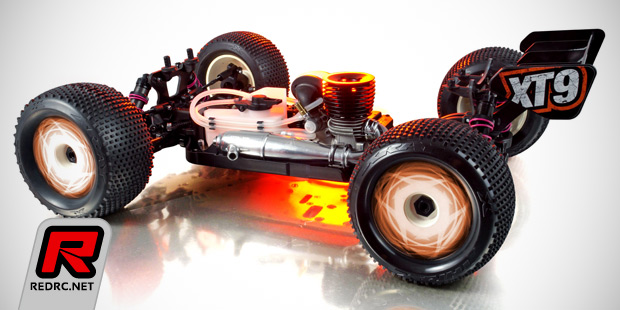 General features:
– CNC-machined 3mm Swiss 7075 T6 chassis
– Updated side guard design offers improved side protection
– 1-piece radio plate
– 150cc fuel tank
– Composite front & rear chassis braces
– Extended engine mount design
– Laser-cut, precision flat-ground steel brake discs
– High-grip Ferodo brake pads
– Diff outdrives manufactured from Hudy Spring Steel
– CVD drive shafts manufactured from Hudy Spring Steel
– Central larger and stronger outdrives feature protective rubber boots
– Ultra-lightweight 17mm +2.00mm wheel hex drive hubs
– Front & rear CNC-machined extra-thick graphite shock towers
– Fully-adjustable suspension featuring I.S.S.
– Complete set of I.S.S. eccentric bushings included
– Robust dual-arm steering system
– Xray big-bore, long-stroke shocks with hardcoated shock bodies
– Low-profile racing truggy body
– Xray racing dish wheels
– Xray Thrax low-profile truggy tyres
– Xray oils and greased included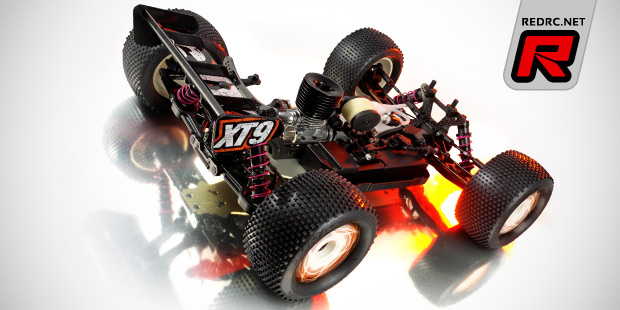 Source: Xray [teamxray.com]
---