October 1, 2013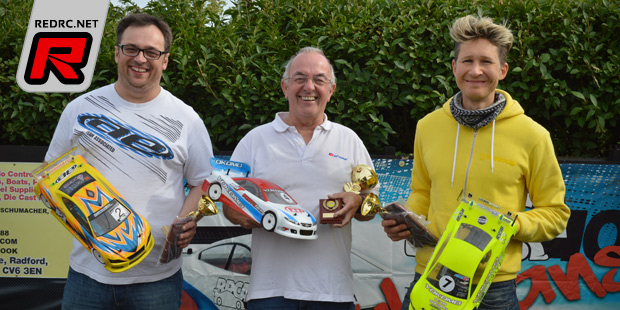 The final round of the BRCA Clubman Series electric on-road championship was held at the popular track of Bedworth. With 75 drivers turning up for the weekend's racing, everybody was commenting on the newly updated track that looked fantastic due to the work of the Bedworth crew. The weather was hot and sunny all weekend, giving the racers the consistency needed to setup there cars on Saturday ready for Sunday to be able to drive around the challenging track. Round 1 of qualifying started with the 17.5 Blinky racers going first. Local driver Nigel Shaw setting a massive pace with 4 seconds in the lead at this point with Gavin Clinch behind and David Hough following. 13.5 Open started with Zak Finlay showing how he managed to become the Pro stock champion by setting TQ by 6 seconds and Liam Brooks following with Ben Cosgrove in third.

Round 2 saw the temperatures stay the same but the grip still increasing with times going down. Nigel remained pole man in the 17.5 class however Gavin closing the gap now just 3 seconds behind with David only a 10th behind second. Zak Finlay doing the exact same time as he did in the first round with no improvements from the others drivers as they try to catch up with pole man,
Round 3 saw the grip increasing even more with David Hough catching up to Nigel still holding TQ but it wasn't enough. Gavin claims the spot on 3rd in the 17.5 class. Zak Finlay holding FTQ, Liam managed to find some pace and grabbed second place just 4 seconds behind Zak with Ben following close behind looking at a very class final between the top guys all wanting that 1st place.
17.5 Blinky qualifying result:
1. Nigel Shaw – 19/309.00
2. David Hough – 19/311.75
3. Gavin Clinch – 19/312.59
4. Bob Burr – 19/314.85
5. Les Baldry – 19/315.05
6. Jason Butterfield – 19/316.30
7. Dominic Skinner – 19/316.73
8. Mark Bristow – 18/301.77
9. Shaun Batt – 18/301.97
10.Richard Clarke – 18/303.00
13.5 Open qualifying result:
1. Zak Finlay – 20/301.39
2. Liam Brooks – 20/305.09
3. Ben Cosgrove – 20/307.31
4. Aaron Rose – 20/308.67
5. Andrew Robson – 20/309.12
6. Dale Burr – 20/310.11
7. Tim Hancock – 20/310.66
8. Luke Burr – 20/312.30
9. Richard King – 20/313.85
10.Jordan Norwood – 20/315.43
In the A final of the 17.5 Blinky class, both legs seen a crash that changed a lot of the positions for the drivers which created the challenge of making those places back up. TQ man Nigel Shaw crashed in the first leg but retired shortly after but won on the second leg with a big lead. However the surprise came when Bob Burr, chairman of Bedworth, with an outstanding drive came first overall showing the lads how its done at his home track. Dominic Skinner and David Hough following so close behind claiming 2nd and 3rd place of the final result.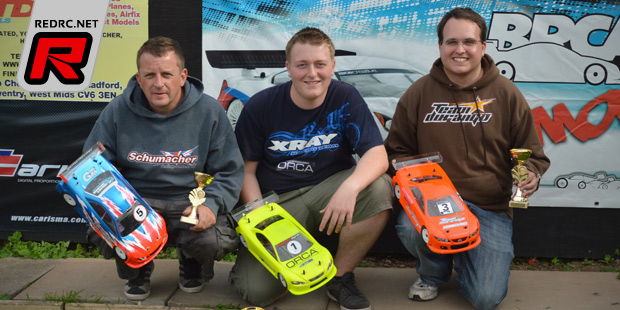 In the A final of the 13.5 Open class, Zak Finlay on pole position pretty much stayed ahead of everyone cruising to victory by winning by both legs with a decent lead. Following close behind were the battle of Liam Brooks, Ben Cosgrove and Andrew Robson, all fighting for those finals points towards the end of the championship. Ben Cosgrove managed to claim second position in the end with Andrew Robson so close behind. In the overall standing Gavin Clinch took the 17.5T Blinky title from Dominic Skinner and David Hough. The 13.5T class has Liam Brooks taking the title in front of Aaron Rose and Andrew Robson.
Thanks to Jordan Norwood for sending the report.
---