October 16, 2013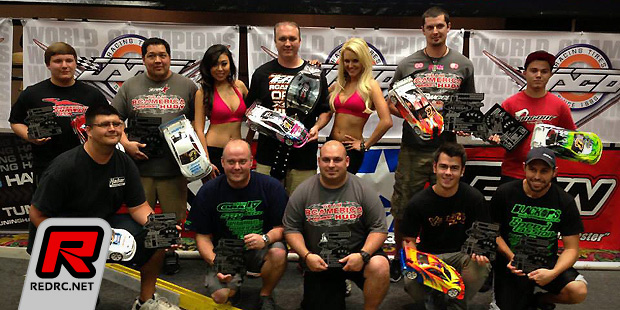 The International Indoor Championships is a classic event which marks the start of the indoor carpet season. It is held on an annual basis at the Riviera Hotel & Casino on the Las Vegas Boulevard. Beside the Touring Car Modified Rubber class several other classes such as 17.5T and 13.5T TC Stock, 1/12 Modified and Stock as well as World GT were run. In the 17.5T Touring Car class RC America driver Eric Anderson brought home the win with fellow Xray drivers Craig Xavier and Michael Herald Jr. in tow.
17.5T Stock TC results:
1. Eric Anderson
2. Craig Xavier
3. Michael Herald Jr.
4. Kyle Klingford
5. Cory Parsons
6. Kyle Bergstrom
7. Zdenko Kunak
8. Arthur Scrimo
9. Cody Woods
10.Bradley Johnson
Eric also had a good showing in 1/12th 13.5T by catching the runner-up spot behind CRC's Andrew Knapp. Ramond Darroch completed the 12th Stock podium.
13.5T 1/12 results:
1. Andrew Knapp
2. Eric Anderson
3. Raymond Darroch
4. Hupo Hönigl
5. Max Kuenning
6. Randy Grosse
7. Mike Haynes
8. Mitchell Witteman
9. Dave Berger
10.Donnie Lia
Source: Xray [teamxray.com]
---