October 21, 2013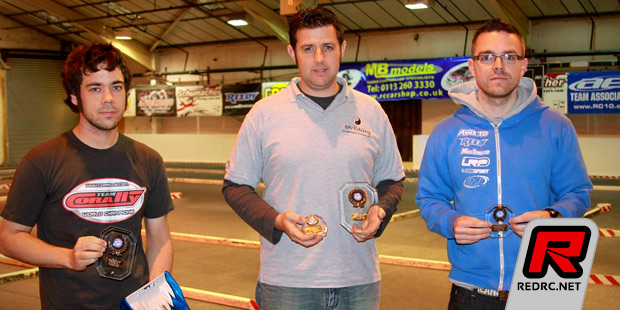 Round 1 of the 2013/14 BRCA 1/12th scale nationals took place at Teesside last weekend. Over 100 drivers competed in the LMP12 and GT12 classes during the weekend, making it the best turnout at a Teesside national for more than 15 years. This bodes well for the other rounds of the series, which take place closer to the Midlands and will require less travelling for the majority of competitors. The BRCA nationals are weekend-long events, but each day counts as a separate meeting and points are scored for different championships. This means that drivers can choose to race on both or just one of the days depending on their preference.

Saturday is for stock classes in LMP12. For this year drivers have a choice of 10.5 or 13.5 motors with 'blinky speedos'. The 80-strong entry was split 50/30 in favour of 10.5, the class for which the Phil Davies British Champion trophy is awarded. Reigning champion David Spashett got off to a good start by taking TQ in the 10.5 class with his new Zen Racing chassis; the production version of the development car he ran last season. This car will soon be available to buy in the shops. Former champion Olly Jefferies would line up 2nd on the grid for Team Associated with Adam Catchpole 3rd driving a Corally. These three drivers were all a reasonable chunk faster than Mark Stiles in 4th for Yokomo and Chris Kerswell who rounded out the top 5 for Serpent. The A-final saw a couple of close battles, with David Spashett and Adam Catchpole fighting over the top spot. David managed to lead from start to finish though to open his account of A-final wins for this season. Adam finished 2nd ahead of Olly. A race-long battle between Mark Stiles and Chris Kerswell saw Chris just coming out on top to take 4th.
LMP12 10.5 Stock A final result
1. David Spashett – Zen-Racing
2. Adam Walker-Catchpole – Corally
3. Olly Jefferies – Associated
4. Chris Kerswell – Serpen
5. Mark Stiles – Yokomo
6. Andy Murray – V-Dezign
7. Mick Farrell – CRC
8. Daniel Holmes – Yokomo
9. Matthew Varah – Yokomo
10.Richard Whur – V-Dezign
In 13.5 Keith Robertson took TQ, but a mistake at the start of the A final dropped him to 3rd behind Andy Sawyer and Damien Holmes. A spirited drive from Keith saw him regain lost ground to eventually dominate the race. Andy and Damien finished 2nd and 3rd respectively.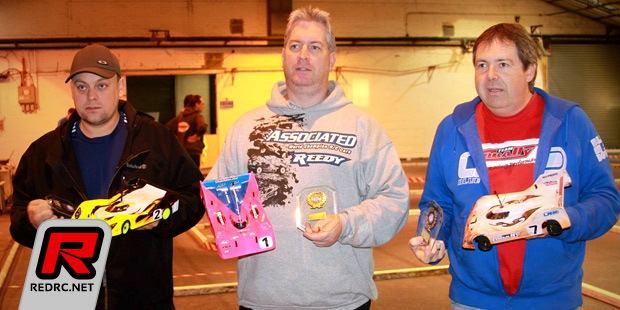 LMP12 13.5 Stock A final result
1. Keith Robertson – Associated
2. Andy Sawyer – Corally
3. Damien Holmes – Yokomo
Sam Clifton TQ'd the 30-strong field in GT12, but a mistake in the A-final allowed his Schumacher team mate Chris Ashton to take the win. Jamie McDonagh finished 3rd.
GT12 A final result
1. Chris Ashton – Schumacher
2. Sam Clifton – Schumacher
3. Jamie McDonagh – Schumacher
Corally were the team winners and Andy Sawyer also won a prize for 'Spirit of the Meeting' sponsored by Dremel UK after helping a number of drivers with their chassis setups during the day.
Sunday is for faster motor classes; open modified and sport in LMP12. Open modified allows any homologated motor and open speed controllers, while sport is effectively the same as stock with 'blinky' speedos and any motor up to 10.5. In LMP12 open modified Olly Jefferies put everyone else in the shade in qualifying. Some overnight setup changes allowed him to set a stunning pace that not even 3-time world champion David Spashett could match. Mark Stiles also found some pace and was 3rd fastest, albeit a full lap slower than Olly's TQ. A diff problem whilst driving to the A-final grid appeared to effect Olly's car during the race, allowing Spashett to mount a serious challenge for the win. A controlled drive my Olly and some decisive moves lapping back markers allowed Olly to hold the lead for the entire race though and he took the win by less than 1 second ahead of Dave. Mark Stiles suffered with understeer in the final, but a solid drive netted him the final podium spot ahead of Andy Murray and Luke Burley. Nigel Hale extended his period of making BRCA National A-Finals to 32 years with 7th, while Richard Whur made the A final on both days at his very first 1/12th scale national.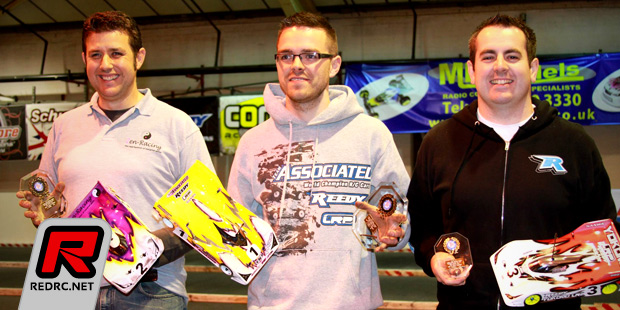 LMP12 Open Modified A final result
1. Olly Jefferies – Associated
2. David Spashett  – Zen-Racing
3. Mark Stiles – Yokomo
4. Andy Murray – V-Dezign
5. Luke Burley – Zen-Racing
6. Chris Kerswell – Serpent
7. Nigel Hale – Associated
8. Richard Whur – V-Dezign
9. Adam Walker-Catchpole – Corally
10.Mick Farrell – CRC
The sports class was dominated by Jim Spencer. A crash in morning practice had tweaked his Associated car, but Jim managed to solve the problem and looked comfortable at the front of the pack all day. In the A final Richard Hicklin mounted an early challenge from 4th on the grid, but eventually faded and had to settle for 2nd overall. Keith Robertson was 3rd.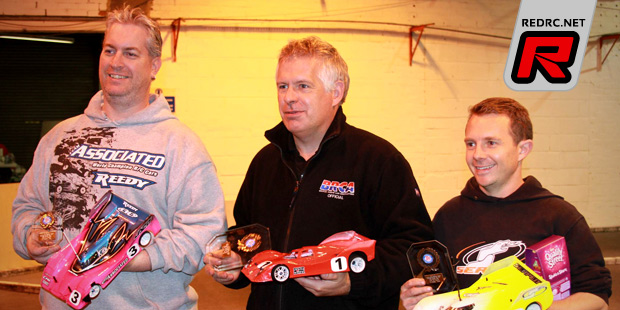 LMP12 Sport A final result
1. Jim Spencer – Associated
2. Richard Hicklin – Serpent
3. Damien Holmes – Yokomo
GT12 saw a reversal of Saturdays result. Chris Ashton TQ'd this time, but Sam Clifton took the win ahead of Chris, with fellow Schumacher runner Matt Lax in 3rd.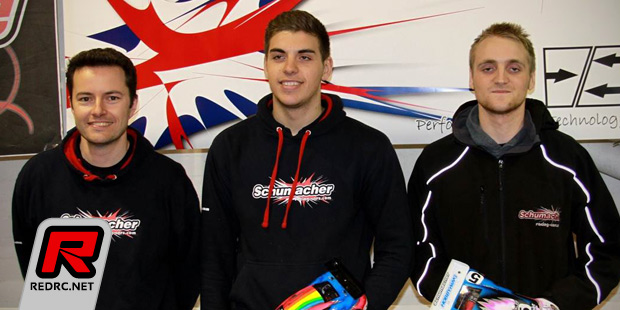 GT12 A final result
1. Sam Clifton – Schumacher
2. Chris Ashton – Schumacher
3. Matthew Lax – Schumacher
The team prize was won by a delighted Serpent team which included 1/8th gas racers Tim Wood and John Carr who are trying 1/12th scale racing for the first time this winter. Serpent UK's John Russell was in attendance to support his drivers as well. The 'Spirit of the Meeting' prize of a new Dremel kit was won by local driver Peter Craig. Round 2 of the championship takes place in Stocksbridge next month. The organizers expect this one to be full up, so it is advised that drivers book in early to avoid disappointment.
Thanks to Mark Stiles for sending the report.
---