October 30, 2013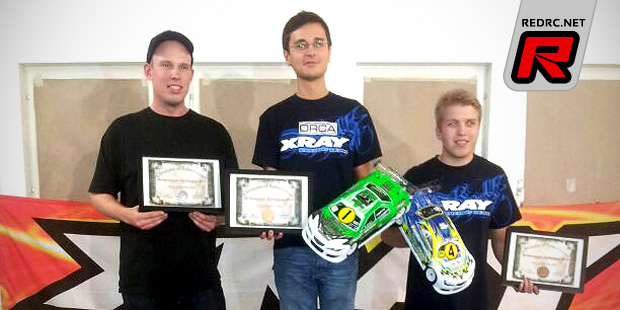 The first round of the Middle Swedish Cup for electric touring cars and 1/12 scale cars was held at the brand new permanent carpet track of Swedish Xray distributors Minicars. The track is fairly big compared to the old one and allowed for some fast paced racing in all classes. The race saw some 70 entrants divided in three different classes. In Modified there was very close racing between Alexander Hagberg and Niklas Johansson, battling it out for the TQ position. In the end Alex managed to snatch the TQ spot with only a few hundreds. Magnus Vässmar and Niclas Nilsson qualified 3rd and 4th respectively. In the finals, Alex managed to win the first two finals with ease. The others would battle it out for the remaining podium spots. Niklas Johansson drove a flawless A3 to take the runner-up spot in front of Niclas and Magnus.
Modified top 10:
1. Alexander Hagberg
2. Niklas Johansson
3. Niclas Nilsson
4. Magnus Vässmar
5. Michael Nilsson
6. Daniel Carlsson
7. Andreas Böök
8. Karl Ullenius
9. Lukas Jerresand
10.Mattias Ericsson
In 1/12, Xray driver Mickael Brandt had a good run for the win with his X12, winning A1, and fighting with Roland Ström in the next two finals, to finally take 2nd place in the end. Ronald came in first with Magnus Hedlund completing the podium.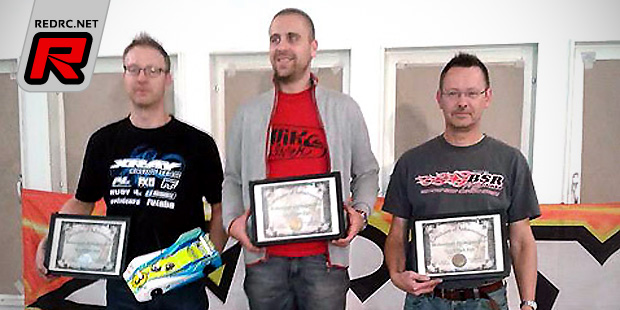 1/12 top 10:
1. Roland Ström
2. Mickael Brandt
3. Magnus Hedlund
4. Jonas Eriksson
5. Hans Lyxell
6. Ronnie Piispanen
7. Tommi Eriksson
8. Thomas Berg
9. Mackan Göransson
10.Alf Skaar
Kristoffer Axelsson drove his Xray to the TQ spot in the touring car stock class, but had to settle for 2nd place in the overall standings. Kenneth Malkusson took the win, Per Lindqvist completed the podium in third.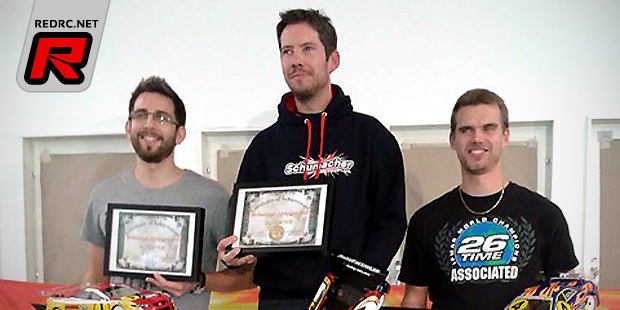 Stock TC top 10:
1. Kenneth Malkusson
2. Kristoffer Axelsson
3. Per Lindqvist
4. Torgny Holgersson
5. Lars Hägerman
6. Andreas Gillblad
7. Hasse Carlsson
8. Fredrik Loiske
9. Patrik Fredriksson
10.Kalle Carlsson
Source: Xray [teamxray.com]
---