October 30, 2013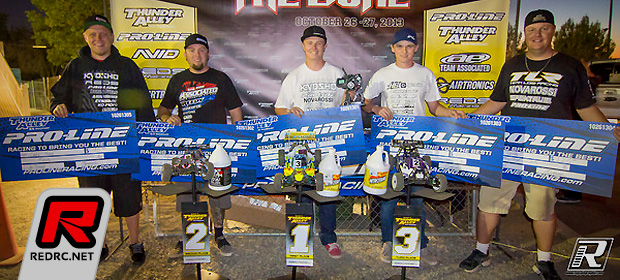 Beside the eBuggy and 40+ class The Dual race at Pro-Line's test track in Banning, CA and at Thunder Alley Raceway in Beaumont, CA also had an 1/8th Invitational and Expert class to offer. The Invitational was run in the Reedy Race style format that would see three 15-minute races in each class consisting of 1/8 Nitro Buggy and 1/8 Nitro Truggy on each track. The 2 best points from each class, each day would count towards the overall win using a total of 8 finishes. With one full heat of Invitational drivers, each race was very exciting. For each main the starting grid was decided by each driver picking a number out of a bowl, so completely random. The starting position did not dictate how the drivers would finish in the race due to racing incidents and pit strategy. In the start of each of the mains, it was a crap shoot as everyone was in hot pursuit of each other. Some of the races were clean and some of them were not. After day 1 at Pro-Line, Kyosho's Drew Moller ended up with a 2-2 finish in Buggy and a 3-1 finish in Truggy that gave him a total of 8pts. This would put Drew 3rd overall going into Sunday as Ty Tessman was leading with 6pts, and Ryan Maifield in 2nd with 7pts.

Day 2 at Thunder Alley, Drew continued with his consistent finishes and had a chance to win the overall with 1 round of Buggy left. Maifield and Tessman also had a chance to win, so it was between these 3 drivers. The decisive race then saw Drew taking the win ahead of Maifield after battling with him for the last couple minutes of the main.
Invitational class result
1. Drew Moller – Kyosho
2. Ryan Maifield – Team Associated
3. Ty Tessman – Hot Bodies
4. Adam Drake – TLR
5. Cody King – Kyosho
6. Carson Wernimont – Mugen
7. Josh Wheeler – Xray
8. Ryan Lutz – Durango
9. Kurt Kellum – Xray
10. Jason Miller – Team Associated
In the 1/8th Expert class Sean Gaffney ended up winning 5 of the 6 mains to take the overall win. Colin Herzig came in second with his Mugen while TLR's Tyler Brown completed the Expert Buggy podium in 3rd position.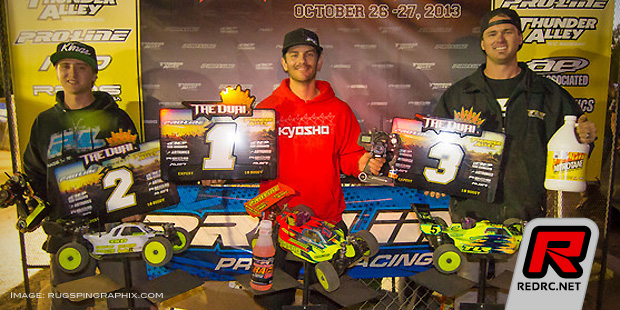 Thanks to Drew Moller, Sean Gaffney and Joe Pillars for sending the report.
---