October 4, 2013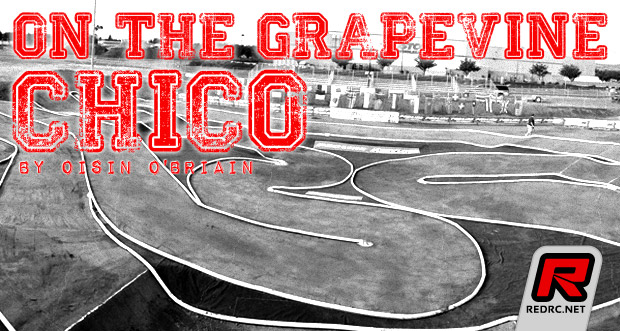 During my return journey from the 1:10 Electric Buggy World Championships in Chico, California, I was trying to gather together my thoughts for my latest column and I have to admit it was a struggle.  One would think that having just attended a World Championships the difficulty would be deciding what to leave out rather than what could I include that might make for somewhat interesting reading.  While the event was like the Frankfurt International Motor Show in terms of new buggy releases and appearances of prototypes, photos of which got quickly dissected by racers as they circled the globe via the interweb, there was actually very little else of interest coming out of the pits.  Perhaps it was the fact that the daily schedule left little time for chatting between runs, highlighted perfectly by Lee Martin eating a hamburger as though he was doing a challenge for the TV show 'Man Versus Food'. Maybe it had something to do with many of the drivers appearing to have spent the week prior in Vegas perfecting their Poker Faces.  While the event ended with 5-minutes of racing that even Hollywood's best script writers might have struggled to come up with in terms of drama and the final outcome, overall for me the event was missing that World Championship factor and it wasn't for the lack of effort.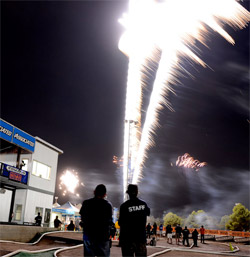 A Main Hobbies owner Kendell Bennett and his staff, the same people who help get r/c products out to customers around the world on any other week, did a great job of hosting their first international event.  They even put on a spectacular fireworks show as part of the Family Fun Day that took place on the Saturday evening and drew in a decent number of spectators many of whom left with a huge smile on their face and an r/c car under their arm which they won in a $10,000 free raffle put on by the online retailer.  Kendell admitted himself during the event that they lacked the experience of previous Worlds organisers, the track only up & running for a year & a half, and it was a huge learning experience but they did well.  Achieving what they did at their first attempt, should they realise their long term goal of hosting the 2016 1:8 Offroad World Championship, the second time round they should take things to a whole new level.  The track team headed up by track designer Kevin Jelick were for me the stars of the event.  Even with rain flooding the Silver Dollar R/C Raceway not once but twice, Kevin and his crew still managed to provide racers with an amazingly consistent track, so consistent in fact that drivers hardly mentioned or complained about the surface as I did the rounds of the pits for my reports after each practice/qualifying run.
******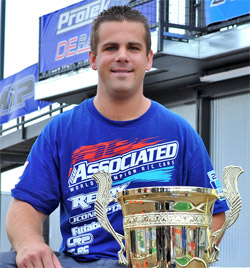 While Jared Tebo provided the quote of the week, 'To win you have to have so many things go right, to lose you only have to have one thing go wrong', while filming for a Worlds highlights video and shed a tear as he lifted his first 2WD World title in front of this wife and daughter, one couldn't have predicted a more contrasting winner of the 4WD title.  Having got to know Steven Hartson pretty well over the last year through covering the JConcepts Indoor National Series I already knew he preferred to do his talking on the track.  For a moment though, I thought him winning his first world title on his A-Main debut might lead to an outburst of emotion.  Nope!!  As a fellow member of the media put it his response to how he felt at becoming the 15th 4WD World Champion was like you had just asked him how was his bus ride to work.  His quietness aside, Steven is a super nice guy and it is great to see someone outside of the usual suspects becoming a well deserved World Champion.
******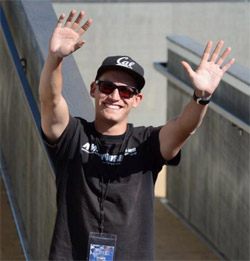 While on track there was the usual high level of seriousness one expects when a World title is up for grabs who would have thought the setting up of a Facebook page would be the weeks main source of entertainment.  In Chico we had the launch of the 'Tyler Vik professional R/C driver' fan page which quickly amassed just shy of 800 fans.  With a few drivers having an Athletes Facebook page, Tebo & Ryan Maifield being two key exceptions as they are not on Facebook, many people followed the page in the belief it was actually the A-Main Hobbies team driver himself who was updating the page but it wasn't. Having a pop at drivers with Fan pages at the start of the event Tyler posted on his personal page 'If I ever make a separate Facebook "Tyler Vik Professional RC Racer" page that calls me an athlete, ask me for the key to my car because you're legally allowed to run my ass over and kill me.'  The post was noted by JConcepts' Jason Ruona who duly set-up such a page posting some extremely funny updates as if it was Tyler himself.  Intentionally using incorrect spellings such as 'sponcer' and 'grate', the real Tyler was more upset by the fact that so many people still though it was him. Tyler's Dad even received a call from a friend to say how much he was enjoying following their progress on the page – Tyler not at all impressed by the fact he thought it was a real page.  One of the funniest posts referred to a photo saying 'Pettit R/C snagged a wicked photo of where it all goes down!!! When the going gets tuff,,,.the tuff get going. Billy Ocean said that and ain't it sooo true!?!'.  With the page still live be sure to check it out as I'm sure the real Tyler Vik would feel less ashamed of the page if it were to reach the 1,000 fans mark!
******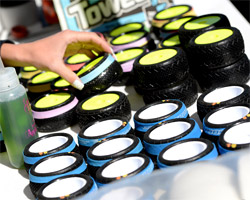 With a day off in between the 2WD and 4WD events on the schedule, after a morning at the track to photograph the new HB D4-13 and TLR22-4, myself and Ricky Acciari used the afternoon to take in a few of the sights around Chico.  With Ty Tessman the first driver at the track on the Thursday morning he appeared to be one of the few top drivers to take a break from all things racing going to a local shooting range and having seen his target he's not one to be messed with!!   For the majority of the drivers though the day was more akin to a Tyre Gluing World Championships.  Drivers spent their day gluing up to as many 18-sets of the handout Proline tyres each which until IFMAR give it official World Championship status I wont be covering!!  (I hope in 2-years time I don't end up regretting mentioning such an idea).
******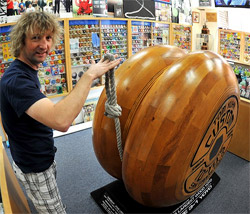 First stop on our day trip was the Sierra Nevada Brewery where we hooked up with Aaron Waldron and the crew from Radio Control Car Action Magazine. Turns out Aaron knows a thing or two about beer.  A very interesting & enjoyable tour followed by an opportunity to sample some of the produce it was the second stop which turned out to the highlight of the day.  The National Yo-yo Museum.  Yes you read it correctly, Chico is the home of the National Yo-yo Museum.  Housing the Guinness Book of Records largest Yoyo, which requires a crane inorder to be played with, it wasn't until we got talking to the female assistant about the Yo-yo behind the sales counter that things got interesting. Ranging from a $6 Yo-yo Museum souvenir yo-yo (found in a bucket in front of the counter) to a $150 hand made in Chico aluminum ball raced Yo-yo.  Showing us examples of the competition versions once she mention pro players I was hooked.  Informing us we were a week too early for the US Yo-yo Nationals that are held in Chico each year, she showed us one young player, who while still at school going age, had his own collectable player's card and earned a commission on every one of his signature Yo-yo his main sponsor sold.  Another player, was just back from a 10-day promo tour of Dubai for his Yo-yo brand.  Given the opportunity to try out some of the Yo-yos it turns out Ricky was a bit of a shark with the museum assistant suitably impressed although I think it was more his Italian charm that won her over.  I hear you asking why am I harping on about Yo-yos when this is a site for r/c racing?  I'll tell you why,  because both myself and Ricky bought two Yo-yos each (only cheap ones!!) because the shop assistant had drawn us in by selling us the cool factor of the Yo-yo PROs.  I have said this many times before I don't think we promote our PRO drivers enough in terms of using them to make RC look cool to newcomers.  Since getting home I have been further researching the world of Yo-yoing discovering that the World Champion has given a TED Talk, how cool is that.  For those of you who haven't heard of TED before as its website describes it it 'brings together the world's most fascinating thinkers and doers, who are challenged to give the talk of their lives (in 18 minutes or less).   The video has been viewed 860,000 times and I'll sure encouraged people to give Yo-yo a go.  If Yo-yoing can get on there surely one of our R/C stars can too.
Have an opinion on the topics discussed? Leave them in the comments below.
Oisin O'Briain is Red RC's Event Editor. Traveling the world reporting on some of the biggest races in the sport he regularly chats with top drivers and key industry figures and in his new column 'On the Grapevine' he will try to bring readers an insight into the latest talk that is doing the rounds in the paddock along with the odd bit of trivia information that comes to light.
The views and opinions expressed in this column are those of the author.
---