October 18, 2013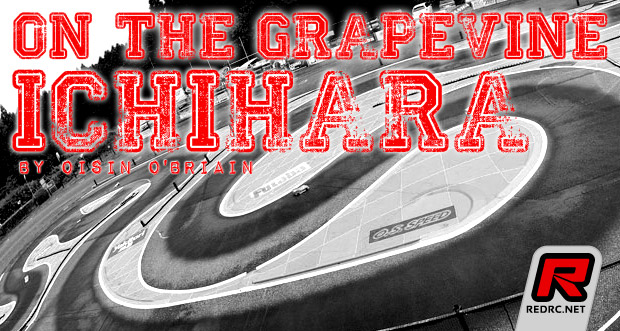 Of all the traveling I do last week saw the combination of two elements that had me excited the minute I arrived in Dublin Airport for my latest trip – 1:8 Onroad and Japan.  I had only been to Japan once before when I traveled to the world famous Yatabe Arena 2-years ago. On that trip I got to spend a day sightseeing in Tokyo city and my biggest lasting impression was how friendly a nation the people were. Returning for the 1:8 Onroad World Championships at KeiTune Racing Speedway in Chiba once again the friendly reception was immediate.  Picked up from Narita Airport by our good friend Terutaka Hanaumi, who the JMRCA had enlisted as an interpreter for the week, when we arrived at the event it was like a whose who of the Japanese RC industry and not because they were there to race!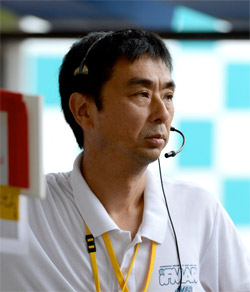 One of the first people we met was Akimasa Uchida, who just a week earlier was providing tech support to Sanwa users (as well as a table full of food goodies) at the electric Offroad Worlds in Chico, California.  With his Star Wars like light stick, Uchida was among other things looking after the car park which in typical Japanese style utilised every last bit of space.  Although a familiar face at electric touring car World Championships spearheading Tamiya's run of consecutive world titles, seeing Kiyo Suzuki at a nitro race was a surprise. So was Yatabe Arena track manager Hiroshi Suzuki.  Other industry figures included Mansanori Mytsuhashi of Futaba and Mugen boss Koji Sanada. Although he was busy looking after HB's brand new 1:8 project, even Masano Miura took on extra responsibilities with the role of team-manager for the large number of Japanese racers taking part.  The reason for the high profile staff line-up, headed by none other than Masami Hirosaka, is that the JMRCA, unlike other associations around the world, is run by the manufacturers. As a result they all contribute staff to help with the running of major events.  I was impressed by this for two reasons.  I have often heard mutterings that manufacturers put very little back in the sport, not the case in Japan, and having them hands on can only be a good thing in helping keep them in touch with what goes into putting on the very races that showcase their products (even if your company isn't active in this particular case in onroad nitro).
******

I must pay a big compliment to Masami, who on first meeting him due to his legendary status left me star struck every time I went to him for quotes for my reports during the 2008 Electric Touring Car Worlds in Thailand.  Over the past two months I have got to work more closely with the sport's most crowned World Champion.  He was race referee at the FEMCA Championships in China, at the Electric Offroad Worlds in the US and last week wore a series of officials hats in Chiba.  The sport has been good to Masami but from what I have experienced this past year he is paying back the world of RC racing and doing so with full interest on the payment. Sure many ex-racers have helped with events but Masami's enthusiasm to help is impressive. Examples I witnessed of this include at the FEMCA 1:8 Offroad Championship in Beijing.  After a few days of early morning starts the running of the Chinese Nationals one morning during the event meant the official bus would leave much later.  A good chance for a few extra zzzzs. Not Masami, he went to track at the normal 7:00am time.  Not because he had too, this was a separate event from the FEMCA race, but because he wanted to be there should the still very much novice local organisers need his help or guidance with putting on a significant event in its own right.  In Japan, after his 12 hour + days at the KeiTune track he was driving back to the Yatabe Arena to make sure preparations for a race at the weekend were all in order.
******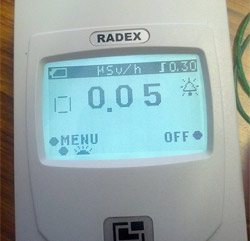 Prior to the Worlds in Japan, another legend of the sport Lamberto Collari made the controversial decision on the grounds of radiation risks that he would not travel to the event and chase a 10th World title in the sport Formula 1 class.   While a huge disappointment together with the late withdrawal of the defending champion Robert Pietsch, overall it didn't for me in anyway detract from the event.  The race was every bit a World Championship with my heartbeat racing with excitement as the drivers took to the track for the final just as much as it did in Switzerland in 2008 when Pietsch was Top Qualifier for the race that would see Collari take his most recent title.   At the end the sports oldest and founding class crowned a truly worthy new World Champion in Tadahiko Sahashi who is not just a super fast driver but a super nice guy too. The whole radiation thing did lead to some humorous comments.  One comment on our first video jokingly asked if anyone had died yet of radiation, at the track I heard someone joke that they were having trouble sleeping at night because the room was too bright from their toes glowing in the dark from the radiation.  Chatting to Top US driver Paolo Morganti about the Geiger counter he bought for the trip he said it was reading the exact same low level everyday since he arrived in Japan jokingly adding that this meant one of two things. 'Everyone is safe and there is no radiation treat, or the reader is faulty. I hope it is not the second option'. While Fukushima was a very serious disaster and radiation is serious treat to human health, throughout the week I was constantly informed of worldwide radiation readings in which cities we would have no concerns in visiting where top of the chart!!!
******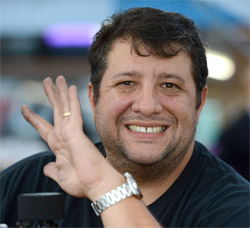 Walking around the pits having a general chat with drivers one common question I asked was how was 1:8 Onroad doing in their respective countries.  Like full size Formula 1, were there are regular stories of teams having financial difficulties, 1:8 is not for everyone due to the expense involved.  It is also not a class you can just jump into as tuning the engines and getting the clutch right is somewhat of a fine art and one which when you get it wrong can be costly.  While talking to Paolo Morganti he told me how he is trying to promote 1:8 GT in the US as a way to get new blood into the nitro onroad racing scene and it seems the idea is starting to work.  With no stepping stone into either of the recognised nitro onroad classes, 200mm Touring Car and 1:8, he said he started out with a conversion of a Serpent buggy with loosely GT styled body.  initially the class was seen as a 'joke' so Paolo decided to race himself to try and give the class some profile and show that while cars do not have the same speed as a 1:8 they do make for great racing and 'rubbing'.  Extremely strong due to their buggy heritage and requiring a lot less maintenance,  Paolo said this is key to the class' success.  As he correctly pointed out, newcomers want to race and are going to have accidents which in other classes would mean game over where as with the GT they get away with a lot more and continue to master their driving skills.  Paolo has been trying to encourage other manufacturers to get involved. For the large number of 1:8 buggy manufacturers he said they could produce a GT with little effort or cost as only a few new parts are required to convert their existing kit line-ups. He also said the class is also a lot more sociable as the cars require less 'wrenching'.  Paolo was involved in the successful Panamerican GT race which took place at Homestead in Florida which attracted 60 drivers and said for the next one the entry is so big they are going to introduce a Sportman class to further encourage newcomers to get out there and give onroad nitro a go.  At the Byron Challenge were the GT cars ran alongside 200mm and 1:8 it was the biggest class. Showing me a video of his son driving his GT car he said the class allows him to get his 7-year-old involved racing while still allowing him to continue with 1:8 where as if his son was to enter through 200mm it would most probably lead to a very short racing career for his son or the end of the road for his own racing.   A a former (pretty bad) onroad racer myself, the 1:8 GT class has sparked my interest to go back racing again.   With two young kids and not many free weekends a lack of time is my biggest enemy to going racing and while I have tried electric racing my motorsport background means the noise and fuel stops is part of the fun.  Maybe Santa Claus will be good to me and next year I'll make a return to my local track.
******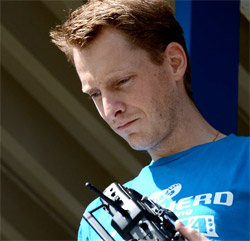 Being a World Champion bring benefits, well at least for Jilles Groskamp.  A Google search for rc drivers brought the Electric Touring Car Champion to the attention of a Dutch film production company and now he is set to assume the role of a stunt driver – well a stunt driver of a rc car!  Making a movie of a famous Dutch book called Wiplala which was written over 50 years ago, the main character can do magic, which doesn't allows go well.  Turning people into miniature this is were Jilles' skills are required.  For the movie they will shot the small people driving around Amsterdam and being chased by various characters.  After a meeting with the producer Jilles has got Tamiya involved in providing cars.  Picking out their very detailed Toyota Landcruiser, Tamiya will supply 7 chassis and 10 bodies.  The reason for all the cars is that the filming time in a city that size is restricted so they can't afford any downtime should Jilles make a mistakes or two.  One scene involves jumping through the letter A in the famous I AMsterdam sign while another involves driving around the feet of real horses.  The extra bodies are required for a scene were the Landcruiser will be picked up in the mouth of a real dog so damage is clearly expected there.  Now based in Thailand Jilles will be flown back to the Netherlands in December for 4 days of filming something he said he is really looking forward to doing.  He has also enlisted the help of his long time sponsor Michel Nijman of The Border Online rc shop who will drive an adapted RC car that is to act as a camera car.  Jilles is currently working with Michel on getting the right shock set-up for the car to cope with the weight of the movie standard camera.  All sounds like good fun.
******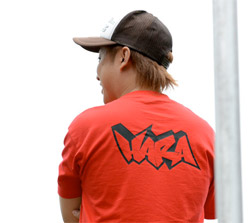 Many of you will have seen on Facebook that a certain Atsushi Hara has been busy building a variety of electric touring cars over the past few weeks. Talking to him last week about this he said with no contract to a manufacturer this is a good opportunity to see where everything is at. Having built 5-different cars he said next on his list are Schumacher and Awesomatix. Having got a Schumacher from their Hongkong distributor, he will actually race this car as the distributor has offered to bring him over for a race they are hosting. He will also race a Yokomo, a car he has already tested, in the coming weeks having been invited to a Yokomo Cup event. Asking him about the key differences between the various chassis, the suggestion came up that he start his own BBC Top Gear style ranking either with a Cool Wall or the Stig's Power Lap board. Former HB team-mate Andy Moore suggested the cars could be ranked by shelve position in his workshop at RC Addict with the bin being the lowest rank. On a more serious note Atsushi said following the 1:8 Onroad Worlds he was going to be busy traveling for talks with a variety of manufacturers to discuss opportunities. Having had a lot of dialogue with one well known brand he said they are now '99%' to his terms but he said this is not the only factor he wants to consider. I get the impression talking to Atsushi both in China and in Japan that long term he would really like to see a Hara product line carry his legacy into the future.
Have an opinion on the topics discussed? Leave them in the comments below.
Oisin O'Briain is Red RC's Event Editor. Traveling the world reporting on some of the biggest races in the sport he regularly chats with top drivers and key industry figures and in his new column 'On the Grapevine' he will try to bring readers an insight into the latest talk that is doing the rounds in the paddock along with the odd bit of trivia information that comes to light.
The views and opinions expressed in this column are those of the author.
---