October 25, 2013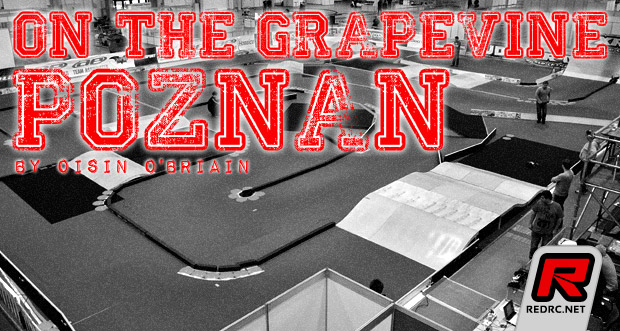 After the 10-hour plus flights involved in my previous two trips to the 1:10 Offroad and 1:8 Onroad World Championships, getting to the destination of my fifth consecutive weekend on the road was a far less bum numbing experience.  Taking a short flight from Dublin to Berlin, where I hooked up with my partner in crime for the weekend Ricky Acciari, a three hour drive had us at our destination.  Hard to believe a full 12-months had passed, I was back in Poznan, Poland, for the opening round of the third season of the Euro Offroad Series. While the majority of my working weekend's are spent at venues where racers easily out number spectators, thanks to a small in size but big in his vision Polish man, that is not the case when Niko Triandafilidis puts on a race.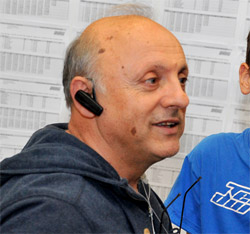 This was my third trip to the city, my first being in 2012 when Poznan was a host city of the European Football Championship. In April of that year Niko managed to put on the fourth round of the 2011/2012 Euro Touring Series as part of a major motorshow where r/c racing was exposed  to over 50,000 visitors.  That was the first and so far only r/c race I have ever had to queue to get in to!! Later in the year, Niko hosted the opening round of the second season of EOS and again he put the sport in front of a huge crowd.  Convincing organisers of a Hobby Show taking place at the same exhibition venue to give enough space for a track, the offroad racing proved to be a big hit with the near on 40,000 show goers.  This lead to the series being invited back with it taking centre stage at this year's event were it would be the central attraction of the main hobby hall.
******

As Ricky would find out, this being his first time to work with Red RC on an EOS event, the schedule is pretty intense and keeping pace with the racing leaves little time for much else other than preparing a report before the next round of qualifiers or finals comes around.  Managing to find two short periods of free time on Sunday I used the first one of these go and watch the racing as if I was one of the paying show goers.  I think its important to sometimes take a step back and view our sport from an outsiders perspective.  It is so easy to get drawn into believing that everyone else will view a hobby/sport the same way as we do so lately I have been trying to remove myself from the rc world and see things as an outsider. Starting out from the main entrance to the hall we were located this year I approached the track walking through the many model train exhibitions as the public were doing and I have to say visually it looked well with all the colour giving the feeling that something big was going on.  Although I don't have a word of Polish, from the various points I stood around the track the reaction from onlookers particularly kids appeared to be very positive.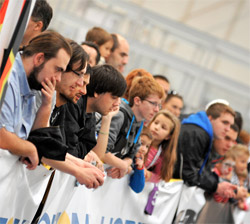 While this was great to see I could not help but notice that there was nothing to capture the freshly sparked interest of these people many of whom were probably experiencing our sport for the first time.  As Schumacher's Tom Cockerill put it earlier that morning, with the size of the crowds the industry needs to be here with their own stands.  While the EOS puts on great events for its racers including giving them and its own sponsors the rare chance to race in front of 41,500 people (the official attendance figure for this year's show), maybe it needs to adapt slightly the style of event it puts on to reflect these huge audiences being presented to them.  Round 3 of the EOS which takes place in Austria will also run as part of a hobby show and already Niko has secured the EOS' return to Poznan for next year. I know its not the responsibility of the EOS, of which I am very involved behind the scenes,  to act as a recruitment agency for our sport but maybe together with its strong line-up of leading brand sponsors they could combine efforts and provide some sort of point of interactivity with potential racers and guide them on how they can go about taking up r/c racing.
******
For my second piece of free time an experience on Sunday morning decided how I would spent this.  Arriving at the main exhibitors entrance in our rental car we were scanned in by security as usual but just after the barriers we were brought to stop.  Again with myself and Ricky void of any Polish, we had no idea why all the cars were being held and its seems either did the irate exhibitor a few cars behind us who was flat out on his car horn.  After a couple of minutes it all became clear.  Like a scene from the movie Braveheart, up over the crest of the road before us came a sea of teenagers all headed for the hall that was hosting a Computer Game Expo. Intrigued by what I had seen, I used the 20-minutes I had free between the 2WD podium presentation and the start of the 4WD finals to go check out what the computer gaming industry was offering that had people so eager to get to this particular hall.  I had never been to a gaming exhibition before, the simple reason being because I am completely useless at computer games, so I had no idea what to expect.

Entering the first of what turned out to be three halls catering for gamers, what caught my eye first was the amount of women, with gaming appearing to be much better at attracting female contestants than r/c racing.  I since found a report, produced by the Entertainment Software Association, that 45% of all game players, and 46% of the most frequent purchasers of games, are female. According to the report which was only released in August of this year, adult women now make up 31% of the game-playing population. Unfortunately our industry appears not to compile such useful data. I'm pretty sure the gaming industry has, based on its data, devised advertising & promotional campaigns that directly targets female audiences.  A simple piece of in my head research based on all the races I have ever attended would put the level of female participation in r/c racing at a low single digital figure that may require a decimal point for better accuracy.  Sure the games world is a lot more accessible as you can game pretty much any where you go these days. I have to say it was also a lot my glamourous and cool than any r/c event I have been to.  The stands presented by some of the companies in Poznan were works of art, I was almost tempted to join a massive queue for one stand that ran the length of the hall such was the buzz about the game they were handing out for free.   I know the games industry is far bigger than ours, Grand Theft Auto 5 selling 11.21 million units in its first 24 hours generating a revenue of $815.7 million, but for me they are a rival to r/c racing. I would like to think r/c racing is far more social,  its the perfect opportunity for dad and his kid to spend value time together and share an interest. Maybe that should be our sales pitch together with learning from the gaming world on how to present our events as a greater spectacle.
Have an opinion on the topics discussed? Leave them in the comments below.
Oisin O'Briain is Red RC's Event Editor. Traveling the world reporting on some of the biggest races in the sport he regularly chats with top drivers and key industry figures and in his new column 'On the Grapevine' he will try to bring readers an insight into the latest talk that is doing the rounds in the paddock along with the odd bit of trivia information that comes to light.
The views and opinions expressed in this column are those of the author.
---