October 25, 2013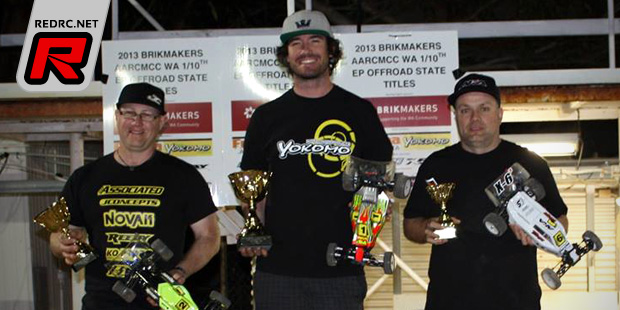 Josh Pain (Yokomo) has taken out the 2WD and 4WD Open buggy classes at the Brikmakers Western Australian State Championships in Perth after a challenging weekend of racing with wildly variable weather. Ray Munday (Associated) flew over from Melbourne for the weekend and finished a close 2nd in 2WD and 4WD as well as taking TQ and 1st in 2WD Short Course. Jarrod Smith took a promising double win in 2WD and 4WD stock. The West Coast club had prepared a very fast, flowing and challenging track for all competitors and the sugared surface had high traction throughout practice. Unseasonal rain on Saturday (2WD day) completely washed away the groove and the surface became very low traction and then very muddy. The 2WD portion had to be deferred until after 4WD on the Sunday, making for a very long day finishing under lights after 8pm. The sun came out again and 4WD qualifying started out very loose but by the finals a groove was forming and provided great racing. AKA Re-Bars were used as the control tyre in buggy and Pro-Line Suburbs in SCT.

In 2WD Open Josh and Ray tied for TQ, with Josh awarded 1st on countback. Only two finals could be run due to the lack of time. In the first final both led but Josh took the win after a great move in the triples and some strong defending. In the 2nd final Ray had a bad start and had to battle back to the front, setting up a last minute showdown to the flag. The last few laps were very close with Ray attempting a pass on the last lap but ultimately Josh held out for the win, Ray came in 2nd and Darren Johnston (X-Factory) 3rd.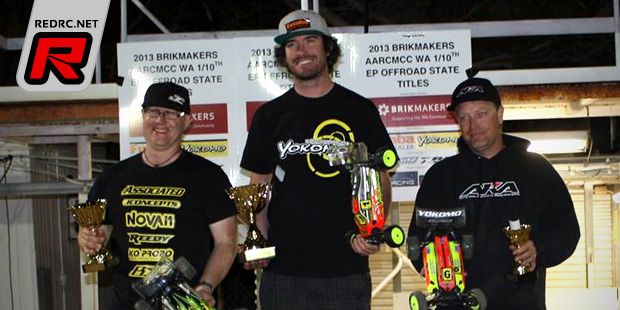 In 4WD Open Josh had a clean sweep of TQ, his prototype Yokomo working sweetly with Ray lining up 2nd on the grid. Young Kyle Francis (Xray) showed great speed for 3rd. In A1 Josh led from start to finish, with Ray close behind and the rest of the field a long way back. In A2, Josh also led from start to finish to wrap up the title, with Kyle 2nd and Ray 3rd. In A3 Ray moved quickly to the lead but a handling issue allowed Steve Smith (Yokomo) to take the win. Overall results were Josh 1st, Ray 2nd and Steve 3rd.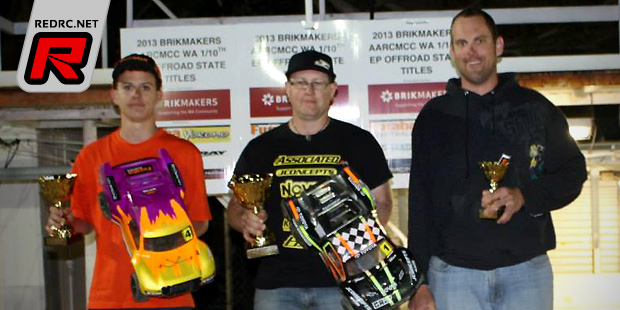 SCT saw a clean sweep for Ray, TQ'ing and winning both mains with his SC10.2 to take the win from Kyle (Associated) in 2nd and  Rob Thomas (Associated) in 3rd.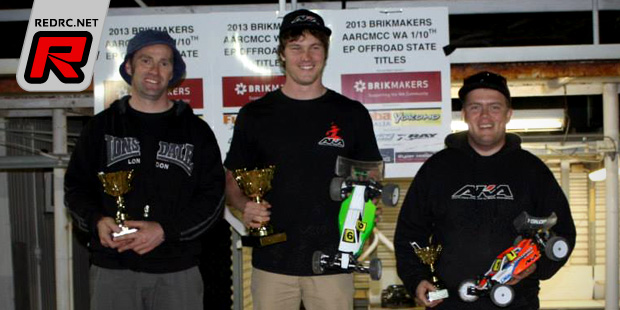 Jarrod Smith (Associated) took TQ in 4WD Stock but had tough luck in the 2WD qualifiers, Chris Mitchell (Yokomo) taking TQ in that class. In the finals and it was Jarrod who claimed victory in both with the fastest times of the finals. Kerren Nottle (Associated) finished 2nd in 2WD Stock with Mitchell coming home 3rd, while in 4WD stock Mitchell took 2nd and Marty Martin (Xray) 3rd. In the 10.5T Truck class Heath Johnson took the win from Chris Goldsmith and Daniel Robins. In 4WDSCT, it was Tom Whitfield 1st from Fabio Silvi 2nd and Matt Green 3rd.
Thanks to Ray Munday for sending the report.
---