October 23, 2013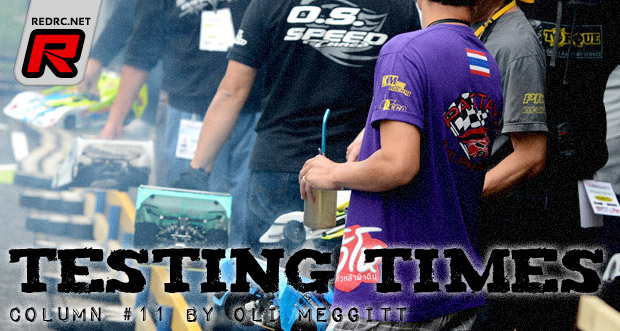 When I started racing, I'd turn up at a meeting and, if I'd got there early enough, maybe have time for a quick practice run before we got started with the qualifying rounds. As I then started attending bigger events, we got to the point where you'd also go to the track the day before the meeting for a day of open practice, often queuing or jostling for position on the drivers stand in order to get as many runs as you could through the day.
Controlled practice then started to be introduced, where drivers are split into groups (or just time slots based on classes) and allocated a fixed number of sessions throughout the day. As you go further up the ladder, it's now becoming almost the norm to not just attend a race with perhaps one day of controlled practice, but maybe a "warm up" meeting, either a few weeks earlier or, in the case of events such as World Championships, a few months earlier.
When you start looking at those big races in particular, you'll see teams not only attending the 'official' warm up meeting, but probably also going again to the venue for another test session. Just how much practice and testing is really needed?
As a race organiser, I know that warm up meetings are more than just an opportunity for drivers to practice on the track – they are also a chance for the team running the races to test out all of their systems to make sure that they too are ready for the main event. So I wouldn't be in favour of removing those type of meetings completely.
I also saw in the meeting notes from the IFMAR meeting during the 1/8th On Road Worlds in Japan that they were going to investigate if it was possible to restrict some of the practice time at the events to those who hadn't attended the warm up meeting. I personally think that is a great idea, and one I hope other events also look at. Attending races for any privateer (or even a fully funded driver!) is expensive and so it's good to continue to look at ways to reduce costs.
However, making perhaps the first day or two just for those who didn't attend an earlier meeting may just turn those into "track cleaning" days, where those drivers are doing not much more than cleaning up the racing line and putting rubber down ready for everyone else to start their event with the track in a better condition. And, as with any rule – how will it be policed? Would that just apply to the official warm up meeting? What about any private testing that occurs – do those drivers get those practice days? I think the idea has a strong basis, but may need some careful consideration to implement.
If we look at it realistically – for almost every full size motorsport, be it Formula 1, MotoGP, World Touring Cars etc, those events are three days – more or less one day of practice, one day of qualifying, and one day for the main race. Do we really need much more than that for an RC World Championship? I'm not sure we really do.
Have an opinion on the topics discussed? Leave them in the comments below.
Oli Meggitt is a race organiser, announcer, RC racer and has also been known to stand and talk in front of a camera. Now a columnist for Red RC you can read his thoughts, insights and ramblings fortnightly.
The views and opinions expressed in this column are those of the author.
---