October 8, 2013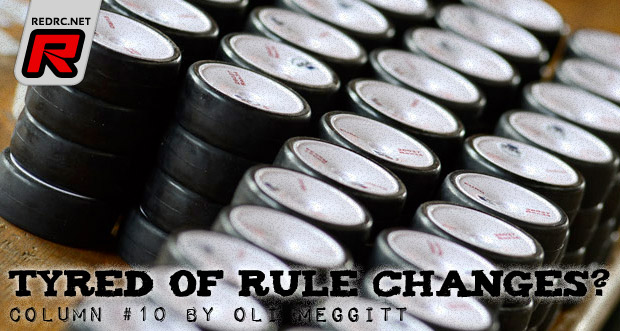 It's that time of year again – most of the major summer events have now finished, drivers are contemplating their results from the season and many looking forward to a winter championship – perhaps indoors or still outside braving the cold. The end of the year also means the end of the current rule set. This also means that this is the time for rule proposals, discussions and AGMs. Many clubs across the world will sit down and decide what direction they want to take the club in for the following season – are any rule tweaks needed? Are the classes we support still the right ones? Do we need to change our race format? It's also the time that national and international federations announce their rule change proposals and a few select people attend the AGMs to vote on those proposals.
I saw that the EFRA AGM proposals were published and, being the exciting person I am, have had a good chance to read through them.  I also saw that the decisions from the IFMAR AGM, held during the Off-Road Worlds in California, were also published a few days later.  What struck me from this were a few very clear things:
Firstly, neither the EFRA proposals nor IFMAR results indicated any significant changes for the 1/10th Off-Road section.  With a very successful World Championships (certainly as I perceived it as an 'outsider', not being at the event) taking place and recent years of very well supported Euros, it seems to me that this section of our hobby has settled down, and found a set of rules, regulations and procedures which most are happy with and produce well-attended events.
However, over on the On-Road Electric section, there was a very different impression.  The most obvious thing to strike me was that no-one seems clear what tyre rules are the best.  When EFRA first introduced the rule that essentially allowed drivers a new set of tyres for every qualifying and final run, many drivers applauded the move as it removed any element of strategy, sitting out rounds or team games, and allowed the drivers to go 100% every time they hit the track.  What later became obvious, however, was that this in turn meant that every practice run also needed to be run on new tyres in order to understand the car setup.
That led the 2012 World Championships to take a very different approach, severely limiting the number of tyres allowed.  But that, in turn, meant drivers were then concerned with driving to make the tyres last, and working closely with their team mates to determine who would run new tyres in each round, to maximise the team's overall result.
This year's EFRA proposals call for a change back to a limited number of tyre sets, whilst IFMAR's new rules go the opposite direction, allowing new tyres to be used for every run.  A complete flip-flop of ideas between the two organising bodies.  As a racer, I always want to see drivers competing to the absolute best of their ability, but I'm also very conscious of the cost of competing and the impact that has on 'privateer' drivers, funding the event for themselves.  Perhaps this rule set will, however, give us a strong indication of what the drivers prefer and in a year's time, we'll be greeted by another set of proposals, perhaps suggesting some conformity across our sport.
Have an opinion on the topics discussed? Leave them in the comments below.
Oli Meggitt is a race organiser, announcer, RC racer and has also been known to stand and talk in front of a camera. Now a columnist for Red RC you can read his thoughts, insights and ramblings fortnightly.
The views and opinions expressed in this column are those of the author.
---