October 2, 2013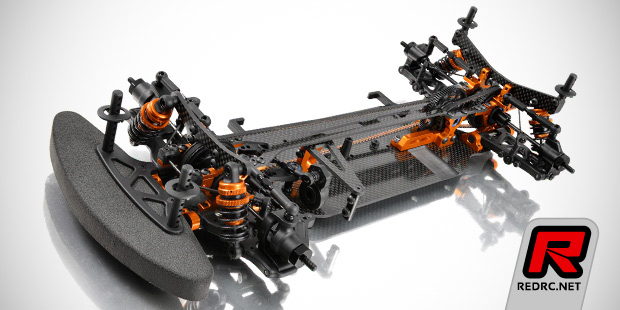 Xray introduce the T4 2014 electric touring car kit. Still called the T4 platform the 2014 spec kit features a range of new and updated parts that heavily separates the '14 version from the previous kit. First up is the 89mm wide 2.2mm carbon fibre chassis that comes with pre-drilled holes for optional parts such as chassis weights, motor guard, battery holder or battery straps. Also part of the newly designed chassis is an updated motor and layshaft mount – both separate parts now to eliminate unwanted tweak. The layshafts mounts are of a captured design to allow the layshaft bearings to stay in place even with the top deck screws removed. The chassis flex is now additionally adjustable using a sturdy aluminium post that can be screwed onto the motor mount.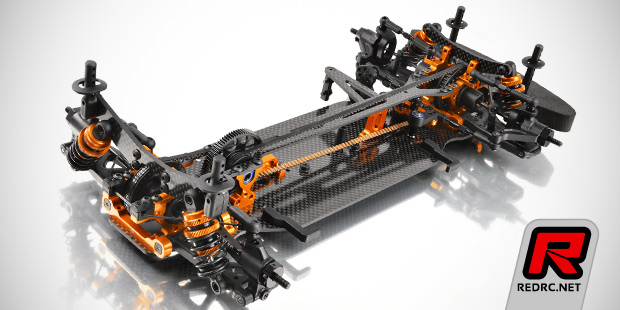 New for the 2014 T4 are the updated suspension mounts that are now fixed onto the chassis rather than being a part of the bulkhead assembly. Included with the kit come FR single and RF two-piece blocks with additional split or one-piece blocks being available as option parts in order to fine-tune steering and grip characteristics. Either way the caster, toe, kick-up and track width settings are now adjustable using plastic inserts for the aluminium suspension blocks. Another new feature on the '14 car are the SFA (Suspension Flex Adjustment) arms whose flex characteristics are adjustable using optional carbon fibre plates – a feature formally known to 1/8th off-road buggies.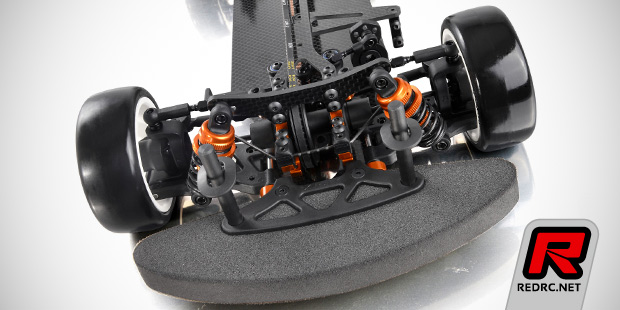 Included with the kit also comes an updated steering plate for more cornering stability, super low profile shock absorbers and shock towers, a central 'floating' servo mount, a high torque servo saver, 1.4mm and 1.2mm anti-roll bars, 50mm rear aluminium driveshafts, alloy turnbuckles and alloy wheel clamps.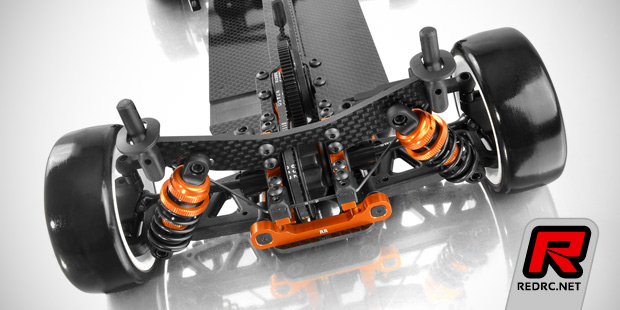 2014 specifications:
– All-new chassis design
–All-new top deck design
–All-new suspension holders
–All-new suspension bushings
–All-new arm design
–All-new smart SFA arms
–All-new motor mount
–All-new layshaft bulkheads
–All-new alu steering plate
–All-new shock spring harnesses
–Improved traction
–Improved steering characteristics

General specifications:
– Designed for highest performance at all levels of racing
– Chassis designed to provide maximum traction and steering
– Reduced sensitivity to changing track conditions
– Developed, designed and styled by Martin Hudy
– Independent front and rear diff height adjustment
– 3mm-thick super-low profile shock towers
– Unique super-light and low-profile motor mount
– New mounting system allows for very free arm movement
– Rear suspension aluminum holders feature integrated toe-in
– Hard front steering blocks increase steering response
– New rear uprights give increased stability
– Front 1.4mm & rear 1.2mm anti-roll bar wires included
– 38/20T (1.9) internal gearing
– Super-light drive axles have 35% less rotating mass
– Rebuildable front CVD drive shafts
– Super-lightweight wheel axles
– Composite hubs for differentials to fit super narrow bulkheads
– Super-smooth, super-light maintenance-free composite gear differential
– Super-light composite front Solid Axle
– Super-Low Profile (SLP) aluminum shocks
Source: Xray [teamxray.com]
---