November 26, 2013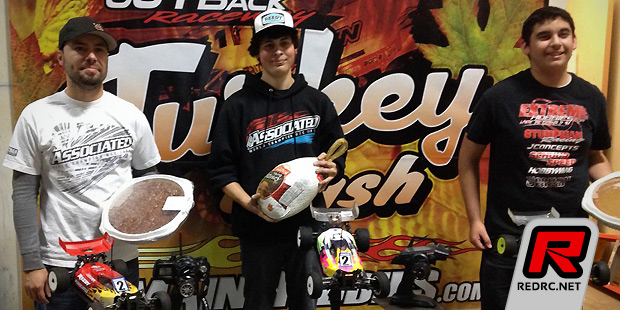 A Main Hobbies recently hosted its 2013 Turkey Dash at their indoor track, Outback Raceway in Chico, California. With over 120 entries from across Northern California, the race held out a promise of great racing in all classes. Qualifying started a little differently this year with three rocket-round, heads-up qualifiers. Team Associated's Eric Albano and Brian Strange both showed their speed, going 1 and 2 into the mains. Strange took the TQ in 4WD Modified and Albano took the TQ in 2WD Modified.

Mains got under way later in the evening with lower mains taking two to bump all the way to the single, 6-minute A-mains. In 4WD Modified, Albano made a pass on Strange the first lap. Strange would not hold back and tailed Albano for almost half the race until a mistake with lap traffic and the top two caused him to fall back. Albano kept his pace and took the win with Strange finishing third.
2WD Modified introduced another battle between Strange and Albano. The first few laps were bumper-to-bumper until Albano made a mistake in the six-pack. Albano charged as hard as he could to catch up to Strange, who was in a steady lead. They put on a spectacular bumper-to-bumper show in the last lap. Albano made a calculated move on Strange on the last corner, going side-by-side down the straight. The gamble paid off, with Albano took the win by .035 of a second.
Source: Team Associated [rc10.com]
---