November 1, 2013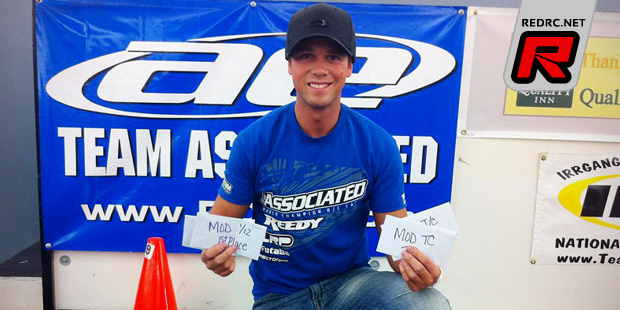 The Halloween Classic has become one of the premier events of the carpet racing season. As the first event of the 2013/14 Midwest Grand Slam Series, interest in the event was at an all-time high. Hosted by the Gate and NORCAR, the event created such a buzz that it sold out two months in advance. Over 200 entries featuring 110 racers from 10 states and Canada were on hand to battle it out at the newly upgraded Gate facility. Friday was set aside for practice followed by three rounds of qualifying on Saturday. A fourth round of qualifying on Sunday morning was followed by the main events. Rocket round qualifying and single A-Main format, typical for on-road carpet racing, was once again utilised. Team Associated Reedy driver Keven Hébert was once again concentrating on the Modified TC and 1/12 Modified classes. Coming off his 1/12 Modified win at the IIC, Hébert was seeking to continue his winning streak in what is considered the F1 of electric on-road racing with his Reedy-powered 12R5.2. In complete contrast, teammate Myron Kinnard was competing in the power-limited, yet highly competitive, VTA (Vintage Trans-Am) class.

Hébert was in a class of his own this weekend. Keven set the fastest time in each of the four rounds of qualifying in both classes he competed in. Starting at the pole in the Modified TC main with his Reedy-powered TC6.1 prototype, Keven built an early lead that slowly grew to nearly five seconds by the time he crossed the finish line at the end of the 6-minute race. The 1/12 Modified main followed the same script. Keven's lead was over a lap by the three-minute mark and grew to nearly three laps by the time Keven took the checkered flag for the win.
Myron Kinnard faced a heated battle with John Choi for the VTA class TQ. Eventually Myron fell slightly short and had to settle for the second grid position. Undeterred, Myron drove his TC6.1 into the lead after the completion of the first lap and never looked back to take the win in the highly competitive A-Main event. And last but not least, privateer Ray Klebanow drove his TC4 to victory from third on the grid in the USGT class main event. Currently available as the TC4 Club Racer, Ray proved that you don't need the latest and/or most expensive platform to compete for the win.
Now that the Halloween Classic is in the books, the Midwest Grand Slam Series moves to Strongsville, OH for the US Indoor Championships on Thanksgiving weekend.
Source: Team Associated [rc10.com]
---