November 5, 2013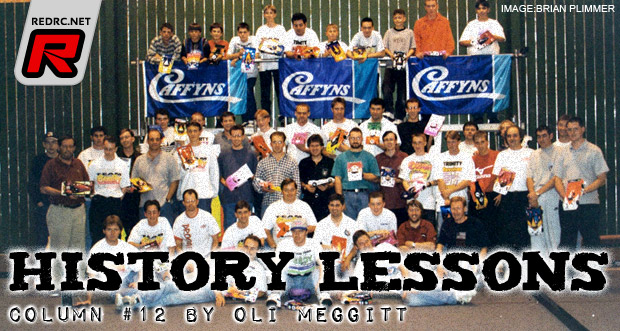 Through the past few months, one thing in the RC community that I've noticed is the emergence of 'historical' photos and anecdotes.  There really seems to be a buzz at the moment in looking back to old times and finding pictures and results from classic RC meetings.  It seems to have sparked those people who were racing RC cars back in the times before transponders  to start digging through their attic or garage to find their treasure troves of photographs back from the first meetings they entered, or the first major event they attended (or, in some cases, even won!).
For those people who didn't know RC racing until 2.4GHz came around, I've found it fascinating to see their reactions when finding out how the sport used to be and how events used to run.  Seeing the old cars and 'technology' also opens people's eyes to how things have changed and just how quickly our hobby has advanced.
It's not just the cars that have advanced – the way meetings and events run has changed too.  The days of sending postal entries in are long gone, replaced on online booking and payment systems.  Automatic timing and lap counting provide amazing levels of accuracy – we never hear of anyone questioning the race results, which was an all too common occurrence in the past!  Results are now published online within seconds of the end of each race, and media coverage at each event means we know all the stories away from the track too!  And we don't have to wait a few months for a magazine to publish the results and a short paragraph of news.
With all the improvements in technology, I firmly believe RC racing is the easiest it has ever been to be involved in.  Products are easily available, and we're quickly moving away from times when "team drivers" have special batteries, tyres or motors.  Of course, it's also probably the most competitive it's ever been, but that often makes it appeal even more.  With all the media coverage we now receive, I also believe the sport is continuing to be accessible to non-RC racers, who may well be the next generation of World Champions
But when talking to people who have been involved in RC racing for decades, the things that stick in their mind are, more often than not, the fun that they remember from a particular meeting; what they and their friends (or competitors!) got up to both at and away from the track.  With the increase of social media making it even easier to stay in touch, I certainly hope this element continues to grow in the future.  When I hear the stories of the friends that have been made, and the fun that has been had, that perfectly highlights what, for me, is the biggest draw to RC Racing.  I sincerely hope that in perhaps 10 years time, I can be fortunate enough to have similar conversations with all the new racers we've been able to attract.
Have an opinion on the topics discussed? Leave them in the comments below.
Oli Meggitt is a race organiser, announcer, RC racer and has also been known to stand and talk in front of a camera. Now a columnist for Red RC you can read his thoughts, insights and ramblings fortnightly.
The views and opinions expressed in this column are those of the author.
---