November 4, 2013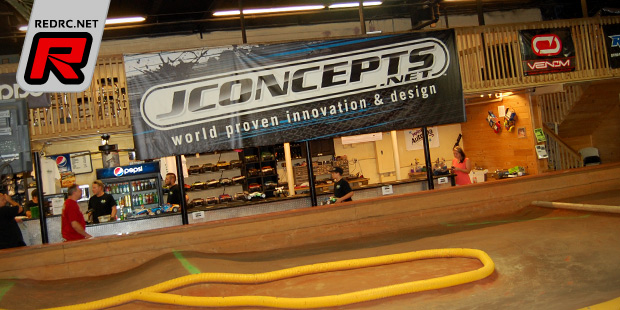 Florida's best racers made their way to Bashers RC Raceway in Palm Beach Gardens for the second round of the fall session. Many came early for practice and a club race on Friday. It was poised to be a great weekend with a feel of electricity in the air. 138 entries would fill the 20 heats to seed racers in the top qualifying spots. Stock 2WD buggy had JConcepts Team Driver Riker Gatenby on top of the field of 23 to a time of 20/5:12.692. Seven drivers would start the C-main for 2 bump spots to the B. After changing positions many times Nate Adair and Matt Bradford Jr., were able to hold off a hard charge from Ron Viesins to the B-main. Brian Buckley lead every lap of the B-main, but the show was put on by Matt Bradford Sr. Matt started in the 2 spot but fell to 7th after a multi-car pile-up on lap 2. Rich Schafer and Robert Molina would be back and forth for the final bump spot for many laps all while Matt was working his way back though the field racing clean and consistent laps. On lap 11 Matt made his final pass of the B-main into 2nd and the final bump spot. As the tone sounded for the 10 racers of the A-main, Riker set sail and never looked back. Glenn Worthington finished 2nd with Billy Bruce 3rd, Rick Jacobs in 4th and Jovan Cruz 5th.

18 raced for the TQ spot of Modified 2WD buggy and it was Billy Easton on top after 2 rounds at a time of 21/5:08.041. Bobby Horan would win the B-main as Justin Fales, Matt Lardizone and Aaron Niznik changed spots turn after turn. It came down to the final straight away to see Justin just edge Matt by half a second to bump into the show. At the end of the 5 minute main Billy Easton was still on top as he led all of the 21 laps. Jason Ruona finished with a sold second and Daimon Borkowicz put his B4.2 in high gear after falling from 3rd at the start to 5th on lap 11 back to a 3rd place finish. Both Paul Wynn and Ryan Eckert moved up 2 spots from their starting positions for a 4th and 5th place finishes.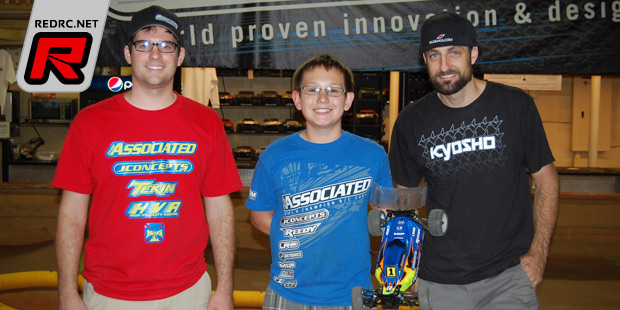 In the second largest class of the day with 20 entries 4WD modified buggy had the fastest, closest qualifiers as JConcepts Team Driver Daimon Borkowicz was Top Qualifier with a time of 22/5:04.531. Brian Buckley and Dan Taylor bumped into the B-main. Chris Richmond won the B, but Austin Smith and Mike Barone would change the lead 14 times in 20 laps at the line. In the end Austin was able to hold off Mike's final charge and make the show. Daimon fell to 10th on lap 1 then put on a clinic for comeback and Ryan Eckert took notes as he too fell to 7th. Daimon and Ryan made it back to the top five by lap 6 and neither was done. Daimon was able to make his way to the front and took the win, Brett Kingsbury raced his JConcpets equipped B44.2 flawlessly for a solid 2nd place finish with Ryan Eckert taking the 3rd spot, Felix Law would finish 4th and Jason Ruona 5th.
The final on the buggy classes, 40 and over is quickly becoming a popular and crowded class. Bobby Horan would lead the field of 13 with his time of 20/5:09.216. Tim Kowal and Jeff Lynn finished 1-2 in the B-main. Billy Bruce would lead the first 3 laps until Glenn Worthington moved up to the point for the next 4 laps. Bobby Horan gathered his TLR 22 2.0 as he set sail on lap 8 and stayed in the top spot for the final 13 laps. Glenn would finish 2nd, Billy 3rd, Walter Cruz 4th and George Gatenby 5th.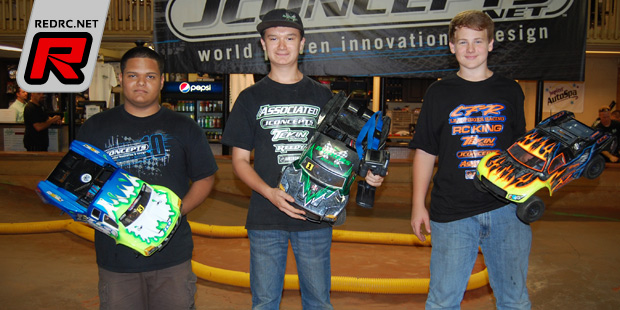 Pro 2 Stock Short Course was dominated by JConcepts Team Driver Riker Gatenby as his TQ time of 19/5:00.002 put him in P1. Riker lead every lap of the A-main as he pulled away from Jovan Cruz 2nd and Peyton MacDonald 3rd. Tilar Pollack and Mark Papero rounded out the top five. Robert Molina won the B-main and Nicholas Cammarata took the final bump to the A-main.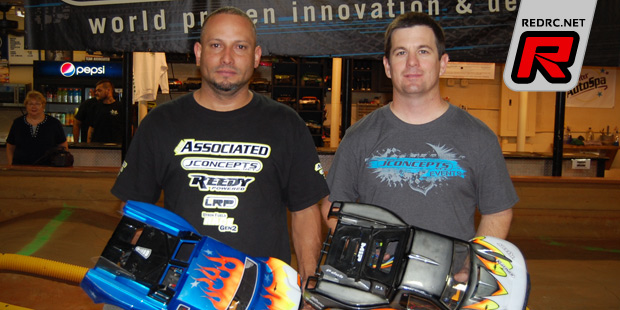 Pro 2 Modified Short Course had Paul Wynn in the driver's seat after 2 rounds of qualifying at a time of 20/5:03.692. His SC10.2 continued its perfection in the main as it laid down 20 laps in 5 minutes. Chris Viesins was 2nd, Walter Cruz 3rd, Austin Smith 4th and Glenn Carlson 5th.
Pro 4 Mod SCT had Trey Roberts win every lap of the B-main and Randy Deepen take the final bump spot to make up a full field of 10 in the A-main showdown. Felix Law edged out Justin Fales by 2 tenths of a second for TQ with a time of 20/5:00.276. 4 racers would take turns with the race lead, George Gatenby lead the first 5 laps when Andrew Gamboa took over for until lap 12. After a rough start Justin Fales was back to the front for the final 7 laps with George hot on his heels in 2nd, Trey Roberts fought his way into 3rd from the 9th starting spot. George Mercardo was 4th and Austin Smith rounding out the top 5.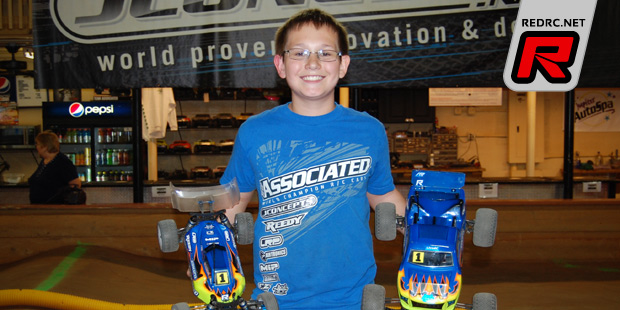 JConcepts team driver Daimon Borkowicz with his T4.2 edged out Ryan Eckert's Kyosho by .2 sec for TQ. The battle was set for an epic showdown. Damion bobbled on the start which gave the lead over to Ryan, and second to Mike Barone. By lap 2 Daimon had moved back to 2nd right behind Eckert. On lap 4 Daimon made his move back into the race lead but Ryan was making him earn every lap hot on his bumper. Lap 9 would be Eckert's final lap with a mechanical issue knocking him out of the race. As Daimon drove off for the win, the racing was far from over. Mike Barone and Aaron Niznik went back and forth turn after turn for 14 laps, in the end Mike edged Nick for 2nd by .403 seconds. Rick Jacobs was 4th and Dan Witkoski from the 8th spot on the grid to finish out the top five in Modified 2wd Truck.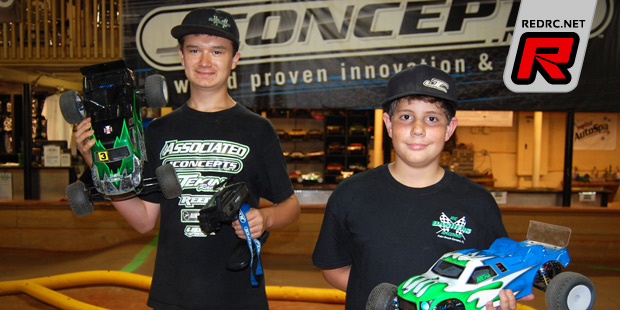 In Stock Truck, Riker Gatenby had the trifecta of TQ's with a time of 20/5:09.692, but the stars had aligned for the 3rd place starting truck. Riker fell to 6th on lap one as he caught a pipe halfway through the lap. Glenn Worthington moved up into the race lead until lap 5 as Robert Molina took the race lead. Robert raced away from the pack but very quickly caught lap traffic and made the moves around all while keeping a very fast pace as Riker was making a charge back to the front. By lap 12 Riker had made the final pass for 2nd around Tilar Pollack and Glenn Worthington. Robert could hear the progress of Riker but never faltered. Chad Olcott finished 5th, Glenn Worthington 4th, Tilar Pollack 3rd, Riker Gatenby in 2nd and for his first JConcepts Super Cup win Robert Molina.
Source: JConcepts [jconcepts.net]
---