November 12, 2013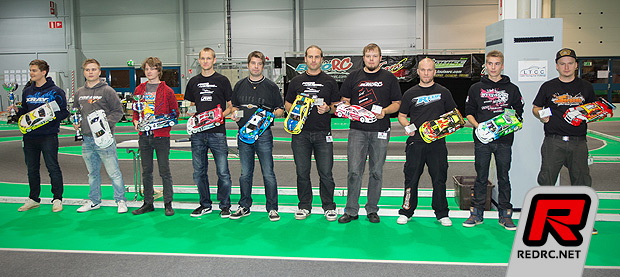 The Lahti Touring Car Challenge was held in Lahti, Finland in the town's Fair Centre as part of the Kätevä-Tekevä-Lukeva crafts, hobbies and reading expo that saw around 8,500 visitors throughout the weekend. The race was run in three classes, with the main one being the 28 driver invitational 10.5T blinky ProStock class, run in a spectator friendly format with racing consisting of final type starts with mixed heat and starting order. Seven rounds were held with four seven car heats per rounds of which six rounds counting for the final order. Saturday also saw a supporting blinky 17.5T stock class and on Sunday a FWD class was run, both in a more familiar two qualifying rounds and two final rounds format. The invitational ProStock class gathered a variety of top Finnish national FinTrack-Tour series drivers from the several classes to race each other in a more laid-back fun event. The invitational class also had some interesting names in the mix, especially Christer Andersson who made a one-off comeback with a borrowed Yokomo BD7 after a two year hiatus from the sport. Also one of Europe's fastest 1/12th scale racers, Vesa Yli made a touring car comeback with the new Serpent car.

Straight from the first heats it was clear that the race for the win was going to be a three way battle between Awesomatix driver Karri Salmela, Xray driver August Poutiainen and Christer Andersson who was instantly on pace even without any practice. Salmela was looking very strong after Saturday, winning all three heats of the day. Poutiainen was in clear second with two wins and a second place. Andersson was a bit behind with one win, a 3rd and 5th place, but with one round to be left out for the final result he still was bit not that far away.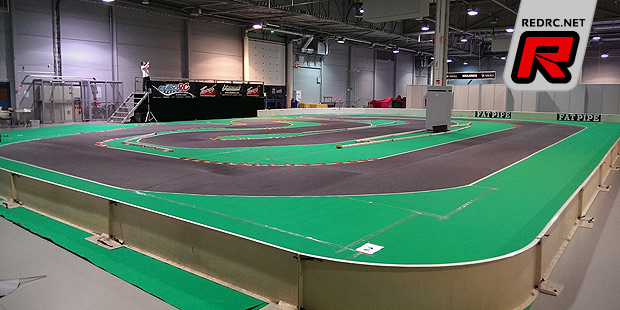 In 17.5T Stock young Yokomo driver Leevi Martikainen was fastest after two rounds of qualifying, with a comfortable lead over Tapio Matikainen and Joonas Hyvärinen. In the finals Martikainen suffered from electrical trouble in both finals and ended up last in the A-main with the win going to Tapio Matikainen who ran the finals without any trouble. Second place went to Joonas Hyvärinen and Riku Teräväinen completed the podium.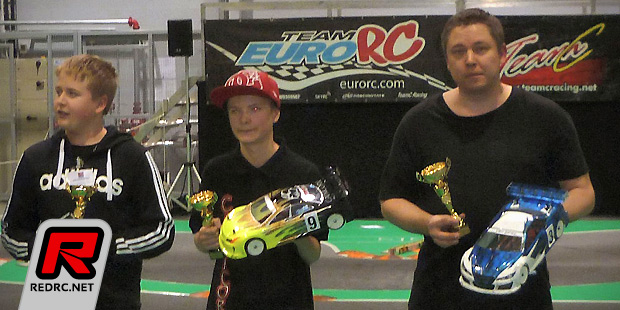 Stock top 3:
1. Tapio Matikainen
2. Joonas Hyvärinen
3. Riku Teräväinen
On Sunday the invitational class drivers Andersson, Poutiainen and Salmela started strong, winning their first heats. For the second round the order started to mix up, as Salmela suffered a broken car after crashing with another racer resulting with a DNF while Poutiainen and Andersson won their heats. The penultimate round saw all three top contenders in the same heat. The heat turned out to be a bit of a let down as Salmela and Andersson suffered from accidents, resulting Karri to suffer from a DNF and Christer ending a lap down and eventually retiring. Poutiainen tough ran a clean race winning the heat.
Before the last round, Poutiainen had already secured the win with five wins and a second place. The battle for second and third place on the podium was still on between six other drivers. Andersson won his last heat and that gave him the second place overall. Teemu Rytsy, driving an almost antique Tamiya TRF416X had a strong last heat with a win, making him the third man on the podium having even points with Andersson, but Christer had the better end with more heat wins.
Invitational ProStock top 10:
1. August Poutiainen – Xray
2. Christer Andersson – Yokomo
3. Teemu Rytsy – Tamiya
4. Joni Minkkinen – Awesomatix
5. Sami Salmela – Awesomatix
6. Kalle Lehto – Awesomatix
7. Henry Salmén – Yokomo
8. Vesa Yli – Serpent
9. Karri Salmela – Awesomatix
10.Samppa Orhanen – Serpent
On Sunday the supporting FWD class saw a tight battle for the win between Kai Jansson and Rauno Kallionpää but it was Jansson who TQ'd the class and ended up winning both finals in front of Kallionpää. The podium was completed by Timo Jokinen.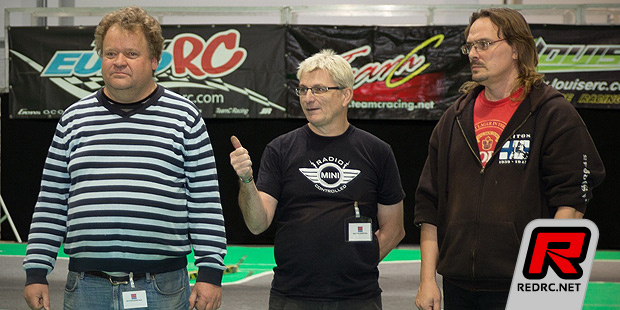 FWD top 3:
1. Kai Jansson
2. Rauno Kallionpää
3. Timo Jokinen
Thanks to Henry Salmén for sending the report.
---