November 19, 2013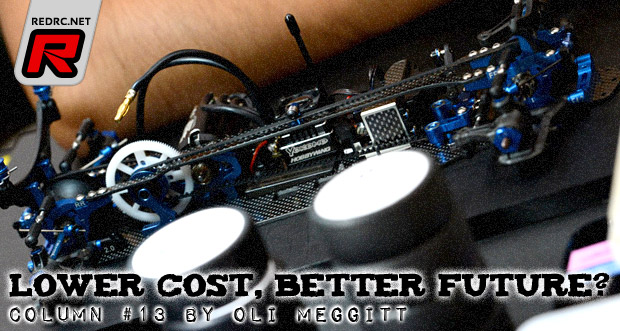 A common topic of conversation around the RC World does seem to be, sadly, the lack of young blood coming into our sport. There's certainly many reasons why that is the case – the competition from today's games consoles, social media, the seemingly never-ending class structure we now seem to have…
And of course, the big one – cost. I would have thought that the majority of us, and probably you reading this column too, first began RC racing after we nagged our parents (or partner for those who started a bit older!) for a car for a birthday or Christmas present. After a bit of playing around in the street or local park, we took our car to a local club and began racing. Most likely, that first car wasn't a full-on, race bred, World Championship caliber machine, but then again, nor were a decent amount of the other cars we raced against at our local venue.
Of course, the top drivers had the latest race chassis and motors, but it always seemed to me that you could be racing much cheaper, and still have a large number of people to compete against who may also have a lower-spec car.
Today, it appears to me that almost everyone at a race meeting (including most club meetings) will be running pretty much the 'latest' version of their car. And with the technology advancements, improvements in quality, tolerances and performance, those cars do cost considerably more than the top-of-the-line models from years ago. Whilst this highlights the professionalism that our sport has moved towards, I believe it is also preventing new or young drivers getting involved. For someone to turn up at a club and realise that almost every car being raced probably costs in excess of 500 Euros by the time all the electronics have been added, it's not really surprising most of them never come back.
However, most manufacturers do in fact offer a lower spec of their race car. Perhaps with a little less carbon fibre or aircraft-grade aluminium on it. But this slightly lower spec usually comes with a significantly lower price tag. Similarly, electronics manufacturers offer a package utilising slightly lower spec parts, but again at a much lower cost. What I'd really like to see is a way for drivers to promote and use that level of products at race meetings. Of course, the top drivers will always use the latest parts, but it's worth thinking whether you really need to be using those World-Championship A Finalist parts yourself.
At the end of the day, you'll still be at the race. You'll still probably end up in about the same position. You'll still (hopefully!) have fun with your friends at the race track. And, with any luck, when a youngster asks how much it costs to race, you can tell them a price that will hopefully appeal a little more to their parents!
It may well not just save you a nice amount of money, but it also might just help to save our sport too.
Have an opinion on the topics discussed? Leave them in the comments below.
Oli Meggitt is a race organiser, announcer, RC racer and has also been known to stand and talk in front of a camera. Now a columnist for Red RC you can read his thoughts, insights and ramblings fortnightly.
The views and opinions expressed in this column are those of the author.
---