November 28, 2013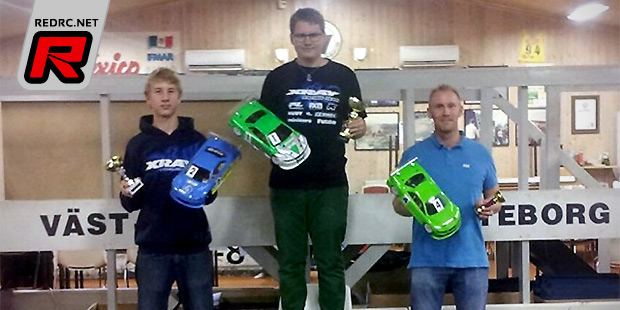 The first round of the South Swedish Cup for electric touring cars was held in Gothenburg. The quite small and narrow track was very technical and left loads of room for mistakes and driving errors. After 3 rounds of qualifying with the best round to count Markus Hellquist (Xray) managed to secure the first spot on the grid, ahead of fellow Xray driver Karl Ullenius in second and David Hassel in third.
Qualifying result:
1. Markus Hellquist
2. Karl Ullenius
3. David Hassel
4. Mattias Johansson
5. Andreas Johansson
6. Martin Aberg
7. Tobias Markert
8. Kristoffer Gustafsson
9. Johan Bertilsson
10.Eddie Lundin
The finals had very close racing to offer between Markus and Karl with both drivers being careful not to make any mistakes. Both Markus and Karl swapped positions many times during the finals and in the end Markus was able to win A-main 1 and 2 handing him the overall win early. Karl then managed to win the last final securing the second spot ahead of Mattias Johansson.
Results:
1. Markus Hellquist
2. Karl Ullenius
3. Mattias Johansson
4. David Hassel
5. Andreas Johansson
6. Tobias Markert
7. Martin Aberg
8. Kristoffer Gustafsson
9. Johan Bertilsson
10.Eddie Lundin
Source: Xray [teamxray.com]
---