November 8, 2013
'As they say, time flies when your having fun!!!', that was how I ended my Facebook status update as I boarded my flight for a trip that would bring my travelings this year to just shy of 186,000Kms. The reason for this statement was because somehow I was on my way to the Czech Republic for the start of the seventh season of the Euro Touring Series despite the first stand alone ETS race being still as fresh a memory as if it had only taken place earlier this year. It is hard to believe that since that race in Vejle, Denmark, the International Speed Weekend in Kastellaun having counted as the opening round of the inaugural season, I have reported on another 32 ETS events!! With the biggest challenge for racers last time we visited Hrotovice being just getting there after snow forced the closure of Vienna Airport causing travel chaos, with yours truly getting stranded in a very cold Paris for a night with no jacket cause it was in my check in bag, thankfully this year things where much more straight forward.

The drive to the track is definitely one of the more interesting ones I undertake each year. The second half of the journey from Vienna to Hrotovice brings back memories of when I competed in a round of the Irish National Rally Championship with some of the roads that our possibly in someway corrupt SatNav took us only raising the debate between between myself, my brother & Scotty Ernst as to whether it is technically a road or a dirt track. Finally arriving safely at the Sports V Hotel on the Thursday night it was great to see even after six seasons that the ETS still has that special buzz about it. One very noticeable thing among the 283 entries that took part in the season opener was the number of unfamiliar faces in the pits showing that the series is still reaching out to new drivers extending what series organiser Uwe Rheinard always refers to as the 'ETS Family'.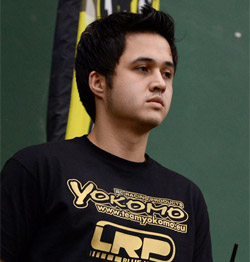 Just like any sport when a particular team or individual dominates, things can start to get a little dull and from my own perspective reporting can start to get a little monotonous. Every time I hear of Vettel & RedBull winning yet another Grand Prix in dominant fashion I don't think of the impressiveness of the German's latest achievement but rather how do F1 journalists deal with the repetitiveness of having to write about the same winner race after race. Traveling to Hrotovice it was on my mind that on recent form, and that of his rivals, Ronald Volker was again going to be the man to beat as he started off his quest for a fourth consecutive ETS title. While the Yokomo driver would pull off the perfect weekend, qualifying would prove to be one of the most competitive seen for some time making for a enjoyable day of reporting. While Ronald is a super nice guy it was great to see Alexander Hagberg & Freddy Sudhoff putting pressure on the German. With the ETS introducing a new colour coded handout tyre additive for this season, something that was very positively received by racers, it was great that drivers were more focused on car set-up than on the alchemy.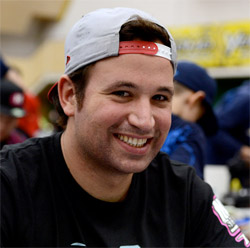 Another factor that made my job more interesting and hopefully more interesting reports for readers was the big change in attitude of Tamiya's Marc Rheinard. I know the 3-time World Champion has been left a little frustrated by the lack of engineering support from Japan for his ETS campaign, which outside of the bi-annual World Championships has become the biggest prize in electric touring car racing. It is a long time running joke with Marc to congratulate Yokomo's Yukijiro Umino for winning the race rather than Ronald. Last season Marc's frustration lead him to become very negative about certain aspects of the ETS and from a reporting point of view that moaning became a little tiring. Don't get me wrong I love outspoken drivers with Ryan Maifield being one of my favourite drivers for a good to the point quote but in Marc's case it was just becoming more of a whine for his frustrations over his lack of pace. Having seen that Marc struggled against Volker and Serpent's Marc Fischer at the recent MIBO Cup which they all attended as preparations for Round 1 of the ETS I was expecting a weekend of keeping my visits to his pit table brief. Thankfully that wasn't the case with Marc in a decidedly positive frame of mind from the start even though he was unable to match Volker's pace. Working closely with Muchmore owner Mr. Jang, who was his very hands-on pitman, Marc just worked away at his new TRF418 making small improvements every run eventually coming away with second overall, a contrasting result to the start of last season when he didn't even make the podium. Chatting to Marc as he used one of our laptops to book his hotel in Vienna for Sunday night I complimented him on his attitude change and how he worked with what he had rather then just give out about. Should he, with the help of Mr. Jang who I think played a big part, maintain this new approach I don't think I will have to worry about dealing with the monotony of a certain driver dominating the next few races!
[youtube]http://www.youtube.com/watch?v=my08J-BWW5o[/youtube]
Put Marc Rheinard and Naoto Matsukura together off track you always know its going to lead to something entertaining and plenty of laughter. On Saturday night while waiting for the running of the Dash for Cash, boredom lead Matsukura and Viktor Wilck to start playing with the Red RC camera equipment and video camera. Trying his hand at taking a few action photographs Naoto was surprised at how hard it actually is not just to get a car in focus but to actually get one in the frame. Having got bored of the camera the 3-time 1:12 World Champion moved onto the video camera with Viktor encouraging him to interview Marc. It didn't take much encouragement!! Soon Marc wanted to try his hand at being cameraman putting Naoto in front of the camera so we set them up with a wireless mic and let them roam the pits where Volker, HB team-manager Hiroyuki Kasuya, Marc Fischer, Andy Moore, David Ronnefalk and Scotty Ernst all took part in what turned out to be a pretty entertaining video titled 'Hurry Up' which quickly amassed almost 4,000 views. Its worth checking out and shows that the top guys in our sport dont always take themselves too seriously.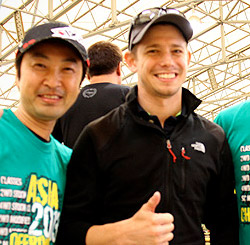 Recently while watching MotoGP qualifying on one of my rare weekend's at home it was great to hear the Eurosport commentary team go from talking about Honda's 2014 bike to remote controlled car racing. The reason for our sport getting this great plug was because of 2-time World Champion Casey Stoner, who having retired from racing is spending some of his free time inbetween being a test rider for Honda messing around with rc cars. According to Julian Ryder, who has commentated on MotoGP for the channel for 20-years, the Australian has tweeted more about his new found passion recently than he did about racing over his entire MotoGP career. With 231k twitter followers this is great for our sport. While we were in the Czech Republic, the 38-time MotoGP race winner was enjoying hanging out at the Yatabe Arena with none other than Masami Hirosaka. Chatting in Hrotovice to Yokomo team-manager Robert Itoh he said they are very exciting about having Casey around the place and have given him a few offroad kits to build as it is the technical aspect of the cars that are one of the main things that makes them appeal to the 28-year-old. Itoh, with whom I have had some of my more interesting debates on how to better present our sport to new audiences, said he hoped that Casey will do a few races as his presence would, as his tweets have already done, help expose r/c racing to audiences we don't normally reach.
Have an opinion on the topics discussed? Leave them in the comments below.
Oisin O'Briain is Red RC's Event Editor. Traveling the world reporting on some of the biggest races in the sport he regularly chats with top drivers and key industry figures and in his new column 'On the Grapevine' he will try to bring readers an insight into the latest talk that is doing the rounds in the paddock along with the odd bit of trivia information that comes to light.
The views and opinions expressed in this column are those of the author.
---