November 17, 2013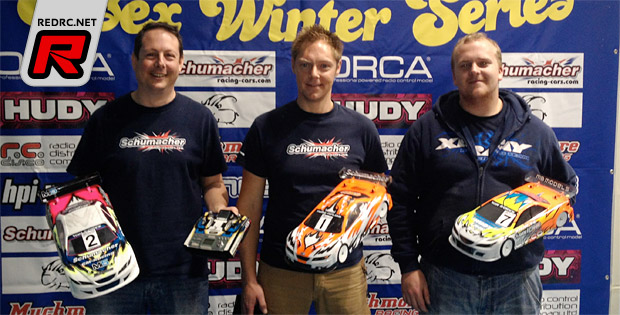 Round two of the Essex Winter Series took place this weekend.  With the whole series fully booked months ago, a few drivers were lucky to get places following some last-minute withdrawals. Qualifying got underway and in the Muchmore-sponsored Modified class, UK National Champion Chris Grainger was determined to show his performance at Round One of the championship was just a blip on his radar, as he went quickest in the first round of qualifying.  Alan Bickerstaff made his trip from Ireland worthwhile to sit second, with multi-time EWS winner James Hart third.  In the second qualifying round, current EWS Pro-Stock Champion Paul Pinkney proved he can cut it in the Modified class too as he topped the timesheets, with Chris second and nitro specialist Kyle Branson.  Paul was again fastest in round 3, this time from Phil Chambers with Kyle again third.  Kyle then topped the final qualifying round from Stefan Chodzynski, one of the drivers to secure a last minute entry to the event, leaving Paul on pole, with Chris second on the grid and Kyle Branson third.
The A Final got underway and the first three broke away from the rest of the field in the early stages.  Chris and Kyle initially challenged Paul for the lead, until they became involved in their own tussle for second and allowed Paul to extend his lead.  This battle then allowed James Hart to close in after moving up from seventh on the grid.  As the three cars fought for position in the closing stages of the race, Kyle clipped the chicane coming off of the main straight and Chris had nowhere to go and hit Kyle.  That allowed James through to second and Chris to third, the positions they would hold until the finish line.
Muchmore Modified – A Final Result
1. (1) Paul Pinkney – Schumacher – 22 / 304.07
2. (7) James Hart – Xray – 22 / 309.19
3. (2) Chris Grainger – Schumacher – 22 / 310.76
4. (3) Kyle Branson – Yokomo – 22 / 310.89
5. (5) Phil Chambers – Xray – 22 / 311.19
6. (6) Stefan Chodzynski – HB – 21 / 300.14
7. (9) David Bowen – Schumacher – 21 / 302.66
8. (10) Keith Dempsey – Yokomo – 21 / 305.38
9. (8) Matthew White – Schumacher – 21 / 307.50
10.(4) Alan Bickerstaff – Associated – 11 / 160.23
In the Schumacher Pro Stock class, the battle for pole was between the UK Pro Stock National Champ Zak Finaly, and EWS Round One winner Tony Broad.  Zak took round one of qualifying from Tony, with Reece Hodges taking third.  Tony went fastest in round two, ahead of Richard King and James Bake, and again in round three, also ahead of Richard and Darren Lee in third.  Zak then took the final qualifying round to secure the pole position.  Tony would like up second and Richard third.
In the A Final, Zak quickly established a lead over the field, leaving Tony and Richard to race for second.  Ashley Wiffen was always within striking distance, and as the race ran on began to close the gap to the second place battle.  This also allowed James Baker to slowly gain on the three drivers now racing for the runner-up position.  With the four cars together going onto the final lap, Ashley and Richard went side-by-side down the main straight and just touched as they went into the high-speed sweeper, sending both cars off the track.  That allowed James to nip through into third at the line.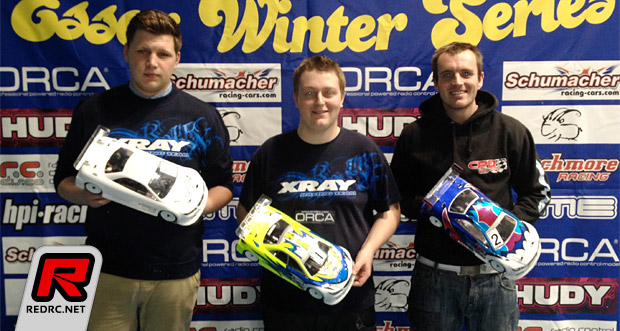 Schumacher Pro Stock –  A Final Result
1. (1) Zak Finlay – Xray – 22 / 309.69
2. (2) Tony Broad – Yokomo – 22 / 312.60
3. (7) James Baker – Xray – 22 / 313.45
4. (4) Ashley Wiffen – Schumacher – 22 / 318.04
5. (3) Richard King – Awesomatix – 22 / 324.18
6. (6) Reece Hodges – Xray – 21 / 305.37
7. (10) Thomas Garnham – Awesomatix – 21 / 308.33
8. (9) Daniel Veness – Xray – 21 / 310.59
9. (5) Darren Lee – Schumacher – 20 / 310.81
10.(8) Ben Putt – Capricorn – DNF
The Capricorn Stock class saw the return of Jimmy Maddison to the EWS Championship.  Jimmy proceeded to dominate the qualifying rounds, topping every round.  However, it was closer than the results may indicate as he was pushed hard by Richard Clarke and Colin Gardiner in each round.  Richard managed to sure second on the A Final grid with second places in the last two qualifying rounds, and Colin third with a second and third in round scores.  Darren Tickner managed to take second in the second qualifying round, which helped him to his fourth place grid position.
The A Final initially began as a three way battle for the lead, with Jimmy, Richard and Colin running nose to tail for the first half of the race.  The gaps ebbed and flowed a little, but all three cars remained in contention for the win.  Jimmy began to stretch his lead as the race moved into the second half, and with Richard and Colin giving everything they could to keep up with the former DHI Cup and IIC Champion, it was Richard who made the first mistake.  Taking just a little too much kerb through the fast sweeper, Richard got his car sideways, slowing his momentum and allowing Colin to sweep through into second place.  Richard quickly recovered but was not able to mount a serious challenge to retake the second spot.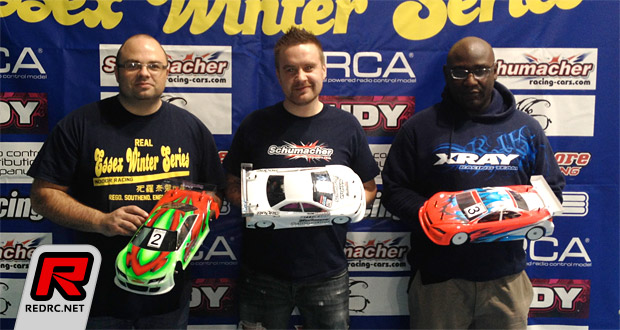 Capricorn Stock –  A Final Result
1. (1) Jimmy Maddison – Schumacher – 21 / 312.90
2. (3) Colin Gardiner – Xray – 21 / 314.15
3. (2) Richard Clarke – Awesomatix – 20 / 300.24
4. (8) Mark Young – Awesomatix – 20 / 307.18
5. (10) Terry Yarranton – Awesomatix – 20 / 308.52
6. (5) Dominic Skinner – Yokomo – 20 / 308.60
7. (6) Matt Butcher – Xray – 20 / 310.30
8. (9) Gavin Clinch – ARC – 20 / 311.06
9. (4) Darren Tickner – Spec-R – 20 / 311.50
10.(7) Matthew Worton – Xray – 20 / 312.18
The Essex Winter Series organising team would like to thank their sponsors, Capricorn, Schumacher, Muchmore, HPI, Hudy, RC Disco, AME and ORCA, and of course all the drivers who continue to make the series one of the biggest in the UK. The championship continues with Round Three in December.
---