November 6, 2013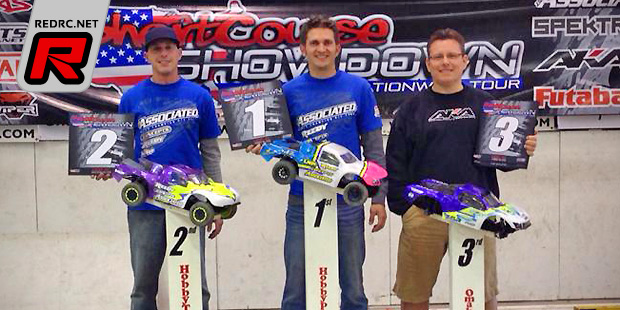 The final race of the 2013 Short Course Showdown Nationwide Tour was hosted by HobbyTown USA HobbyPLEX Raceway in Omaha, Nebraska. JConcepts' Dave Duncan made the trip from Florida, he arrived on Thursday afternoon as the track crew was putting on its finishing touches on the fresh new layout. Friday practice was very busy with lots of racers dialling in their trucks for the weekends event. As the day progressed, the groove developed and lap times got faster and faster. The format was to run 3 rounds of qualifying on Saturday and main events on Sunday. It was announced just before Round 1 started on Saturday that there would be a 4th round of qualifying on Sunday morning giving some drivers one more chance to make the show. After 3 rounds of qualifying were done Saturday evening, Dave Duncan secured the TQ spot in Stock Short Course. Scott Brown and John Walentia were sitting second and third in the Modified 2WD SCT class.

The Modified 2WD SCT class had an intense battle ensued as the modified drivers hit the track. Starting in the second place spot, JConcepts Driver Scott Brown would jump out front on lap one and never look back. Behind him, Greg Hodapp and John Walentia would battle it out for second and third. Hodapp looked strong in second, but on lap 11 he would make a slight mistake allowing the stealthy John Walentia make his move. He dove into second and would finish 2 seconds ahead of Hodapp as they crossed the line.
JConcepts Dave "Double Dee" Duncan dominated the Stock Short Course Truck qualifying, and continued his winning streak as he started out front and finished out front. Jay Fairchild kept Duncan honest as their average laps were only .2 seconds apart. In the end, Duncan would take the win 6 seconds over Fairchild, with Nick Migliazzo putting in an impressive third place finish.
Source: JConcepts [jconcepts.net]
---