December 5, 2013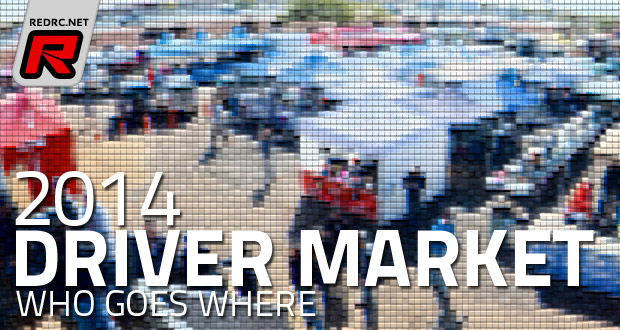 With the annual driver market 'Silly Season' about to kick off, we decided to set out what we know and what we've heard, mixing a bit of fact with rumour regarding the top drivers in Offroad and Onroad. One thing we have heard is that deals are harder to come by this season and that most drivers will be better off holding on to their current deal if they can in what is a tough market with very few big name moves. We will update this section as we get more information along with confirmations from the teams and drivers. UPDATED January 8th
January 8th
Olly Jefferies – Xray (CONFIRMED)
As we wrote in the beginning of December, Xray have have confirmed the signing of 5 time British National Champion Olly Jefferies. 'To continue to improve my racing result there was for me no other option and consideration than to join the Xray team, the company that I have always admired for their professionalism and the way they approach both business and racing. I would like to thank to Hudy family for offering me this unique opportunity and for having trust in me.'
January 7th
Dario Balestri – Novarossi > XRD
In a surprise move two-time European Champion Dario Balestri has left Novarossi for whom he has raced for his entire career to join newcomer XRD engines. 'I want to say thanks to all the Novarossi factory for over 10 years of great race and performance. It is time to make a change for me and try to improve. I'm proud to race with another new Italian engine factory for the coming years.'
Kyle McBride – OS > Novarossi
Having teased us with images on Facebook for some time now, the former FEMCA Champion Kyle McBride has officially been announced at Novarossi for 2014 leaving long time engine sponsor OS Engines.
Adrien Bertin – KM Racing > HPI/HB
Double World Champion Adrien Bertin has made the move to HB/HPI Racing to race their products in both on and offroad having previously raced for newcomer KM Racing in the onroad category last year.
Joern Neumann – Picco > FX Engines
FX Engines sign their first big name driver with Joern Neumann chosing the Slovakian built engines over long time sponsor Picco. 'To change a nitro engine sponsor in the World Championship season is for sure a difficult decision for any driver especially because the engine's performance & reliability play a very important role in any successful race. Despite FX are all new in the nitro engine industry I know Juraj and his dedication for an absolute perfection and I was very interested to test the new 5K engine. To my huge surprise the engines have been extremely reliable and have unbelievable power but are smooth at the same time.'
January 6th
Mike Truhe – TLR > Serpent
Long time TLR team driver and former US National Champion Mike Truhe has made the move to Serpent, yet another major driver move away from the US brand this year. The official announcement is yet to come but Mike himself has confirmed the move which is a very positive step for the European based brand as it looks to grow its presence in offroad in the World's biggest offroad market.
Robert Pietsch – Novarossi > Picco
Although yet to be officially confirmed, teaser images from Picco show the 2011 World Champion and thus confirm his move from Novarossi.
January 4th
Joern Neumann – JConcepts > Pro-Line
JConcepts main team driver in Europe makes the switch to US competitor Pro-Line for 2014/15. 'All of us here at Pro-Line are excited to have Jörn on board for the 2014-15 racing seasons. Jörn's attention to detail and motivation to win are a perfect fit to our organization. Jörn's years of experience will help strengthen our product development and innovation into the future.'
January 2nd
Lee Martin – Yokomo (CONFIRMED)
Confirming what we already knew, Yokomo have signed British ace Lee Martin.
January 1st
Hupo Honigl – Team C (CONFIRMED)
As we speculated in late November, Hupo Honigl has been confirmed at Team C. 'First of all I would like to say thank you to Team Durango for the support over the last couple of years. It was a great time and I would do everything in the same way again! It was a really hard decision, mainly because of the teamwork with my friends Gerd Strenge and Jörn Neumann and also the rest of the awesome crew at the racetrack! Now I´m looking forward to a new Chapter! I appreciate the pleasant welcome from Stephen Shih and Jürgen Laux to my new home Team C. In the first year i would like to concentrate on racing 1/10 offroad mainly in Europe – if there is any spare time some 1/8th buggy and maybe some electric touring car. Full of motivation I can´t wait for the first race with my new rides!'
December 31st
Miguel Matias – TLR > ??
Following former team mate Darren Bloomfield, Miguel Matias has also decided to leave the TLR team with no word yet on where he will be going. 'After a couple of years racing with Horizon/TLR it is now time to embrace new projects! But first I would like to thank all the support given by Horizon/TLR during this time, specially to Adam Drake and David Spashett, some of the best people I worked with in this industry. 2014 will certainly bring me new challenges!'
December 30th
Jared Tebo – Maxima Fuels (CONFIRMED)
Having announced his departure from Sidewinder fuels at the beginning of the month, Jared Tebo has today confirmed his move back to Maxima Fuels. 'For 2014 I am signed with Maxima Fuel again. I am very happy to be back with the Maxima family. We left on good terms at the end of 2012 and now things are sorted out a little better, and we are able to work together again. The fuel runs really good and I can't wait to get back out and race some 1/8! I would like to thank JarB and the whole Maxima family for this opportunity. See you all at The Dirt!!'
December 11th
Darren Bloomfield – Schumacher (CONFIRMED)
Having let TLR and signed to race Agama for Nemo Racing in 1/8th scale, Darren Bloomfield has confirmed a move to Schumacher to race the 1/10th offroad class. 'Schumacher are very much a company on the front foot right now with some excellent new products and forward thinking ideas. I look forward to achieving some great results and working closely alongside them with future developments.'
December 5th
Jared Tebo – Sidewinder > ??
2wd Offroad World Champion Jared Tebo has left fuel sponsor Sidewinder, confirming in am e-mail statement that he has 'After just a short 11 months working together, and getting some good results in 2013, they have decided to part ways. The relationship ended on good terms and is effective as of December 1.' Jared has stated that he is now a free agent so whether that means he will run without a sponsor for fuel or he will announce a new partnership in the near future remains to be seen.
Olly Jefferies – Associated > Xray (CONFIRMED)
Multiple British National champion in touring car and 1/12th scale Olly Jefferies has confirmed in a Facebook post that this weekend he will run his last race with Team Associated. We understand that although he received offers to run a number of manufacturers that he has chosen to go with Xray. We expect some confirmation in the coming weeks.
November 29th
Jared Tebo – Kyosho (CONFIRMED)
With the American driver recently winning his second World title, his first for current sponsors Kyosho, one would think that all is well with the Tebo / Kyosho partnership but with his current contract up for renewal Jared left an open ended statement on his personal blog stating 'Is there another 5 year contract in the works? Are some of my other sponsors going to change to 2014?'. A great soundbite to mull over but we think the American will stay put and sign his name to a further extension with Kyosho. In this current climate where very few drivers are receiving good deals and Tebo thought to be one of the highest paid racers in RC a move would mean another company would have to meet his salary expectations as well as having an opening in their team which severely limits his possible options.
Lee Martin – Tamiya > Yokomo? (CONFIRMED)
Finishing 2nd at the Worlds as well as excelling for Mugen in 1/8th Offroad taking this year's British title, we hear that a change is on the horizon for Lee Martin. Having raced in electric for Tamiya for 4 years we believe the British driver is on the move, a short statement 'End of an era??' on his FB page confirming something is up. A combination of the TRF team squeezing budget and looking for a new challenge we have heard rumours that Lee will be moving to another Japanese company for electric, Yokomo. The ambitious company is eager to get a big name on their team for Europe and a World class driver who can join Naoto Matsukura on the international scene and Lee fits the bill. It will also help them push their cars into the competitive British racing market.
Darren Bloomfield – TLR > Agama (CONFIRMED)
The 2012 European 1/8th Offroad Champion confirmed his departure from TLR recently after driving for the US marque for well over a decade. News and rumours surrounding where the British driver is going is very hard to come by but from a handful of options open to him we have reason to believe he may be headed to Agama, racing for the European distributor Nemo Racing.
Atsushi Hara – HB > Xray?
Having made a 'shock' announcement that he was leaving HB earlier this year after 13 years at the company, the Japanese ace has spent the time since running a variety of touring cars and 1/8th offroad buggies both privately and in one off race deals such as with Schumacher and JQ. The World famous all rounder is in no hurry to make a decision about his future despite receiving offers from most of the major manufacturers to run their equipment. The options on the table now we believe, as mentioned before, are that Hara will start his own brand and produce his own car or sign for one of the majors with Xray being the most obvious choice having a full range of cars for all categories which Atsushi races and seemingly the budget to pay his salary. He could alternatively sign class specific deals with different manufacturers for the different classes he runs or continue with race by race deals until he finds the right direction to choose.
Hupo Honigl – Durango > Team C (CONFIRMED)
Multiple European Champion and winner of the first round of the EOS in Poland Hupo Honigl has already confirmed that he has left Durango and is seeking a new drive for 2013 after 5 years with the team. We understand that he has multiple options but what is sounding like a front runner is a drive for the rapidly growing Team C brand who have some good drivers in Europe already including German National Champion Oliver Scholz. Hupo is a very experienced racer and could not just help the team get race results but also be used to help develop their complete range of offroad cars.
Lamberto Collari – Capricorn > Mugen?
Having missed the Worlds in Japan earlier this year we have heard that the 9-time World Champion Lamberto Collari is on the move. We believe that his deal with Capricorn has come to an end and he will join another team from 2014, perhaps Mugen but we also heard a wild rumour of him teaming back up with BMT. In a related move Lamberto was seen running a Mugen MBX-7 for a rare off road test session at IBR Padova earlier this week.
Dario Balestri – KM > Capricorn
We have heard that multiple European Champion and World Championship runner up Dario Balestri may have left KM Racing for whom he raced 1/10th scale and helped with the development of the World Championship winning H-K1 and will now race solely for Capricorn in the car department, having run with them in 1/8th for the past seasons. He will continue with long time engine sponsor Novarossi.
Robert Pietsch – Novarossi > Maxima? (LEAVING NOVAROSSI CONFIRMED)
Having run Novarossi previously, Mugen onroad designer and 2011 World Champion Robert Pietsch is rumoured to have signed a deal with Maxima to run not just their fuel but also their OS based engines in what is seen as a bit of a coup for the Thai company.
Andrea Pirani – Shepherd/Novarossi > WRC/OS?
Former Italian 1/8th onroad Vice Champion Andrea Pirani is said to have moved from his Shepherd Novarossi combo to use the new Italian made WRC car together with OS engines.
Eric Dankel – Novarossi > Maxima (CONFIRMED)
Another racer to make the switch from Novarossi to the OS based Maxima engine is multiple German National Champion and ENS winner Eric Dankel. Eric will also run the Thai company's fuel.
Carmine Raiola – Max Power > Novarossi (CONFIRMED)
Italian National Champion Carmine Raiola, one of the few Italians to attend this year's World Championship earning himself a very solid 5th place, has confirmed his move from Max Power to Novarossi.
Simon Kurzbuch – Max Power > Novarossi (CONFIRMED)
Former Worlds finalist and Swiss National Champion Simon Kurzbuch is another driver to make the move from Max Power to Italian power house Novarossi.
ISTC Class
With most contracts running from Worlds to Worlds and next year being a Worlds year we don't believe there are any major moves expected to happen in the top echelons of this class with most of the pros locked in until end of 2014.
---