December 18, 2013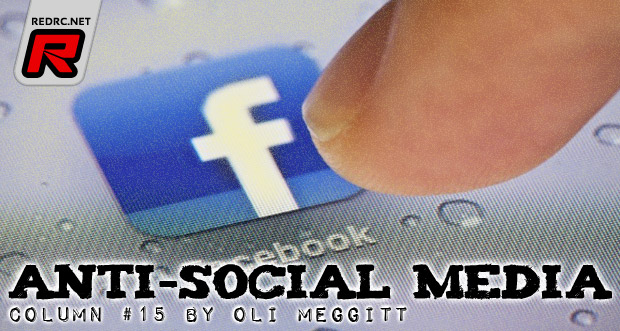 Social Media is one of those things that has transformed the world in the last few years.  It's now easier than ever to interact with people around the globe and provide instant access for your views or thoughts.  I think it's fair to say that it has taken the RC industry a little time to catch up with the rest of the world in adopting the likes of Facebook and Twitter as key news sources.  But, it does appear that many companies and drivers are jumping on board and using those outlets to promote products, events, results and, crucially interact with fans.
If anyone was ever unsure of the potential impact social media could have on the RC world, just take a look at the 'Tyler Vik Professional R/C Driver' Facebook page.  OK, that was set up purely for fun, but gives a strong indication of what a driver could achieve, or the exposure a manufacturer or sponsor could receive.
Social media sites have also become a good place for race organisers to promote events or race meetings, or for clubs to maintain an interactive online presence.  It's a very quick and easy way to get information out to a lot of people, attract potential new drivers, and for racers to easily get in contact with the organisers.  Photos and videos can be easily posted, by either organisers or the racers, which again helps to not only promote the events to other racers, but to our friends outside of the RC world.  Quite often, I've had messages from my non-RC friends about a video of a race, or photo of our track I've posted from an event.  All this works to put our sport in front of even more people, and hopefully begin to attract more people into the hobby.
However, there is a downside too.  And a big one at that.  Social media sites allow anyone to have an opinion.  It seems that people are now becoming all too quick to post their thoughts online.  I've noticed recently an increase in the number of posts that I class as "someone just moaning for the sake of it" – and that's not just local club racers, but top drivers too.  Firstly, it's important to remember that when you post something online, it's out there for everyone to see.  I know that things are far from perfect in our sport, and I'd also never want to stop anyone from having an opinion – but just stop for a minute and think:  If you publicly post "the track looks awful", what does that actually achieve?  If you directed that to the race organiser, offering some ideas on what may improve it, suggesting ways you can help improve it, that's a much more constructive use of your time.  Otherwise, it just comes across as someone moaning, which isn't going to win you any fans or probably appeal well to maybe a future sponsor.  But put it across is a more positive way, and instantly the opposite is true.
Just stop and think – do you need to post it publicly?  Could you spend that time better by just dropping a private email to someone?  Or, actually going out and helping your local club improve, rather than telling all your non-RC friends how awful your day off was?  A huge proportion of our sport exists because of the work of volunteers, and if we keep taking them for granted, don't expect others to step up when those people get fed up and move on.  At the end of the day, no matter how great the likes of Facebook and Twitter are, we can't go racing on them.
Have an opinion on the topics discussed? Leave them in the comments below.
Oli Meggitt is a race organiser, announcer, RC racer and has also been known to stand and talk in front of a camera. Now a columnist for Red RC you can read his thoughts, insights and ramblings fortnightly.
The views and opinions expressed in this column are those of the author.
---