December 10, 2013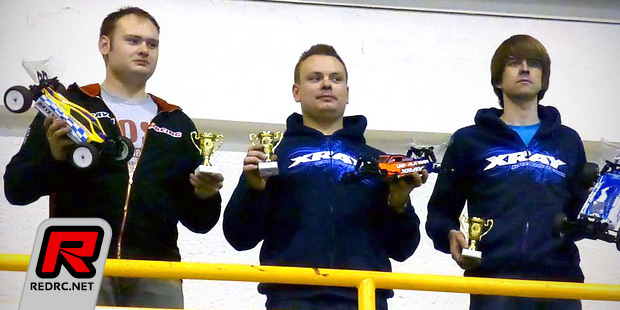 Last weekend the final round of the Czech national 1/10 electric off-road championship was held at an indoor track in Bilovec. In 4WD Martin Bayer, coming from second on the grid, won in front of Ales, Jiri Mara took the 3rd place. The win secured Martin the overall title in the 4WD class, Jiri Mara ended the season in 2nd place followed by David Kukla.
4WD final round results
1. Martin Bayer
2. Aleš Bayer
3. Jiří Mára
4. Michal Bok
5. Ludvík Kurečka
6. Kuba Šimurda
7. David Kukla
8. Samuel Ciencala
9. Marcel Dostál
10.Ondřej Vícha
Xray's Martin Bayer also took TQ in the 2WD class and went on to win the finals in front of this brother Ales and Jiri Mara, coping the 4WD result. The third place for Jiri was enough to win the 2WD buggy championship with Martin Bayer claiming the runner-up spot and Radek Flek ending in 3rd position overall.

2WD final round result
1. Martin Bayer
2. Jiří Mára
3. Martin Zvára
4. Radek Flek
5. Roman Pudich
6. Marcel Dostál
7. Aleš Bidovský
8. Jakub Vícha
9. Petr Olišar
10.Dominik Mašek
Source: Xray [teamxray.com]
---