December 24, 2013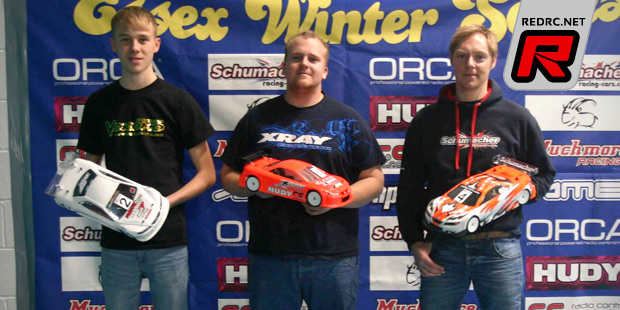 The third round of the Essex Winter Series took place the weekend before Christmas.  Another capacity entry saw everyone wanting to take home the last win of 2013 and, hopefully, carry that momentum through into the new year. In the Muchmore Modified class, Schumacher's Matt White drew first blood as he topped round one of qualifying from James Hart and multi-time World Champion, David Spashett, who was making his debut at the UK's most popular indoor winter series.  James fought back to take his Xray to the fastest time in round two, ahead of Kyle Branson and Matt.  Kyle again demonstrated his pace with both electric as well as nitro racing, as he set the fastest time in the third qualifier, ahead of the defending EWS Pro Stock Champion Paul Pinkney.  James Hart then took the decisive fourth round, to secure pole position from Kyle, Matt and Paul.

In the A Final, James led the field off in grid order.  Racing continued as a high-speed freight train for the first few laps, with no one able to make up any places.  A small mistake from Matt then allowed Paul up to third place.  Out in front, James and Kyle had now pulled a small lead from the rest of the field, and spent the remaining four minutes racing virtually nose to tail.  James drove a perfect race, never giving Kyle the opportunity to make a pass and so held on to take a well-deserved win.
Muchmore Modified A-final result
1. James Hart – Xray – 21/306.29
2. Kyle Branson – Yokomo – 21/306.51
3. Paul Pinkney – Schumacher – 21/307.38
4. Matthew White – Schumacher – 21/311.46
5. Chris Grainger – Schumacher – 20/304.40
6. David Spashett – ARC – 20/304.74
7. Matthew Winyard – Xray – 20/305.47
8. David Bowen – Schumacher – 20/306.88
9. Nathan Winyard – Xray – 20/308.69
10.Alex Brocklebank – Xray – 20/310.07
The Schumacher Pro Stock class featured a four way battle for pole, between Zak Finlay, Tony Broad, Richard King and Darren Lee.  Tony took his Yokomo to the fastest time in the first round, ahead of Richard and Darren.  Zak was then fastest in the second and third qualifiers, with Tony, Darren and Reece Hodges biting at his heals.  Richard took the final round from Darren.  Once the points were added up, Zak would start the A Final from pole, with Tony taking second on the grid after going to a fourth-level tie break after scoring equal points and setting identical times to Richard.
The Pro Stock A Final was reminiscent of the Modified class, with the top two on the grid leading the pack around the track, engaging in a race long battle for the lead.  Behind them, Ashley Wiffen made a great start and got up to third in the early laps, dropping Richard to fourth.  Despite Tony trying everything he could, Zak demonstrated why he is the National Champion in the Pro Stock class and ran out the winner, with Ashley holding off a last lap charge from Richard to secure the final podium step.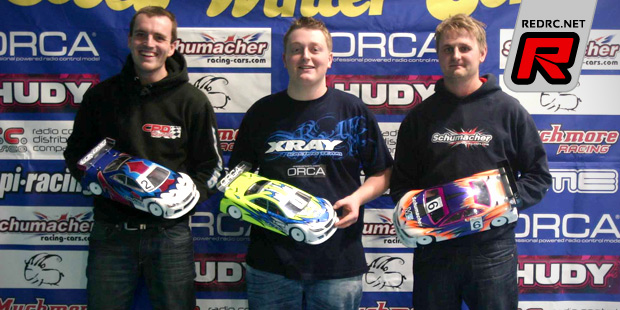 Schumacher Pro Stock A-final result
1. Zak Finlay – Xray – 21/311.52
2. Tony Broad – Yokomo – 21/312.21
3. Ashley Wiffen – Schumacher – 20/301.64
4. Richard King – Awesomatix – 20/301.70
5. Jon Seals – Xray – 20/305.22
6. Dean Gibbs – Yokomo – 20/305.64
7. Darren Lee – Schumacher – 20/307.37
8. Reece Hodges – Xray – 20/307.77
9. James Baker – Xray – 20/309.37
10.Thomas Garnham – Awesomatix – 20/313.12
In the Capricorn Stock class, many expected Jimmy Maddison, the winner of the previous round the EWS championship to dominate, but it was Colin Gardiner who took his Xray to the fastest time in round one, narrowly beating Jimmy.  Jimmy turned up the heat by going fastest in round two, ahead of Colin and Richard Clarke.  Richard then took the third round from Nathan Morgan, whilst it was then Nathan's turn to top the final qualifier from Colin.  That meant Jimmy would start from pole, thanks to his faster winning time, ahead of Nathan, Colin and Richard.
Jimmy led the A Final away and showed that he had got his car dialled in as he began to increase his lead lap by lap.  The battle on the track was for second, between Colin and Nathan.  They seemed to spend the whole race matching each other laptime for laptime, Nathan not able to pull away but Colin also not able to get quite close enough to make a pass.  Eventually, at about three-quarter distance, Nathan made one small mistake, running across too much of one of the kerbs.  That was the only invitation Colin needed to nip through into second place, and keep his car stuck to the racing line until the end of the five minutes.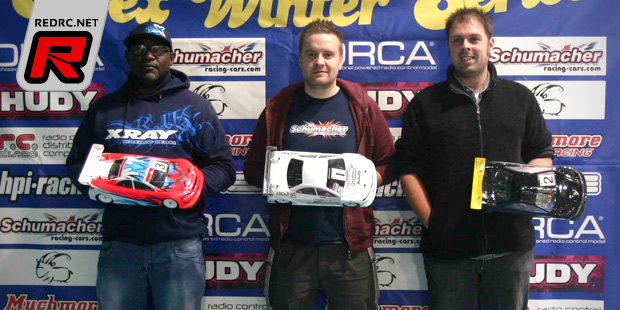 Capricorn Stock A-final result
1. Jimmy Maddison – Schumacher – 20/314.61
2. Colin Gardiner – Xray – 19/301.19
3. Nathan Morgan – Xray – 19/301.44
4. Gavin Clinch – ARC – 19/303.42
5. Richard Clarke – Awesomatix – 19/304.13
6. Mark Trinder – Capricorn – 19/306.67
7. Mark Young – Awesomatix – 19/307.17
8. Darren Tickner – Spec-R – 19/307.49
9. Matt Butcher – Xray – 19/312.52
10.Dominic Skinner – Yokomo – DNF
Thanks to Oli Meggitt for sending the report.
---