December 31, 2013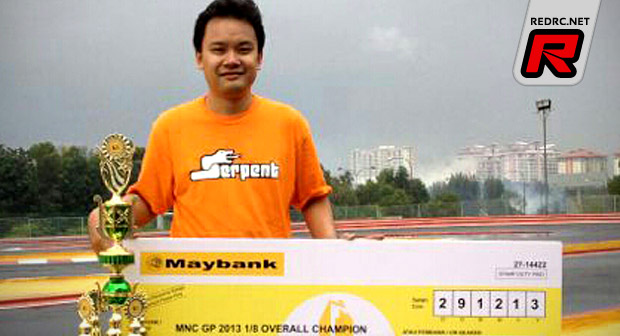 The final round of the Malaysian National Championship was held on the 29th December at the newly open 3 Stone Park Onroad track in Glenmarie, Shah Alam. The title would be decided in the final round between 2 Team Serpent drivers, Jessel Leong and Nick Chong, who were only separated by 1 point. Kimie driving a Capricorn still had a mathematical chance of winning the title, needing both the Serpent drivers to falter and to take a podium result himself. After completion of the qualifying heats another Serpent driver,Fluke took the TQ with his 977.
It was a bad qualifying for all 3 drivers in contention, with both Jessel and Nick ending up in C main, and Kimie making the B main. At this point,things didnt look good for both the Serpent drivers as this might hand the title to Kimie. In the C main both Jessel and Nick finished 2nd and 3rd to bump up to join Kimie in the B main Final. This was going to be a challenging round as all 3 will have to battle hard to make the Top 3 bump up spots.
In the 30mins B final, Jessel Finished 2nd, advancing to the Grand Final with Nick Chong crashing out and Kimie unable to complete the race as well. With this result the Overall title was decided and Jessel was crown the Overall Champion. With the title in the bag, Jessel was looking forward to the Grand Final and progress further up the field, however rain came and ended the event.
TQ man Fluke took the Top Step of the Podium, winning the final round of the championship and Jessel taking the Overall title and a cheque of €723.90 courtesy of RCAC, the organising club.
Source: Serpent [serpent.com]
---