December 10, 2013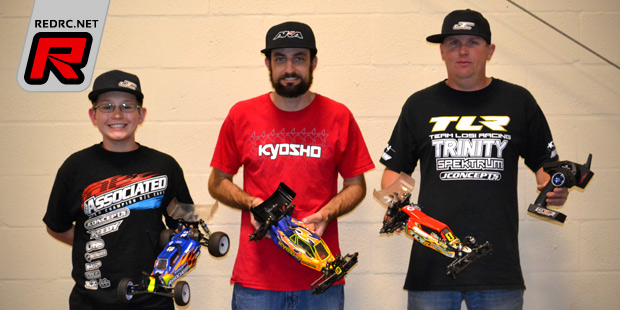 Florida's top racers celebrated Thanksgiving weekend at Jeff's RC Studio in Fort Myers for stop number 3 of JConcepts' Super Cup Fall Session. Jeff, Sam and crew worked long and hard to prepare for the record setting entries that began to arrive early Friday morning. With a recent move and expansion, the outdoor off-road track was still in its infancy having been built only a month earlier. The layout was perfect along with the preparation of the track surface, it was set to groove in for maximum traction. Mother Nature kept all racers on their toes throughout the day as a heavy cloud cover kept the sun at bay until almost 11 AM. The sun was working its magic drying the track surface and it was showing on the lap times as they rapidly dropped. Unfortunately a heavy mist moved into the area for about an hour and made this very interesting for all the racers. It made for some of the best, closest racing yet.

A very exciting Modified Buggy had JConcepts JR Mitch's TLR 22 2.0 TQ the 16 car field of star racers. Paul Wynn and Jader Lopez mastered the B-Main for a chance at podiums. JR's 13/5:03.518 time put him out front of the 10 car field. At the start, JConcepts Team drivers JR Mitch and Daimon Borkowicz took off with the entire field hot on their heels, Daimon and his Team Associated B4.2 took the lead on lap 5 with Ryan Eckert's Kysoho RB6 following his every move. Ryan pushed hard looking for a way past Daimon for 7 laps putting lots of pressure on Daimon. On the last lap Ryan had a run on Daimon and jumped a roller into the lead, Daimon wasn't done and made many chargers at Ryan for the lead, but Ryan was able to hold him off and back to the line by 0.881 of a second. JR Mitch came in 3rd, Billy Easton 4th and Chris Viesins 5th.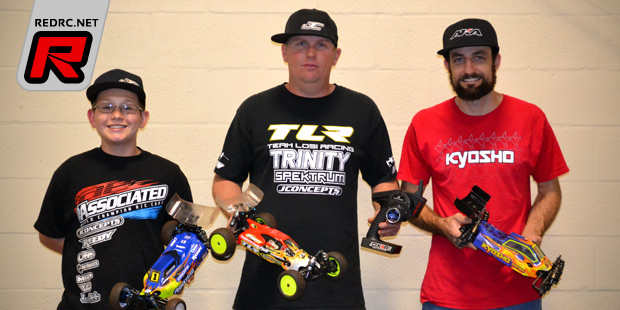 Modified 4WD Buggy B-Main winner Erik Everett and runner up Chris Richmond bump into the talented A-Main stacked final race of the day. Ryan Eckert started on point with his time of 14/5:10.279 for the A-Main. Ryan driving the Kyosho Lazer led the first 5 laps then JConcepts' JR Mitch driving the TLR 22-4 made the pass on lap 6. Daimon Borkowicz made his pass for 2nd on lap 9 as Ryan worked to get around for the remaining 4 laps unable to find room for a pass. JR Mitch ended 1st, Daimon Borkowicz 2nd, Ryan Eckert 3rd, Felix Law 4th and Brett Kingsbury 5th.
JConcepts team driver Billy Bruce paced the field of 27 in Stock Buggy with his Kyosho RB6 at 12 laps/5:04.782. Ryan Rios and Matt Bradford Jr. traded places for 5 minutes in the C-Main with a last lap pass by Ryan winning and Matt with the final bump into the B main. Peyton MacDonald led every lap of the B-Main as Robert Molina and Kevin Abbott went back and forth for the final spot into the A-Main. Robert made his final pass with 2 laps left and raced for the show. Slick track conditions were no match for Billy Bruce's JConcepts equipped Kyosho as he led from tone to tone. All the great action took place in the mid pack. Charles Parsons from the 6th staring position made his way through to finish in the runner-up spot. Joe Sumasky was clean and consistent in P3. Bump up Peyton MacDonald was 4th and Riker Gatenby 5th.
40 and over Modified Buggy B-Main winner Joe Barbera and runner-up Jeff Lynn raced into the A-Main. Bobby Horan and his TLR completed 12 laps in 5:06.645 for the Top Qualifier spot. Bobby raced the track for 5 laps until Billy Bruce took the race lead. Billy had a nice lead as he began his final lap, when a lap car lost control in front of Billy and broke the shock tower of Billy's Kyosho. After the tangle Bobby had moved up right to the back of his and the race looked to be over with an easy win for Bobby and his TLR 22 2.0. Billy was determined for a second win as he and Bobby made their way back to the line side by side with Billy finding the traction needed to hold on to the win. Bobby Horan finished 2nd, Tracey Proctor in 3rd, Rich Scafer 4th and Joe Barbera rounding out the top 5.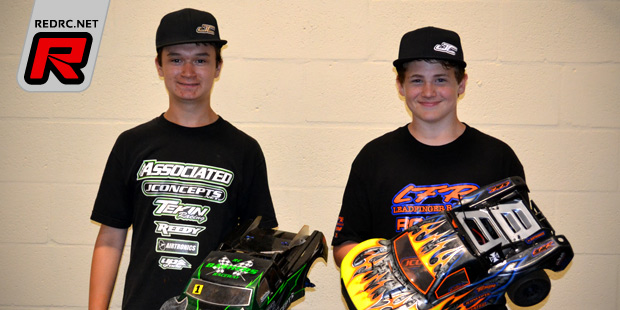 22 racers attended for Pro 2 Stock Short Course at Rd 3 in Fort Myers and Peyton MacDonald set TQ for the group at 12/5:09.641. George Mercardo was on a mission in the C-Main as he took the win and Mark Mixon 2nd. George wasn't finished as he edged out Frankie Fry by 1.7 seconds for their spots in the A-Main. Charles Parson made the right adjustments and found himself in the lead early as Peyton MacDonald gave chase. The action was fierce mid pack between Mark Papero, George Mecardo and Tilar Pollack all battled it out. As the tone sounded Charles Parson was able to maintain his truck for the win. Peyton finished in 2nd, Riker Gatenby 3rd, Mark Papero 4th and George Macardo went from the C-Main to 5th.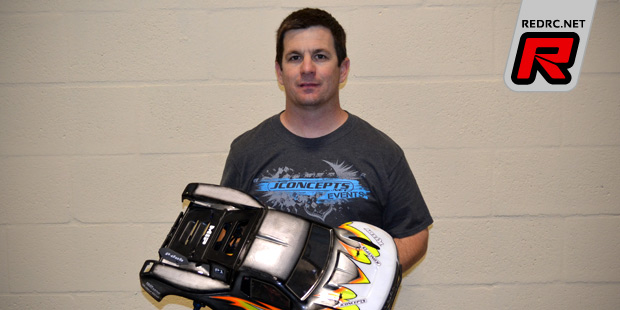 JConcepts Team driver Paul Wynn paced the field with a TQ time of 12/5:08.875. Paul's Team Associated SC10.2 was on point in the A-Main as he led all of the 12 laps for the win. Corey Record was 2nd, Darrell Gaughf in 3rd, Dustin Brant and Scott Morich 4th and 5th.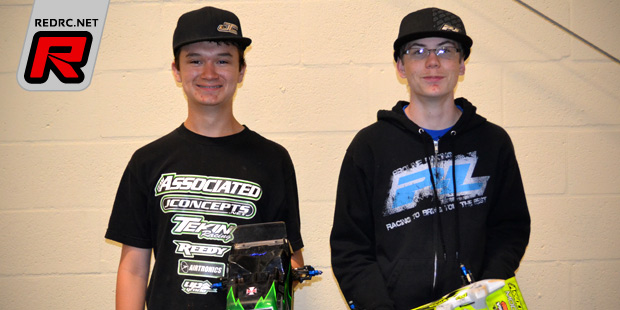 Riker Gatenby took his JConcepts equipped T4.2 to the top spot in qualifying for Stock Truck. A very exciting A-Main started with lots of passing and great battles. Riker dropped to 6th on lap one as Tilar Pollack was able to have a great clean start and put his very fast Team Associated T4.2 into the race lead. Tracey Proctor moved up to 2nd on the first lap but after a tangle fell down to 10th by lap 2. Riker stated his march back to the front and was in 3rd by the 2nd lap just behind Ron Viesins. Riker made his move back to 2nd place on the next lap and gave chase to Tilar whom had opened up a big lead on the clear track. In the end Tilar raced his way across the line to claim the top spot with Riker in 2nd. Tracey Proctor passed 7 trucks in 8 laps to finish 3rd, Kevin Abbott 4th and Robert Molina 5th.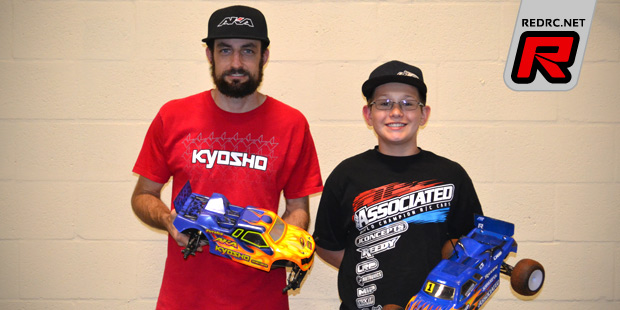 Daimon Borkowicz's qualified with a 13/5:10.685 time in Modified Truck. Daimon continued to hold 1st for all the laps of his A-Main. Ryan Eckert's Kyosho would finish up 2nd, Darrell Gaughf 3rd, Corey Record 4th and Matt Bradford 5th.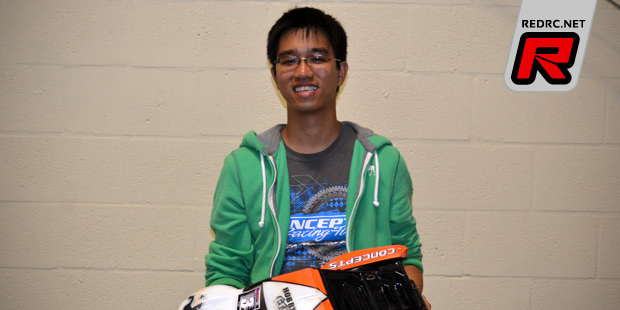 A TQ time of 13/5:05.759 by Felix Law put him on top of the 17 truck Pro 4 Short Course field. After qualifying trouble Peyton MacDonald raced from 9th to win the B-Main, along with Jeff Record racing into the show. Felix Law rolled to the win leading every lap. Trey Roberts continued his podium runs finishing 2nd with Janos (Lazi) Lazar 3rd. Jeff Keeton and Dan Borkowicz battled back to the line with Jeff edging out Dan by .047 seconds.
The final round of the fall session will be held at Shiverville Raceway on December 21st. Many classes are still up for grabs and will come down to the final exciting lap.
Source: JConcepts [jconcepts.net]
---