December 6, 2013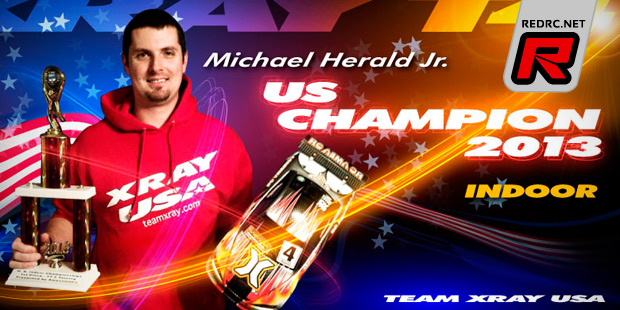 This past weekend the 2013 U.S. Indoor Championships were held at the Holiday Inn at Strongsville, Ohio. As usual, 17.5 Touring was the biggest TC class of the event. The start of the final was fairly clean resulting in a breakaway of about the first 5 or 6 cars, but the following minute or two was a little rough resulting in some tough breaks for Xray's Sam and Mike Herald Jr.. They both kept pushing hard and around halfway through the feature found themselves 1 and 2 with Herald Jr. leading, and they never looked back. Sam was able to reel in Mike to make it close at the end, but Mike drove flawless and held on to win with Sam Isaacs in second and Dave Johnson in third.
17.5 touring top 10:
1. Mike Herald Jr.
2. Sam Isaacs
3. Dave Johnson
4. Brian Wynn
5. Danny Jenkins
6. Cody Woods
7. Craig Xavier
8. Junior Norton
9. Todd Bigelow
10.Bill Sydor
In 13.5 Touring Ray Darroch came in first followed by Cody Woods and Manny Flores. Paul Ciccarello and Alex Kublus completed the top 5 result.
13.5 touring top 10:
1. Ray Darroch
2. Cody Woods
3. Manny Flores
4. Paul Ciccarello
5. Alex Kubilus
6. Chris Vogan
7. Justin Lyons
8. Will Jossens
9. Brock Witmer
10.Ray Sundland
Source: Xray [teamxray.com]
---