December 5, 2013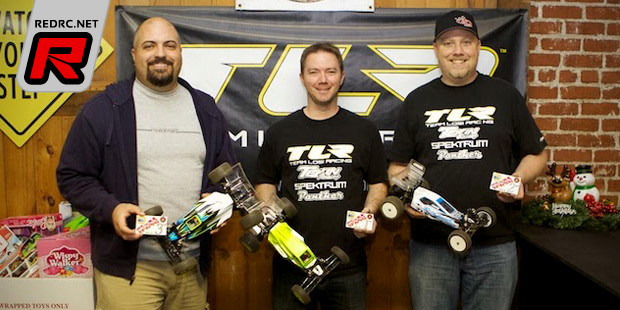 Exeter Hobbies held a Toys for Tots race Thanksgiving weekend, to raise donations for the Marine Corp Reserve toy drive. TLR Ryan Dunford and Doug "Casper" Nielsen made the drive up to the Central Valley from Southern California to help support this great cause and to mix it up with the locals. The race generated 80+ entries and tons of toys. Exeter hobbies does not normally field a modified buggy class so Ryan and Casper put in some stock motors to have some fun with the locals with 3 full heats of Pro stock buggy in attendance. After qualifying was done Ryan would take TQ with a blistering 19 lap time and Casper would line up second also on a 19 lap pace. Exeter hobbies runs a 2 bump up format and 7 min mains for more track time.

At the tone for the main Ryan would take his TLR 22 2.0 buggy out to a clean start and end up with a wire to wire finish in the 1st spot. Casper was close behind until about the 3 minute mark but was not able to get though traffic as clean and a few small bobbles resulted in a solid second place finish on the lead lap but was not able to challenge Ryan for the top spot. Local, Ryan George took the 3rd place spot to make it a TLR clean sweep of the podium.
Next up was Expert 4WD SCT. Not as big a class but just as much fun, Ryan and Casper laid it down in qualifying being the only 2 drivers to put in 20 lap runs with Ryan taking the TQ again but this time by only .086 seconds. At the tone Ryan would get the first jump wrong and pile up the field allowing Casper to take the early lead. As everyone settled, in traffic would end up playing a large role in this race as neither Casper or Ryan seemed to want to keep the lead for too long as they swapped positions a few times throughout the main but at the tone it would be Ryan taking the win with Casper right behind him for an exciting race.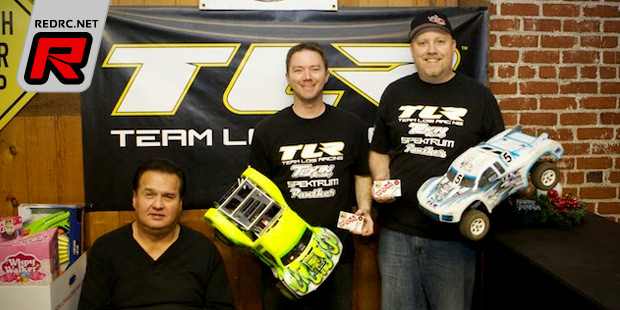 Source: Tekin [teamtekin.com]
---