December 5, 2013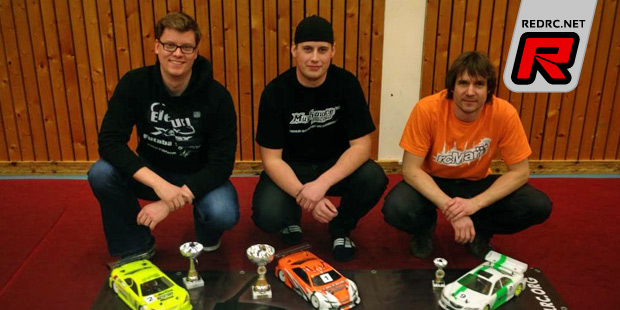 The South Norwegian Winter cup kicked of in Kvinesdal, Norway and was held at the athletic hall in Kvinesdal allowing for a huge track. 55 drivers attended the race that had the best two qualifiers counted followed by triple A-mains. In the modified class Oskar Fjeld, driving a Yokomo BD7 set the pace in the first qualifier. The time would prove to hold for TQ. In the second qualifier the round had a battle between Xray driver Rune Svestøl and Øyvind Stusdal, in the end Øyvind took the win and the second spot on the grid two tenths in front of Rune. On the fourth spot sat modified debutant and youngster Tobias Sanden.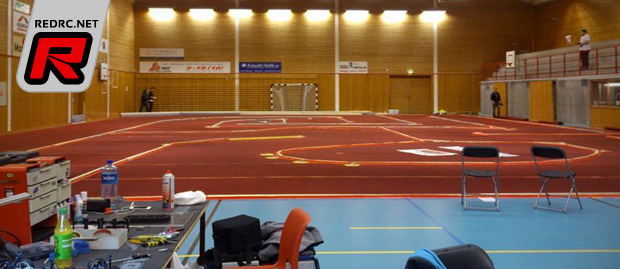 In the first final Oskar got a clean start and opened up a gap he kept all the way in winning the final comfortably. Further back Rune was putting pressure on Øyvind and after being side by side several times he made the pass when Øyvind rolled his car.
In the second final Oskar once again got a clean start and opened a gap. Øyvind made a mistake on the early laps and dropped down the field. Rune was now running second and was slowly catching Oskar. Close to the end of the leg Rune was on Oskar's tail, wanting to pass. After some nerve wrecking moments passing traffic, Oskar got a gap and would cross the finish line first, securing the overall win. In third place came the youngster Tobias Sanden, after yet another flawless run.
In the third final there were some incidents on the opening laps. Oskar fell down the field and would later have to retire with a broken car. Rune lost some body clips and would also need to retire. After swapping the lead with Svein Anfinsen a couple of times Øyvind got a comfortable lead. Tobias Sanden passed Svein with about 1 minute to go and was closing in on Øyvind fast, but could not be able to close the gap in the remaining time.
Top 3 modified:
1. Oskar Fjeld – Yokomo/MuchMore
2. Øyvind Stusdal – Yokomo/ThunderPower
3. Rune Svestøl – Xray/Orca
The biggest class at the race was the 21.5T "blinky" recruit class that attracted many young drivers of both sexes. It is very cool to see the work of the local club bearing fruits like this – lot's of talent shown by the young drivers.
Thanks to Oyvind Stusdal for sending the report.
---