December 4, 2013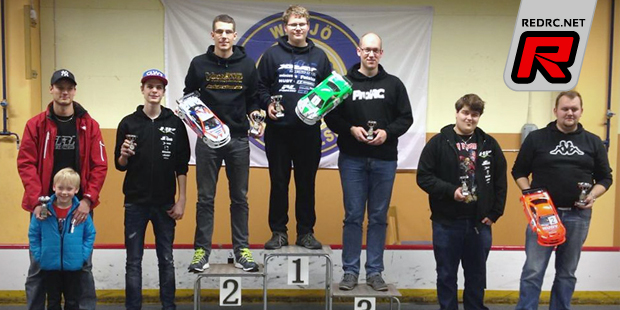 The third round of the South Swedish Cup for electric touring cars was held in Alvesta by the Wäxjö MS on a fairly technical track The schedule saw three rounds of qualifying and local driver Markus Hellquist dominated the modified class, not giving the others a real chance to challenge for the TQ spot. The battle was then on for the runner up spot between Jonas Andersson and Daniel Carlsson and with a great 2nd run from Jonas he managed to secure the second place on the starting grid ahead of Daniel Carlsson. The 4th to 6th place drivers also had were only separated by a second meaning the race would see some nice fights in the finals.
Modified qualifying:
1. Markus Hellquist
2. Jonas Andersson
3. Daniel Carlsson
4. Andreas Johansson
5. Christian Holmströn
6. Erik Ström
7. Martin Aberg
8. Kenneth Carlsson
9. Erika Hellquist
10.Göran Persson
The stock 17.5T class also had a lot to offer during qualifying. The battle for the TQ spot was decided in the final lap of the last qualifying round when Henrik Jagadics managed to pass Björn Oscarsson winning by just 0.1 seconds.
Stock qualifying:
1. Henrik Jagadics
2. Björn Oscarsson
3. Mattis Järgren
4. Otto Bergdahl
5. Filip Elmqvist
6. Emil Wik
Moving into the finals in modified Markus Hellquist kept his pace winning all three legs but for second place things were far more interesting with an enduring battle between Jonas Andersson and Daniel Carlsson. After the 3 finals Daniel Carlsson managed to snatch the second place from Jonas Andersson leaving him behind to take the final podium spot.
Modified results:
1. Markus Hellquist
2. Daniel Carlsson
3. Jonas Andersson
4. Andreas Johansson
5. Erik Ström
6. Christian Holmströn
7. Martin Aberg
8. Fabian Vernersson
9. Erika Hellquist
10.Kenneth Carlsson
The stock finals once again had an intense battle between Henrik Jagadics and Björn Oscarsson to offer. They swapped positions several times but Henrik Jagadics was able to win two of the three legs handing him the overall win. Björn Oscarsson came in second while Mattis Järgren completed the podium.
Stock results:
1. Henrik Jagadics
2. Björn Oscarsson
3. Mattis Järgren
4. Otto Bergdahl
5. Emil Wik
6. Filip Elmqvist
Source: Xray [teamxray.com]
---