December 3, 2013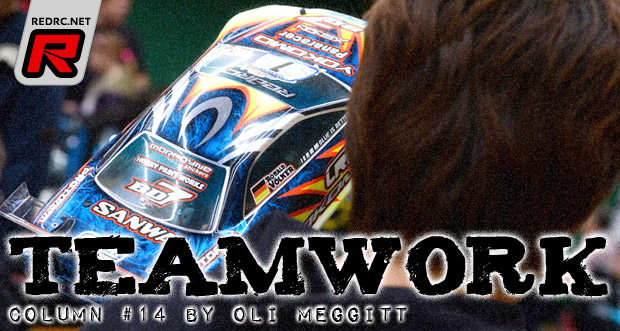 'Teamwork' – it's a pretty simple word, and one we've probably all come across in our working lives in appraisals, performance reviews or job interviews. The idea that if a group of people work towards the same goal in an effective or efficient way, the objectives can be achieved quicker, easier or in a better way.
With the driver market for 2014 well and truly open for business, I believe one area which is often overlooked is the teamwork aspect. Of course, all the teams want the best possible drivers, and similarly drivers will want to drive for the team that they perceive to offer them the best package (whether that's the most competitive car, or the biggest paycheck!). But to really succeed, both the driver and the manufacturer need to look at how the whole team would work together.
Developing a car – which is one of the key parts of any manufacturer-supported driver – is a hugely complex process. It's not something any one person can properly do by themselves. On the face of it, many companies do have one driver who does the majority of the race testing of the development cars or parts, but that driver will have to work with the design team, mechanics and any other drivers that are part of the team.
They need to be able to properly communicate between each other both at the track and away from it, understand how to put their point of view or experiences into the project, whilst also respecting that the other roles involved will have their own restrictions – be they budgetary, or practicality! In order for a part to be properly tested or improved, the whole team needs to work together and understand exactly what they are trying to achieve.
The theme continues with race teams. You could take two of the best drivers in the world, put them together racing the same car, yet they may be beaten by a team of two drivers who, at least on paper, appear not to be as good. Why? Simply because the other drivers work better as a team. They can talk through ideas, each try something different out and know they can trust and rely on the other person's feedback. They don't have to have the same driving styles or end up with the same setup, but they will know how they each work and can benefit from that.
Often, in those situations, having too large a team can impact the result too. If you've got too many different ideas and opinions floating around, it will be difficult to understand which ones to listen to, what to try next, and which direction the team needs to move in. I think the absolute best example of teamwork at the moment in our sport is watching Ronald Volker working with Yokomo's primary race mechanic, Yukijiro Umino. They do not have to have long discussions or debates, but it is clear that both have absolute trust in one another. What that results in is Ronald being able to focus on driving, knowing that whenever the car is on the track, he's in contention for a win.
Have an opinion on the topics discussed? Leave them in the comments below.
Oli Meggitt is a race organiser, announcer, RC racer and has also been known to stand and talk in front of a camera. Now a columnist for Red RC you can read his thoughts, insights and ramblings fortnightly.
The views and opinions expressed in this column are those of the author.
---