December 12, 2013
Round 1 of the JConcepts Top Notch Winter Series was hosted at IERC Raceway in San Bernardino, CA. The Top Notch Series (TNS) is an 8-race points based series, run at various tracks throughout Southern California. Last season, TNS averaged 230 entries per round and features race announcer "Notch" Johnson. IERC Raceway is one of Southern California's largest indoor RC tracks and the series attracts top drivers from all the main race teams such as  TLR's Brian Sullivan, Shawn Blackwell and Ronda Drake, Tekno RC's Rudy Rico and Chad Panek, Hobby Pro's Andrew Smolnik, Tamiya's Jimmy Wright, Mugen's Scott Wolf, Kyosho's Cody Turner and Lucas Sanford, and a number of very fast local racers. There would be two rounds of 5 minute qualifiers, followed by 5 minute A Mains.

In 1/8 E-Buggy Lucas Sanford took the TQ over Sullivan making only one mistake. In the second qualifier, Lucas made no mistakes and managed to better his TQ time from the first round. Sullivan ran a near-perfect race in his heat, but Sanford's TQ held up. Lucas knew Sullivan would challenge him in the A Main, as this was his home track. His thinking proved correct, as Sullivan was right on Sanford's rear bumper for the first half of the race. Sullivan tried an inside pass thru the S-section, but hit a corner-dot and flipped. This allowed Lucas Sanford to extend his lead and go on to win the A-Main by about 7 seconds.
1/8 Scale E-Buggy podium
1. Lucas Sanford (Kyosho)
2. Brian Sullivan (TLR)
3. Rudy Rico (Tekno)
In the first Modified 2WD Truck qualifier Tamiya's Jimmy Wright took TQ while Lucas Sanford took TQ by 11 seconds in round 2. In the A Main, he quickly got out to a commanding lead, made only one mistake in the race, and almost lapped the field when time ran out.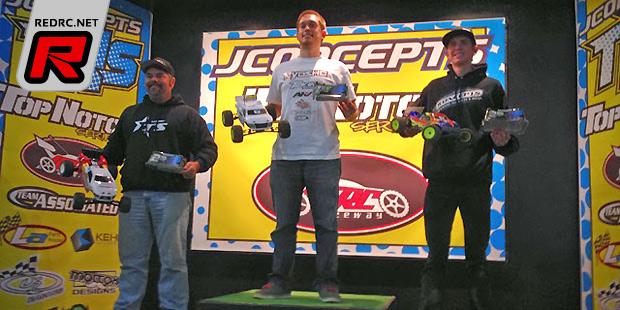 Modified 2WD Truck podium
1. Lucas Sanford (Kyosho)
2. Jimmy Wright (Tamiya)
3. Matthew Pages (Associated)
Starting right behind teammate Cody Turner for the 2WD Modified Buggy A Main, Lucas Sanford stayed behind him for the first few laps until Cody Lucas and Shawn Blackwell all made a mistake over the big triple, landing on their lids. Lucas got marshalled third, and was now trailing both Cody and Shawn. He caught up to within 2 seconds of Cody when time ran out, and finished on the third podium spot while TLR's Shawn Blackwell took home the win.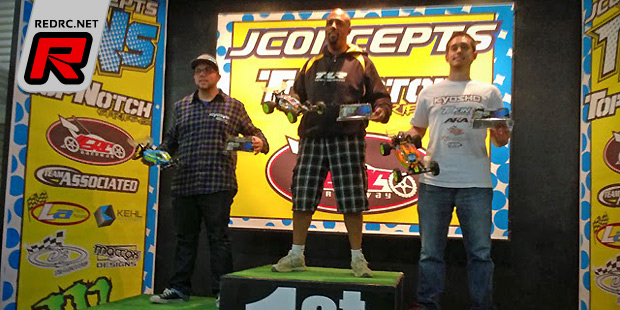 2WD Modified Buggy podium
1. Shawn Blackwell (TLR)
2. Cody Turner (Kyosho)
3. Lucas Sanford (Kyosho)
Source: Tekin [teamtekin.com]
---