January 21, 2014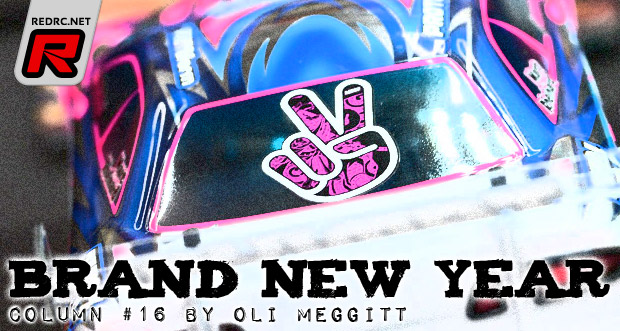 It looks like we may be coming towards the end of one of the most active 'silly seasons' in RC that I've ever seen. Whilst it's true that our sport does appear to move forward every year in the media elements, with both drivers and manufacturers realising the importance of media exposure and getting their news out to their fans and competitors, I did wonder what exactly it was that may have meant we saw so many news items, press releases and announcements concerning driver contracts for 2014.
One thing that struck me was that the announcements this year were not just a case of "Driver X moving to a new team", but an awful lot confirming that a driver was remaining with his current team. This was often despite hearing an announcement a year ago that the driver had signed a two year deal then!
I believe this is because, more and more, the RC industry is recognising the importance of 'brands'. Not just in terms of a manufacturers name, but the 'brand identity' that is now associated with the big name drivers in our sport. Reminding the public that a well-known driver will still be racing for your team this year carries a huge amount of weight. Drivers are more than just people to pilot a car around a track every other weekend, they are spokesmen for your products, ambassadors for your company and a figurehead of your successes.
Drivers have also begun to realise the value their name can carry too. Let's face it, whilst we have some fantastic drivers now, they won't be great forever. Therefore, developing a brand around themselves is a great opportunity – it may very well be the case that their brand can continue longer than they can at the top echelons of racing. Developing their own brand and range of products can also help a driver too – they don't have to worry about when their contract may be up, or if they need to look around for alternative options for next year – they can instead spend that time focussing on their own line of products. It's been very noticeable for drivers such as Andy Moore and his Moorespeed brand, or Hupo Honigl and his H-Speed range (although I thought he should have gone for the name Hupower…), whos own successes are immediately associated with their own brand names and product lines.
But to me, the one who has made the best from this is Marc Rheinard and his MR33 brand. Helped no doubt by brother Toni and Tonisport's huge draw, Marc has created a strong line of products backed up by his own World Championship-winning credentials. What it comes down to, is rather than buying a product from 'Brand A', you're buying a product created and probably used by one of the most successful drivers in our sport.
It's really exciting to see drivers creating their own brands and developing their own product ranges. Not only does it help them out, I believe that the consumer also benefits – after all, if those superstars are going to create a product, it's got to be good enough for them, and so it's certainly good enough for me!
Have an opinion on the topics discussed? Leave them in the comments below.
Oli Meggitt is a race organiser, announcer, RC racer and has also been known to stand and talk in front of a camera. Now a columnist for Red RC you can read his thoughts, insights and ramblings fortnightly.
The views and opinions expressed in this column are those of the author.
---