January 13, 2014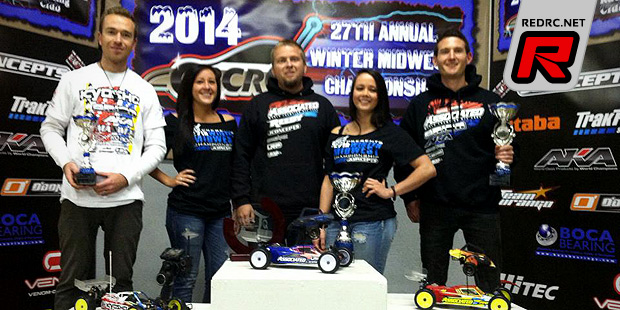 The 2014 CRCRC Winter Midwest Championships took place at the Ohio RC Factory with an impressive 458 total race entries making this one of the biggest CRCRC Winter Midwest Champs of all time. In 2WD Modified Team Associated's Ryan Maifield made a clean sweep in the finals by winning the first and second A main handing him the overall win with one A-main to go. Behind him Kyosho's Jared Tebo and Team Associated's Ryan Cavalieri battled for the second spot with Cav eventually taking it with two second place finishes. Jared Tebo ended in third while Tanner Denney completed the top 4 after winning the final A main.
Modified 2WD Buggy
1. Ryan Maifield
2. Ryan Cavalieri
3. Jared Tebo
4. Tanner Denney
5. JP Richards
6. Mike Gay
7. Brandon Marsh
8. Brent Thielke
9. Paul Sinclair
10.Dustin Richards
11.Mitchel Gardner
12.Nick Gibson
The Modified 4WD Buggy finals were a much closer affair for Maifield who managed to win A1 but only came in third in A2 while Jared Tebo took the win. In the decisive A3 Ryan Cavalieri was also in the mix while Maifield took the win to secure the overall victory, Cav came in second with Jared taking the third spot. Being tied on points the tiebreaker would decide the second and third place finishers and with a faster run time Ryan Cavalieri was handed the runner-up spot in front of Tebo. Mitchel Gardner completed the top 4.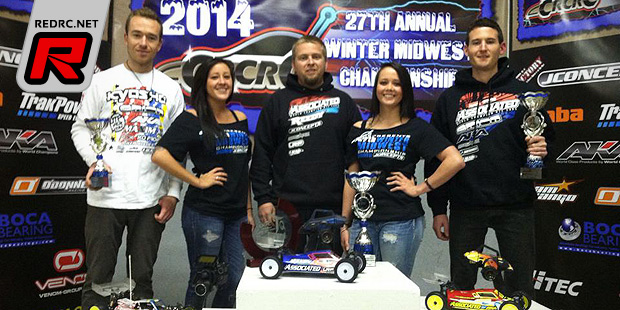 Modified 4WD Buggy
1. Ryan Maifield
2. Ryan Cavalieri
3. Jared Tebo
4. Mitchel Gardner
5. Brandon Marsh
6. Alex Miller
7. Tanner Denney
8. Mike Gay
9. Max Flurer
10.Alien Horne
11.Aydin Horne
12.JP Richards
In Modified 2WD Truck the finals had a bit of drama to offer for the front runners. TQ holder Tebo only came in second in A1 while Ryan Cavalieri took the win by 0.4 seconds. A2 was a much easier affair for Tebo who ended the run one lap ahead of Ryan, Brandon Marsh completed the top 3. In the decisive third A-main Cavalieri had to retire around the 5 minute mark handing Tebo the win in front of Brandon Marsh meaning Tebo would take the class win in front of Cavalieri and Marsh.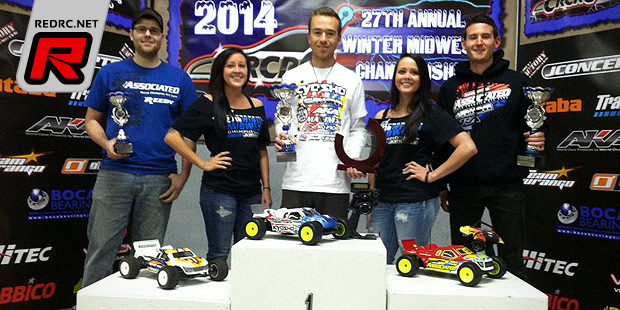 Modified 2WD Truck
1. Jared Tebo
2. Ryan Cavalieri
3. Brandon Marsh
4. Jason Jakubczyk
5. Damian Lamy
6. Aydin Horne
7. Joe Pillars
8. Greg Niklas
9. Mike Gay
10.Andrew Parente
11.Dylan Gerard
12.Ben Ellis
The Modified 2WD SCT class had again Ryan Maifield taking the overall win with quite easy wins in A1 and A2. Joe Bornhorst came home second after scoring a win in A3. Luke Richards settled for third position overall while Jason Jakubczyk completed the top 4.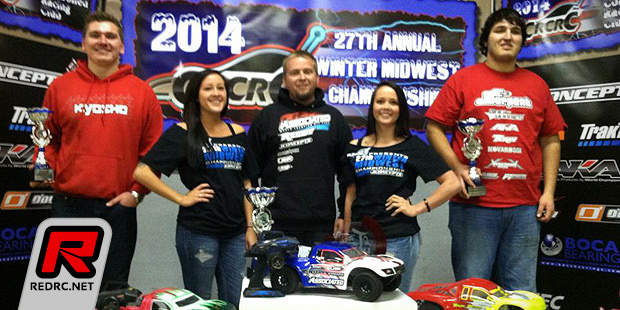 Modified 2WD SCT
1. Ryan Maifield
2. Joe Bornhorst
3. Luke Richards
4. Jason Jakubczyk
5. Mike Sontag
6. Austin Horne
7. Scott Heckert
8. Ralph Krumme
9. Cody Hogle
10.Dan Neer
11.Alec Walters
12.Chad Staub
Thanks to Joe Pillars for the report and photos.
---