January 13, 2014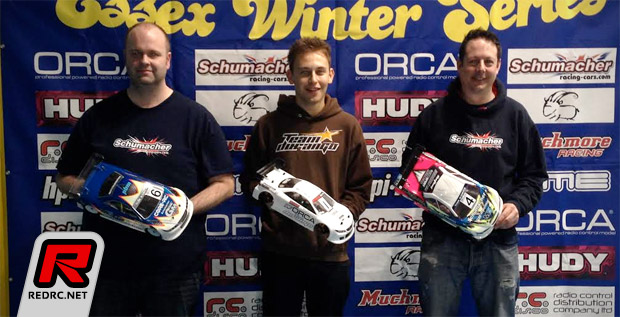 The fourth round of the popular Essex Winter Series took place this weekend. With this being the first major Touring Car race of 2014 in the UK, a number of drivers had new teams, cars, or parts on their car, and everyone was hoping to get the new year off to a winning start. In the Muchmore-sponsored Modified Class, Elliott Harper returned to the series. Elliott dominated Round 1 of the Championship, but had missed the second and third rounds due to University commitments and a large testing session for Durango in Chicago.
Elliott showed he had not lost any of his speed as he had now switched to the production version of the Durango car, however Kyle Branson, making his debut for Capricorn, pushed Elliott hard. In round 1 of qualifying, Elliott led Kyle by one second, with the Schumacher trio of Chris Grainger, Paul Pinkney and Matthew White a few seconds further back. Round two also saw Elliott head Kyle, with James Hart taking third for Xray. The third round saw Kyle show he was really getting on top of his new car, matching Elliott's times throughout the run but losing out by just one tenth of a second at the end of the end of five minutes. Chris again took third, with James in fourth. The final qualifying heat unfortunately had Kyle leading Elliott, until a mistake after four minutes dropped him down the order, allowing Elliott to take a clean sweep of the qualifying rounds. Paul Pinkney took advantage of Kyle's mistake to take second in the round. All that meant Elliott would start the A Final from pole position, ahead of Kyle, Paul and Chris.
In the final, Elliott and Kyle took off from the front of the grid, with Kyle sitting close to Elliott's bootlid for the opening laps. Just after the one-minute marker, Kyle made a mistake, dropping him back into the clutches of Paul Pinkney and now battling to hold on to second. A few laps later, Kyle clipped a barrier and Paul, having nowhere to go, collided with him, putting Kyle out of the race. This also allowed Paul's teammates, Matthew and Chris, up into a three-way Schumacher battle for second. All this meant Elliott had a huge lead, one he would maintain until the chequered flag, whilst Matthew had done enough to take a solid second place ahead of Chris and Paul.
Muchmore Modified A-Final Result
1 (1) Elliott Harper – Durango – 23 / 306.42
2 (6) Matthew White – Schumacher – 22 / 301.38
3 (4) Chris Grainger – Schumacher – 22 / 302.54
4 (3) Paul Pinkney – Schumacher – 22 / 303.43
5 (5) James Hart – Xray – 22 / 306.88
6 (10) Alan Bickerstaff – Associated – 22 / 308.80
7 (8) Matthew Winyard – Xray – 22 / 310.00
8 (9) Phil Chambers – Xray – 22 / 310.32
9 (7) Brian Eldridge – TOP – 21 / 300.56
10 (2) Kyle Branson – Capricorn – DNF
The focus of the Schumacher Pro Stock class would be whether Zak Finlay, the current UK National Pro Stock Champion, could continue his winning form at EWS. Zak had won the second and third round of the championship, and looked to carry that momentum into 2014. It wasn't the start Zak was looking for, however, as he got caught out by a tape line in the first round of qualifying. That allowed Richard King to take the fastest time in the opening qualifier. Richard was debuting the Floating Front Gearbox in his Awesomatix car, and the changes clearly suited him as he topped the timesheets by half a second from Schumacher's Ashley Wiffen and Dean Gibbs, running the new Yokomo BD7-2014. In round 2, Tony Broad demonstrated the pace he is well known for at EWS to go quickest with his Yokomo, with Zak rebounding to take his Xray to second. Zak then went fastest in round 3, ahead of Tony, with Schumacher's Darren Lee and Jon Seals (Xray) tying for third fastest. Zak had clearly put his first round incident well behind him now and topped the final qualifying heat too, with Ashley taking second ahead of Darren and Richard. That left Zak on pole for the A Final, with Tony starting second, Richard third and Ashley fourth.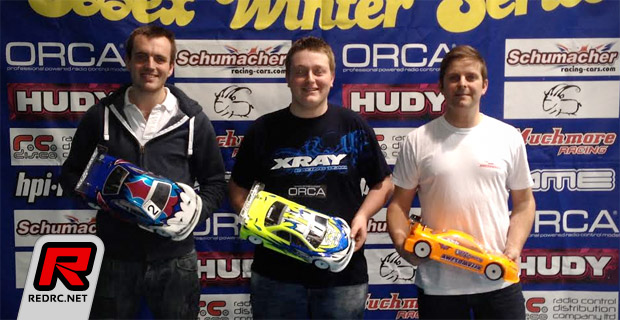 The Pro Stock A Final stared similarly to the Modified race, with the first two cars initially battling over the race lead. However, Zak quickly got into his groove and began to extend the gap to Tony, which he calmly managed and maintained until the five minute buzzer. Richard and Ashley caught up to Tony, and for a number of laps we had a three-way battle for second place, until a mistake from Ashley dropped him from fourth to the back of the field. Richard managed to stay within a few seconds of Tony, but never got close enough to mount a serious challenge, and so it was left to the rest of the field to provide the action in a six-way fight for fourth place. After a number of changes of position, Ben Putt managed to work his way from ninth on the grid to take the place.
Schumacher Pro Stock A-Final Result
1 (1) Zak Finlay – Xray – 22 / 302.15
2 (2) Tony Broad – Yokomo – 22 / 307.75
3 (3) Richard King – Awesomatix – 22 / 310.09
4 (9) Ben Putt – Capricorn – 22 / 312.56
5 (7) Dean Gibbs – Yokomo – 22 / 313.12
6 (8) Reece Hodges – Xray – 22 / 318.26
7 (6) James Baker – Xray – 21 / 301.13
8 (4) Ashley Wiffen – 21 / 301.19
9 (10) Jon Seals – 21 / 301.85
10 (5) Darren Lee – 21 / 302.63
The Stock class, supported by Capricorn, saw the closest qualifying of the three classes. Schumacher's Jimmy Maddison, winner of the previous two EWS events, topped the first round by 1.5 seconds from Gavin Clinch's ARC and Nathan Morgan's Xray. Round two saw Gavin set the fastest time, from the Awesomatix pairing of EWS Round 1 winner Luke Hobson and Richard Clarke. Mark Trinder (Capricorn) made it three different drivers from three rounds as he went fastest in round three, ahead of Nathan and Richard. The final round saw Jimmy re-gain the top spot ahead of Gavin, securing those two the front row of the grid. Mark would line up third, ahead of Nathan, Luke and Richard.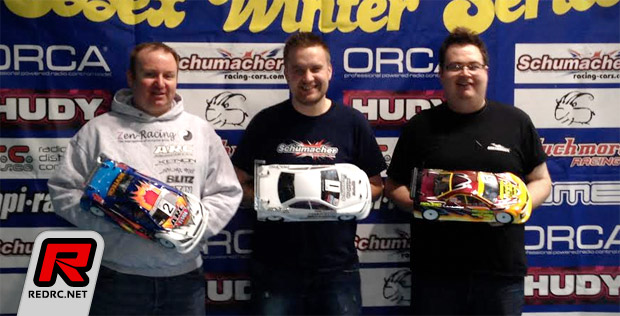 In the A Final, the first half of the grid got away cleanly, whilst an incident behind saw Richard as an early retirement. Jimmy used the first few laps to build a lead which he would never relinquish, as the other drivers battled over second place. Gavin held the place for most of the race distance, however a late-race charge from Luke saw him close to within half a second, but not close enough to make a pass.
Capricorn Stock A-Final Result
1 (1) Jimmy Maddison – Schumacher – 21 / 305.66
2 (2) Gavin Clinch – ARC – 21 / 309.75
3 (5) Luke Hobson – Awesomatix – 21 / 310.20
4 (3) Mark Trinder – Capricorn – 21 / 312.04
5 (4) Nathan Morgan – Xray – 21 / 313.11
6 (8) Mark Young – Awesomatix – 21 / 314.74
7 (9) Dominic Skinner – Yokomo – 20 / 302.14
8 (10) Michael Ball – Yokomo – 20 / 313.49
9 (7) Colin Gardiner – Xray – 20 / 315.01
10 (6) Richard Clarke – Awesomatix – DNF
As always, the series organisers would like to thank all the racers for supporting the series and providing some excellent racing, as well as the series partners – AME, HPI Racing, Hudy, RC Disco, ORCA, Capricorn, Schumacher and Muchmore. The series continues in February in the run up to the International Carpet Challenge.
---