January 7, 2014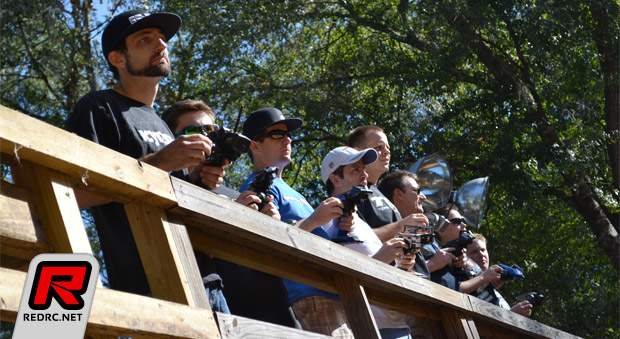 At the end of December, Florida's top 10th scale racers descended upon Shiverville Raceway for the final round of JConcepts Super Cup Series Fall session. Most classes were still up for grabs as some classes were in a tie for the title of Champion. Racers arrived to the track in High Springs Florida early on Friday to work on setups. On Saturday everyone was at the track by daylight for the last hours of practice before racing began at 9:30am. Racers had to adapt to a more "old school" track condition with a loamy surface as sunlight was in short supply and moisture was plentiful.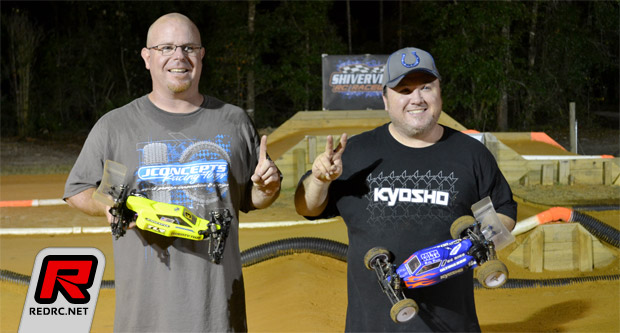 Stock Buggy was up first. JConcepts Team Driver Peyton MacDonald paced his Team Associated B4.2 on the top of the 25 car field with a time of 15/5:04.468. At the start of the C-Main, many racers made changes for a showdown to fill the 10 car B-Main. Robert Molina and Tracey Proctor sat atop as the first 2 across the line and bumped into the B. Cody Wiles and Jovan Cruz held off a hard charging Matt Bradford, for the final 2 positions into the show. 10 of Florida's best stock Buggy drivers had their work cut out as night had fallen on the track. After many lead changes, JConcepts Driver Billy Bruce and his Kyosho RB6 held off the Losi of Bobby Horan for the win. Collin Cabre crossed the line 8 tenths of second ahead of Riker Gatenby for 3rd and 4th, Peyton MacDonald finished 5th.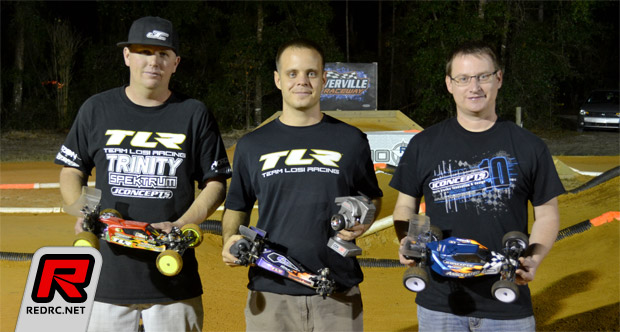 Leon McIntosh took the top qualifying spot in 2WD Modified Buggy. Billy Easton and John Bernard laid down 16 laps to finished 1-2 in the B-Main. Leon McIntosh continued to show superior speed out of his TLR 22 2.0 as he took 1st but JR Mitch 2nd made him earn the win finishing only 2 seconds back. Jason Ruona was a close 3rd, Daimon Borkowicz 4th and Ryan Eckert 5th.
Bobby Horan TQ's 40+ Open Buggy with a 15/5:16.285 times. Billy Bruce was in Bobby tracks one second back of Bobby's TLR at the end of the 5 minute A-Main. Rich Schafer closed out 3rd; Walter Cruz was 4th and Tracey Proctor 5th.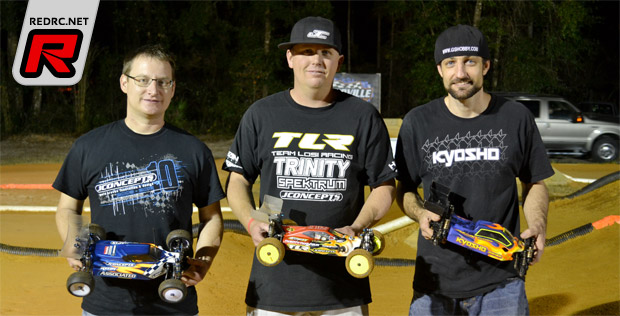 In the high speed class of 4WD Modified Buggy, JConcepts Team Driver JR Mitch's top qualifying time of 18/5:13.908 put his TLR 22-4 upfront. Jason Ruona started 2nd and pressed JR for the lead from the start, after the Main was over the 2 finished the way they had started. Ryan Eckert squeezed in 17 laps as well for 3rd. Seth Moore and Daimon Borkowicz 4th and 5th.
Peyton MacDonald's AE SC10 riding on JConcepts 3Ds tires found the traction as he TQ'd Stock 2WD Short Course at 15/5:07.608. Brian Lewis won the B-Main and Tracey Proctor took the final bump spot. Peyton was able to lead every lap of the A-Main as Cody Wiles finished 2nd, Doug Smith 3rd, Cory Parsons 4th and Riker Gatenby 5th.
Jeff Keeton put his Modified 2WD Short Course P1 with at time of 15/5:20.422, but it was JConcepts Team driver Jonathon Paulk for the win. Jeff finished 2nd and Darrell Gaughf finished out 3rd.
JConcepts Team Drives reigned supreme in Pro 4 Short Course. JC driver John Bernard's TQ time of 17/5:12.303 from his Tekno locked him in for P1. Top 3 spots all held by JConcepts drivers Felix law; Janos "Lazi" Lazar and Peyton MacDonald laid down 16 laps in 5 minutes for a 1-2-3 finish. Brandon Denmark 4th with Brian Lewis rounding out the top 5.
Brandon Denmark TQ's Stock 2WD Truck with a 15/5:06.834 time. Robert Molina was able to race past George Mecardo for the win in the B-Main as George took the final bump. Brandon Denmark raced to his first win at a JConcepts Super Cup as Riker Gatenby finished 2nd, Tilar Pollack 3rd, Ben Newsome 4th and Tracey Proctor 5th.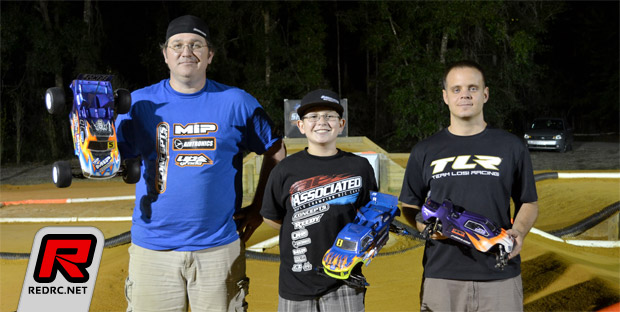 Ryan Eckert with the Kyosho RT6 TQ'd Modified Truck with a time of 16/5:08.454. He and Daimon Borkowicz would battle back and forth for 10 laps until a mechanical failure forced Ryan out of the race. JConcepts Team Driver Daimon Borkowicz took his JC equipped T4.2 to the win as Leon McIntosh was 2nd, Jonathon Paulk 3rd, Danny Wight 4th and Matt Bradford in 5th.
Thank You to Ken and Cheryl Shiver along with all the Shiverville track crew. Thank You to all the Racers support in the 2013 Fall Session of JConcepts Super Cup. The 2014 season starts back up January 18-19 at Space Coast RC. For all that participated in the 2013 season the awards banquet will be held January 18th.
Source: JConcepts [jconcepts.net]
---