January 29, 2014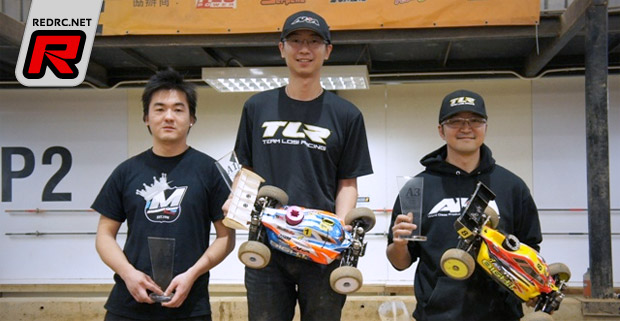 Lali Warehouse, being the one and only indoor off-road track in Hong Kong, held their first nitro buggy point race on the 26th of Jan for the year 2014 and new TLR signing Lin Le Lua sent us this report. 'A month prior to the event, Lali had change the lay out of the track and it prove to be challenging and fun at the same time. I have heard great things about the new layout and I cannot wait to join this race as a driver for TLR. Although very close by from where I live in China, it still took us around 3 hours to get to the track, but when we first arrive and have our eyes on the track, everything's worth it! We are welcome by a bunch of jumps and elevation change means the lay out are really exciting and not to mention a very warm welcome from the locals, we are so eager to lay down some laps before the race!
Compare with the last time I was here (which is nearly a year ago), the locals had improve dramatically and I am sure with a nice track like this, we will see a lot more fast guys from Hong Kong!
During my practice time, I have try a bunch of different settings and my TLR 8ight 3.0 had react accordingly which means I can dial in the car in a much faster pace then I can anticipate. Due to the lay out of the track being very tight, the lap time difference between the fast guys are all on the region of tenth of a seconds, so my aim will be not only setting up a car that can perform fast lap times but also easy to drive for the main finals, and come race day, I believe my 8ight 3.0 had just done that.
On to Sunday, we had one 5 minutes control practice using the fastest lap to seed us into qualify, and then there will be 3 qualify to run using point system and the best 2 to count. I was seeded second for the control practice and the difference being 0.3 of a seconds, so I am happy to be on pace. Came qualify time, I was able to come first on the first and second qualify round, hence taking the TQ, not bad for a new car and a new track!
For the 45 minutes main final, I have a 30 minutes fight with Wen Yi from Singapore and we have exchange leads million times. After the 30 minutes mark when I finally pull out a lead, I was able to extend my lead and end up finishing on top and taking the main. I was even more happy that I was joined by another TLR driver John on the podium, which happen to be my mechanics for major races.'
A-main results
TQ+1st: Le Hua, Lin TLR 8ight 3.0
2nd Wen Yi Mugen MBX-7
3rd John Ho TLR 8ight 3.0
Source: Horizon Hobby [horizonhobby.com.cn]
---