January 24, 2014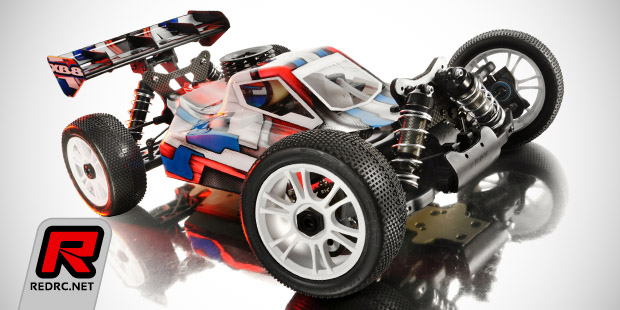 Xray dig out the well-known XB8 name and introduce the all-new XB8 1/8th nitro off-road buggy. Having its unofficial debut in prototype stages at the 2013 EFRA European Championships where the buggy finished 2nd and 3rd on the podium in the hands of Martin Bayer and Reno Savoya, Xray now officially release what they describe as a totally new platform. The buggy builds on a 7075-T6 aluminium chassis that features Xray's Multi-Flex technology to adapt the vehicle to a wide range of track conditions. The drivetrain is equipped with CVD driveshafts throughout, it sports three differentials with hardened lightweight outdrives and included in the kit is also a 7075-T6 aluminium clutch with enclosed clutch bell.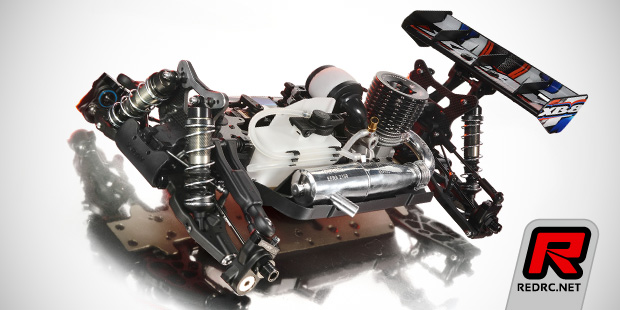 One of the new features of the XB8 are its redesigned A-arms that can take optional carbon fibre stiffener plates and, clearly visible from the images, Xray adopted a new pivot ball front steering knuckle setup that allows for a wide range of adjustments including caster, camber, upper roll centre, bump steering as well as track width. Composite hubs are coupled to an aluminium kingpin plate that takes the upper pivot ball while the lower ball is of a conventional design as seen on 1/8th on-road cars. The rear hubs are of a standard "non pivot ball" design but they also feature a 2-piece design with the actual hub being made from composite plastic while the vertically mounted upper pivot ball sits in an aluminium bracket. The design allows for a variety of upper camber link positions and allows the adjustment of the upper and lower roll centre, camber gain and more.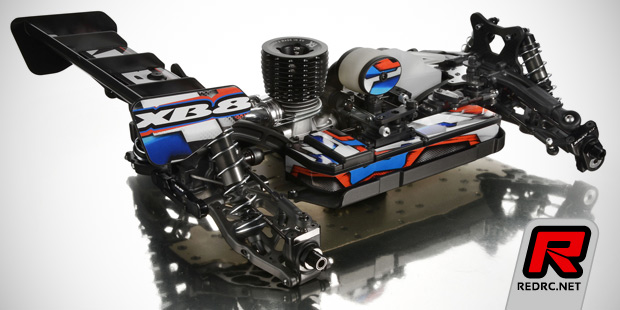 Along the new lower A-arms Xray also redesigned the upper camber links, especially the front upper arms are of a rather radical design with the camber now being adjusted by an inner turnbuckle which is accessable from the inside via a ball hex driver that is inserted coming from the inner suspension pin. The somewhat unique design makes for better dirt protection and a more rigid front end.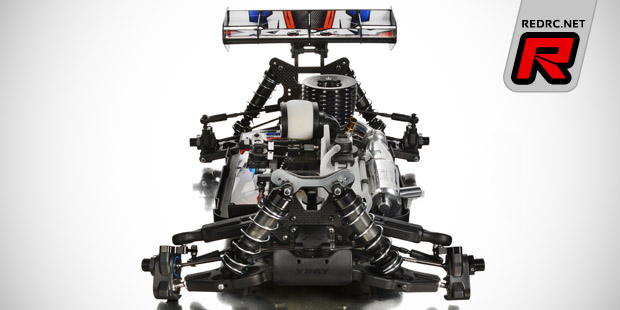 Other features that found their way onto the XB8 are front and rear carbon fibre shock towers, with the front one also sporting a steel protector, the shock absorbers are of the latest all-metal big bore type and included is also a new cab forward body shell and a high downforce rear wing.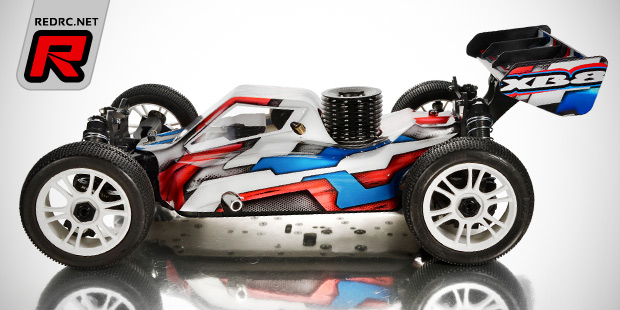 Features:
– 3mm 7075-T6 aluminium Multi-Flex chassis
– Optimised weight distribution
– Engine parallel with chassis centre line
– Centre diff positioning for straight-line driveshafts
– Pre-drilled holes for add-on weights
– 1-piece electronics assembly
– Extremely durable bulkheads
– Front and rear composite chassis braces
– CNC-machined engine mounts
– Aluminium flywheel and clutch shoes
– Laser-cut brake discs
– Spring steel CVD driveshafts throughout
– Lightweight 17mm wheel hubs
– XPBS pivot ball front suspension
– Composite steering blocks and rear hubs
– Aluminium kingpin and pivot ball plates
– A-arms with mounting holes for carbon stiffeners
– Dual bellcrank steering
– Hudy spring steel turnbuckles
– 18.5mm big bore shocks
– 3.5mm polished shock shafts
– Aerodynamic cab forward body shell
– Chassis side guards with Multi-Flex technology
Source: Xray [teamxray.com]
---