February 6, 2014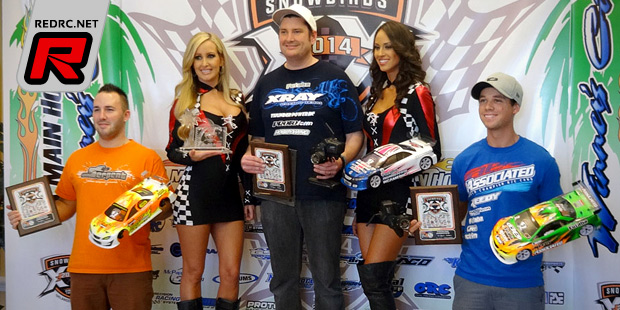 The 2014 edition of the Snowbird Nationals were held in Orlando, FL at the Park Inn Resort. The "Birds" is the largest RC race in the world with well over 600 total entries and many countries represented this year. The Snowbirds is a unique race due to the 24 hours a day racing schedule, 12 hours of road and 12 hours of oval makes for a very unique experience that can only be witnessed here. In the Blue ribbon Modified TC class it was Paul Lemieux who would get things figured out for the second day of qualifying to set TQ, then again TQ  the final round of qualifying. Paul would then take a convincing tone to tone victory in the final, Marc Fischer would finish second with Kevin Hebert in third.
Result Modified TC
1. Paul Lemieux
2. Marc Fischer
3. Keven Hebert
4. Josh Cyrul
5. Andrew Hardman
6. Mike Haynes
7. Robbie Dodge
8. Chris Adams
9. JJ Wang
10.Cory Parsons
In the 13.5 Touring Car class Chris Adams and Corey Parsons who put in great runs to finish on the podium, finishing second and third respectively while Keven Hebert grabbed the overall win.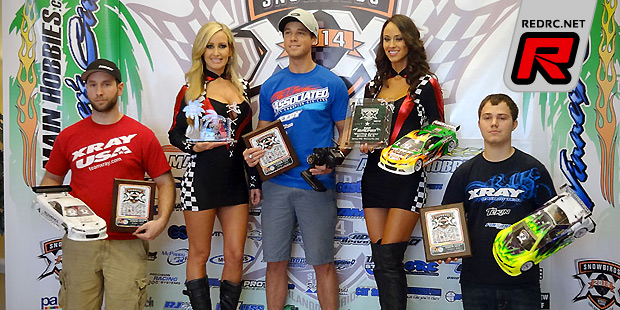 Result 13.5 TC
1. Keven Hebert
2. Chris Adams
3. Corey Parsons
4. Andrew Hardman
5. Mike Haynes
6. Raymond Darroch
7. Eric Anderson
8. Drew Ellis
9. Paul Ciccarello
10.Larry Fairtrace
The 17.5 Touring Car class had Larry Fairtrace walk away with the win while Eric Anderson and Cory Parsons came in second and third respectively.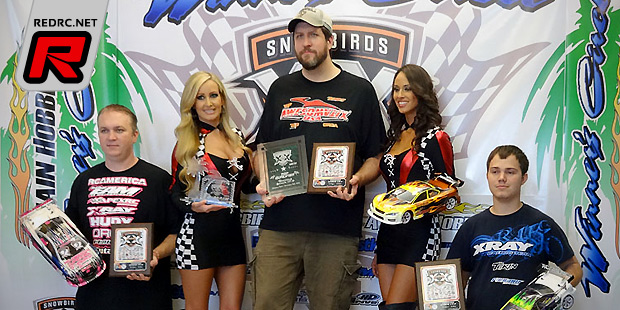 Result 17.5 TC
1. Larry Fairtrace
2. Eric Anderson
3. Cory Parsons
4. Michael Herald Jr
5. Craig Xavier
6. Sal Amato
7. Michael Hanulec
8. Danny Jenkins
9. Karl Hoffmeister
10.Dave Johnson
In the 1/12th Modified class Japan's Naoto Matsukura proofed once again that he is one of the, if not the best 1/12th driver at the moment. Keven Hebert and Markus Mobers lined up in second and third place after the A-main.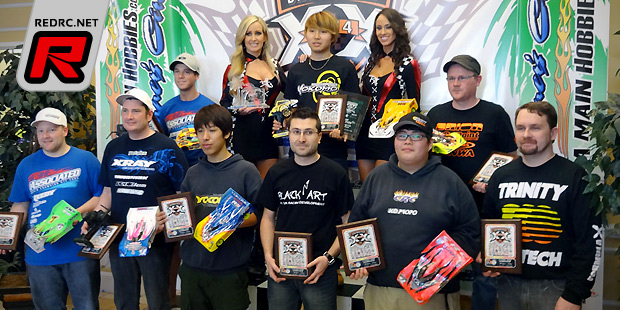 Result 1/12th Modified
1. Naoto Matsukura
2. Keven Hebert
3. Markus Mobers
4. Mike Haynes
5. Donny Lia
6. Paul Lemieux
7. Yugo Nagashima
8. Alex Laurent
9. Hayato Ishioka
10.Josh Cyrul
In the 1/12th 13.5T class once again Naoto took the win, this time in front of Joe Trandell and Markus Mobers.
Result 1/12th 13.5T
1. Naoto Matsukura
2. Joe Trandell
3. Markus Mobers
4. Raymond Darroch
5. Larry Fairtrace
6. Toshiki Kunitomo
7. Eric Anderson
8. Andrew Knapp
9. Robbie Dodge
10.Donny Lia
Last but not least comes the 17.5T 1/12th class that has Joe Trandell taking the winning honours with Andrew Knapp and Craig Xavier in tow.
Result 1/12th 17.5T
1. Joe Trandell
2. Andrew Knapp
3. Craig Xavier
4. Robbie Dodge
5. John Wiita
6. Tony Block
7. Stephen Boice
8. Eric Anderson
9. Michael Herald Jr
10.Jim Piersol
Source: Xray [teamxray.com]
---