February 19, 2014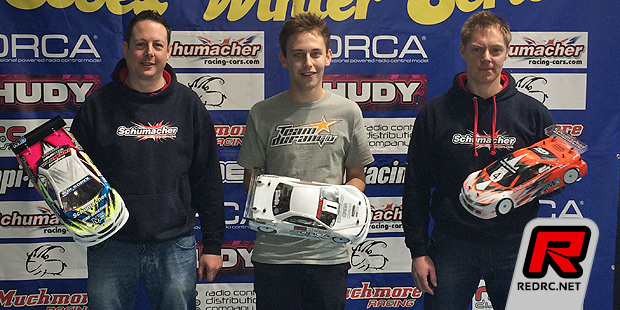 The fifth round of the Essex Winter Series took place this weekend. As this was the penultimate round of the championship, there were chances that both the Stock and Pro Stock overall titles could be decided at the event. But in the Muchmore-backed Modified class, this wasn't the case, with Elliott Harper missing two early rounds of the season and a variety of different podium finishers in the four events so far. It was Elliott Harper who topped the timesheets in the first round of qualifying, taking his Durango to a time five seconds quicker than Schumacher's Chris Grainger, who was in turn just a few tenths ahead of his teammate Matthew White. Round two saw Elliott again quickest, this time three seconds ahead of Kyle Branson's Capricorn and five seconds up on the Schumacher of Paul Pinkney. Elliott secured the overall TQ position by also topping round three, five seconds ahead of Xray's James Hart, with Paul again taking third. Elliott made it a clean sweep of qualifying by winning the final round also, with Chris Grainger back up to second and James in third. This left Chris second overall, James third and Paul in fourth.

In the A Final, Chris challenged Elliott in the opening few laps but, seemingly Elliott found his rhythm and after the first minute began to build a sizeable lead. Behind the leading two cars, James and Paul fought over third place, until a small mistake from James at the half-distance maker saw Paul through into the final podium place. That was how the order remained for the second half of the race, leaving Elliott to take the win by some five seconds.
Modified A final result
1. Elliott Harper – Durango – 22/305.61
2. Chris Grainger – Schumacher – 22/311.36
3. Paul Pinkney – Schumacher – 22/312.16
4. James Hart – Xray – 22/312.62
5. Kyle Branson – Capricorn – 22/313.33
6. Matthew Winyard – Xray – 21/311.16
7. Nathan Winyard – Xray – 21/311.26
8. Alex Broklebank – Xray – 20/301.55
9. Matthew White – Schumacher – DNF
10.Ben Cosgrove – Durango – DNF
The Pro Stock class, supported by Schumacher, had the championship poised between Xray's Zak Finlay, and the Yokomo of Tony Broad. Tony would essentially need to TQ and win the remaining two meetings and hope Zak failed to make the podium at least once. Zak obviously wanted to get the championship wrapped up at this event, though, and set the fastest time in the opening qualifying round, ahead of Tony and Reece Hodges. Reece has shown speed all year but never quite seemed to challenge those top two drivers, but clearly had found a new turn of speed as he then took his Xray to the fastest times in rounds two and three. Tony took second in round two ahead of Zak, whilst in round three it was Schumacher's Darren Lee in second and Jon Seals (Xray) third. This left the final round to decide the pole position, and Zak returned to form to top the time sheets, importantly also setting the fastest qualifying time to secure him the top spot. Reece would line up second on the grid and Tony third, his championship hopes now hanging by a thread.
As the A Final got underway, Zak and Reece appeared to build a small lead over Tony in the opening lap, before things went from bad to worse for Tony's championship hopes. An incident on the second lap saw Tony retire his car from the race, effectively meaning that regardless of the result, Zak would have done enough to take the championship crown in five minutes time. But that didn't slow Zak at all, as he and Reece built up their lead over the chasing pack. Reece constantly sat within one second of Zak, but it seemed he couldn't get quite close enough to challenge for the win.  Behind, Jon Seals and Ben Putt engaged in a race-long battle for the final podium place, which Jon managed to hold despite intense pressure from Ben's Capricorn. Back up front, Reece suddenly found more speed in the final minute of the race and closed the gap to Zak, lap by lap. With Reece now just a few tenths of a second behind, Zak made an uncharacteristic mistake on the final lap of the race, and rolled his car through the tight S-section. Reece needed no further invitation and nipped through to take the lead and as the buzzer sounded, crossed the line to be the only driver to make the extra lap. Reece therefore took the win to cheers from the spectators, and Zak completed the Xray team's celebrations by clinching the championship title.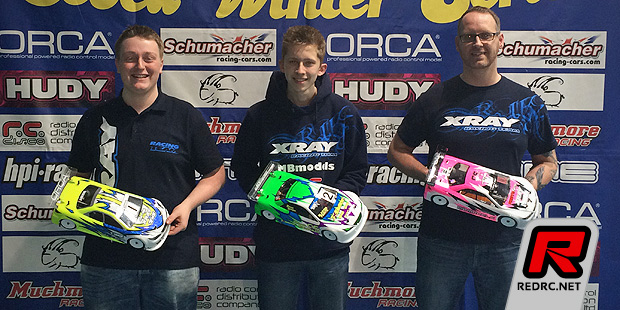 Pro Stock A final result
1. Reece Hodges – Xray – 22/314.22
2. Zak Finlay – Xray – 21/300.33
3. Jon Seals – Xray – 21/303.79
4. Ben Putt – Capricorn – 21/303.79
5. Ashley Wiffen – Schumacher – 21/ 04.39
6. Richard King – Awesomatix – 21/305.57
7. Mark Buonaiuto – Xray – 21/309.31
8. Dean Gibbs – Yokomo – 21/311.64
9. Darren Lee – Schumacher – 20/306.37
10.Tony Broad – Yokomo – DNF
The Capricorn-supported Stock class could also see the championship title wrapped up at this event, with Jimmy Maddison having a perfect score from the rounds he had attended so far. Jimmy had now made the switch to VBC Racing, and chose the EWS as the event to make his debut with the new car.  In round one of qualifying, it was Zen Racing's Gavin Clinch who set the pace with his ARC, ahead of the Xrays of Darren Tickner and Nathan Morgan. In round two, Jimmy had got his new ride sorted and topped the timesheets from Nathan and Darren, whilst in round three it was again Jimmy from Nathan, but with Mark Trinder (Capricorn) in third. The final qualifying round again saw Jimmy fastest once again, with Darren second and Colin Gardiner (Xray) third. This left Jimmy on pole for the A Final, ahead of Gain, Nathan and Darren.
In the A Final, Jimmy took off to an early lead. He continued to build his lead lap-by-lap, whilst behind a strong start from Nathan and Darren saw them battling for second. Both fell by the wayside as the race progressed, leaving Gavin to get back to second, and Colin Gardiner to complete the podium. Out in front, Jimmy had a commanding lead, ending up three-quarters of a lap ahead of everyone else, taking both the A Final win and wrapping up the overall Stock Championship.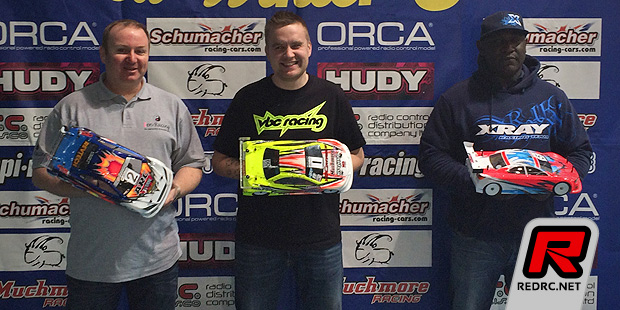 Stock A final result
1. Jimmy Maddison – VBC – 21/312.91
2. Gavin Clinch – ARC – 20/307.94
3. Colin Gardiner – Xray – 20/308.69
4. Mark Trinder – Capricorn – 20/309.85
5. Darren Tickner – Xray – 20/310.08
6. Richard Clarke – Awesomatix – 20/311.73
7. Leyton Foster – Schumacher – 19/302.63
8. Matthew Worton – Xray – 19/302.93
9. Dominic Skinner – Yokomo – 19/313.61
10.Nathan Morgan – Xray – DNF
The series concludes with Round 6 in March, where the Modified title will be decided.
Thanks to Oli Meggitt for sending the report.
---