February 11, 2014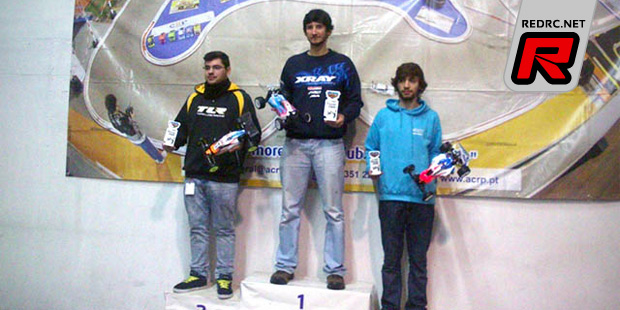 Last weekend the first ever Portuguese 1/10 4WD and 2WD off-road nationals took place at the ACRP indoor track. The meeting saw 19 entries in 2WD and 27 in the 4WD class. The carpet track had a fast and flowing layout, with a few tight corners, well designed jumps and plenty of entertainment. In 2WD Buggy Miguel Matias totally dominated qualifying, TQ'ing the first 3 rounds. The 2WD finals then were quite eventful and Miguel Matias faced a good challenge from Ricardo Monteiro in the first final, but in the end he won by 2 seconds over Ricardo. In the second leg Matias took the lead again and checked out, handing him an unchallenged win and the overall victory.
2WD Buggy final result:
1. Miguel Matias
2. Ricardo Monteiro
3. Nuno Duraes
4. Joao Figueiredo
5. Nuno Roque
6. Arnaldo Guedes
7. Carlos Candido
8. Nuno Casal Ribeiro
9. Afonso Sousa
10.Helder Silva
4WD qualifying was a totally different game, but Miguel also TQ'ed 3 rounds with a convincing pace, but this time Bruno Coelho was there to challenge him as he took one qualifier, placing himself on the 2nd spot of the A main grid, just behind Miguel. In the finals, Miguel Matias once again took the win in the first 2 legs and was declared overall winner. Bruno Coelho although showed a really good form but transponder issues let him drop to 5th at the end.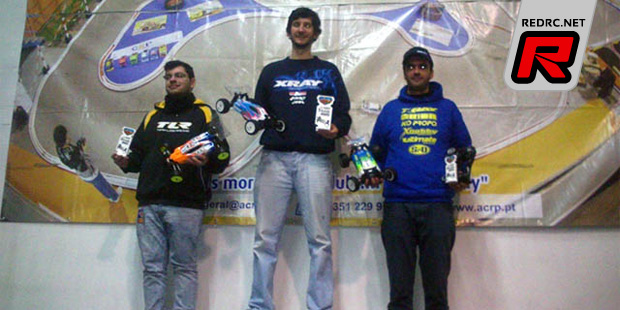 4WD Buggy final result
1. Miguel Matias
2. Ricardo Monteiro
3. Nuno Rebelo
4. José Pequito
5. Bruno Coelho
6. Tiago Vieira
7. Nuno Casal Ribeiro
8. Pedro Dias
9. Nuno Roque
10.Joao Figueiredo
Source: Xray [teamxray.com]
---