February 4, 2014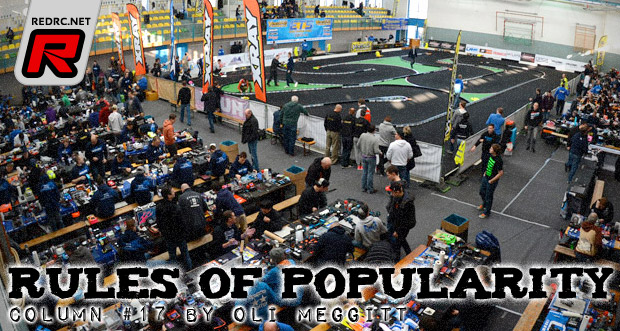 After three long days, I sat down to write this column as we waited for our Euro Tunnel crossing on our journey home from this weekend's ETS race. Being just one of the 320 racers present for what was quite probably Europe's largest ever R/C race (no doubt until next year!) I had a number of opportunities to take a step back during the weekend to try to think about what it really is that makes an event popular.
I, like (I would expect!) all race organisers want any race I put on to be successful and well-attended. Clearly, a large part of that is the organisation of the event. As I've said in many of my previous columns, I believe our sport moving towards more professional events is exactly the way it should be going. Knowing that everything will run smoothly, with an experienced and knowledgeable race management team is key, as too is having a fantastic venue and 'presenting' the whole event well.
But I also believe it goes a step further than that. I've been to plenty of races where the organisation is good, the track is good, but the atmosphere and general feeling isn't the same as something like the ETS races. OK, the really big events do bring all the top drivers together, which gives them great competition, and is fantastic for the 'average Joe' to watch both on and off the track, and even try to 'rate' themselves against.
I believe a huge factor in the overall package is the rules. One of the hot topics that come up whenever I'm chatting to anyone at any event is rules. Whether it is for that race, a previous race, or a future one, whatever way we look at it, the rules are a significant part of the event. Another race organiser summed it up to me a number of years ago in a very simple way – 'create the rules that will keep all your club racers and "average" drivers happy – they are 90% of the entries and the ones who actually make the event popular. The top drivers are good enough to be able to adapt themselves to whatever rules you give them'. That's something I've always had in my mind and something I aim for in my own events. Looking around the ETS at the weekend it was obvious this was true too – of course, the top drivers are all there to win and promote their brands and sponsors, but without the 250 regular club drivers from all across the world, it wouldn't have set the records it did! You could have all the other brilliant elements, including the atmosphere, organisation, track and so on, but the straight forward rules and 'ease' of competing actually means drivers are even more enticed to attend and race.
And as our sport does become more professional, I think that is something it is worth bearing in mind – whatever is happening at the top echelons of the hobby, it's everyone else we have to be making sure the races still fit. Because, without the 90%, we won't have anywhere for them to race.
Have an opinion on the topics discussed? Leave them in the comments below.
Oli Meggitt is a race organiser, announcer, RC racer and has also been known to stand and talk in front of a camera. Now a columnist for Red RC you can read his thoughts, insights and ramblings fortnightly.
The views and opinions expressed in this column are those of the author.
---